What is "Hands-On Physics"?
Physics 123 - 124, General Physics I & II -- Honors
Hands-On Physics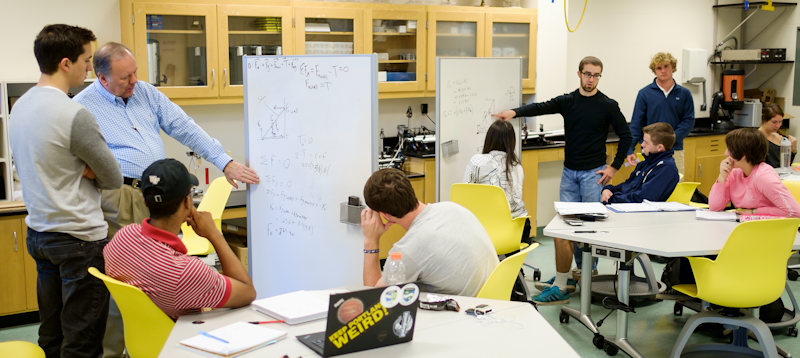 "Tell me and I'll forget; show me and I may remember; involve me and I'll understand." – Native American proverb*.
What is Physics 123/124 Honors, "Hands-On Physics"? Physics 123 introduces mechanics, wave motion, heat, and sound treated with use of calculus and employing advanced techniques. It is especially recommended for potential physics majors and minors as well as engineering majors, and is a good choice for any student seeking an in-depth study of first year physics. Physics 124 continues with an in-depth introduction to electricity, magnetism, optics, and modern physics treated with use of calculus and employing advanced techniques.
Extensive physics education research shows that interactive engagement makes the most effective use of class time. This class is optimized for interactive activities.

First let's talk about the logistics of my class. In the registration system, it looks like a Tuesday-Thursday 9:00 – 9:59 class and Tuesday-Thursday 10:00 - 10:50 lab. In fact, we use both times for both activities. It is an integrated class and lab that meets Tuesday and Thursday from 9:00 - 10:50. Therefore, you will need to register for both of the following:
PHY 123  A,  General Physics II Honors, TR 9:00 - 9:50 am, Olin 105, CRN 95737
PHY 124L A, General Physics II Honors La, TR 10:00 - 10:50 am, Olin 105, CRN 95745
Nearly all lectures are by short videos, typically totaling 12 minutes, that you will watch before each class. After watching the video, you will work a few relatively straightforward problems on the topic. When you get to class, our time is spent in interactive activities, small group problem solving, lab activities, etc. The idea is to help you discover your misunderstandings while we are together and can address them. In your homework following class, you will tackle more difficult problems in homework to reinforce the topics you just worked on. You may have heard this approach described as a "flipped class."
Your total time commitment is about the same as for 114 sections. You must watch several videos each week, which the114 sections do not, but that video time is offset by our section having 40 minutes less total time in class and lab.
Fall 2013 was the first time I taught in this format. The great majority of students loved it, and we have good data that they learned more than in any class I ever taught. They certainly had more fun doing it. But this is a pretty radical shift from most science classes. Here is an article on our that class: http://news.wfu.edu/2015/01/23/flipping-for-physics/.
The topic coverage is traditional for General Physics I & II, going deeper on some topics. It is a different way of studying the same concepts that is focused on interactive engagement.
---
*This quotation has been variously attributed to a Native American proverb, a Chinese proverb, and Aristotle, but it captures succinctly the philosophy of this class.