Buy now!
Price: $ 11.95
print
Jacques Dupin - Selected Poems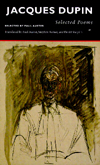 Born in 1927, Jacques Dupin began his active career as a poet in 1950. With Andre du Bouchet and Yves Bonnefoy, he became a frequent contributor and editor of the journal L'Ephemere which from 1967 became with Tel Quel the most important literary journal in France. For a number of years Dupin directed publication for the Galerie Maeght in Paris.

Sharing affinities and landscapes with Reverdy, Char, and Ponge, Dupin has developed, nevertheless, a poetry so distinctive and innovative to the American ear and eye that it could, especially with this selection, tincture the reading and writing of poetry in the U.S. Eschewing theory, he creates speculations that enact the self's effacement, while sustaining the human in brilliant imagery and shadowy narrative.

In her introduction to these poems, Mary Ann Caws writes, "Nothing is permitted a reach higher than the human. The very precariousness of living informs this deeply moving poetics, quiet and always at risk."

$11.95
1992 193 pages
paperback
Bilingual; Selected by Paul Auster
Introduction by Mary Ann Caws
Translated by Paul Auster, Stephen Romer, and David Shapiro
ISBN 978-0-916390-52-5