Buy now!
Price: $ 12.95
print
Louis MacNeice: Selected Poems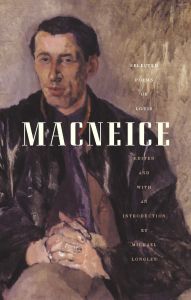 Wake Forest is pleased to reissue the selected poems of Louis MacNeice, one of the pivotal poets of modern times, a significant volume edited by Michael Longley.
"Michael Longley has rightly praised in MacNeice the zest that MacNeice praised in Yeats. For all of their differences, the greatest Irish poets of our century have this in common: 'a leaping vitality--the vitality of Cleopatra waiting for the asp'." Jon Stallworthy, Louis MacNeice
"...there are few places of refuge and still fewer exits, as MacNeice knew all too well. Ireland, a locus charged for MacNeice with ambivalence and uncanniness, haunted him from his first poems to his last." Guinn Batten, Southern Review
Louis MacNeice's Selected must be on the shelf of any reader who loves Irish poetry.
ISBN 978-1-930630-41-3 paperback $12.95