Buy now!
Price: $ 12.95
print
Ciaran Carson - Selected Poems (paperback)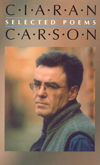 "The selections from each of the seven books of poetry to date...allow a reader to see the progression and transformation of this enormously inventive poet across twenty-five years. ... this volume is a real opportunity for American readers to get a sense of the reach and imagination of this major Irish poet." - Kevin Murphy, Irish Literary Supplement
Selection from Tib's Eve
This is the land of the green rose and the lion lily,
Ruled by Zeno's eternal tortoises and haires,
Where everything is metaphor and simile:

Somnambulists, we stumble through this paradise
From time to time, like words repeated in our prayers,
Or storytellers who convince themselves that truths are lies.
$12.95
2001 137 pages
paperback
ISBN 978-1-930630-02-4