Buy now!
Price: $ 10.95
print
Ciaran Carson - The Twelfth of Never (paperback)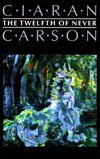 The Twelfth of Never, which comprises seventy-seven sonnets written in alexandrines, floats on (or submerges in) the ideal republic or the Otherworld promised in fairy stories, aislings, the land of Cockaigne, lines of cocaine, drunkenness, "the land of the green rose," poppy-day imperialism, Loyalist and Fenian ballads, and the rhetoric of July 12th – all realms of or tickets to Utopia. The combination of pleasant, even rollicking, conveyance – iambs and anapests, disguised rhymes, lilting lines – and sinister endings evokes certain kinds of fairy stories, such as E. T. A. Hoffmann's.

Perhaps the best summary of this wildly imaginative commentary on human folly appears in the sequence's "Envoy":

Of maidens, soldiers, presidents and plants I've sung;
Of fairies, fishes, horses, and of headless men;
Of beings from the lowest to the highest rung –
With their long ladder propped against the gates of Heaven,
They've queued up to be rewarded for their grand endeavour,
To receive their campaign haloes on the Twelfth of Never.

$10.95
1998 96 pages
paperback
ISBN 978-0-916390-84-6