Buy now!
Price: $ 12.95
print
Michael Longley - A Hundred Doors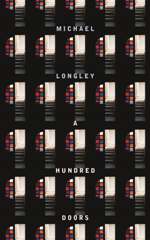 Michael Longley has remarkable powers of reinvention. Certain themes remain constant--the natural world, war, violence, love, friendship, art, death--but they also keep changing because the forms and genres of his poetry never stand still. In A Hundred doors a sinuous short line complements his variations on pentameter and hexameter. Longley's interlacing individual lyrics, so that a diverse collection seems a single poem, intensifies in the shadow of mortality. Longley is among Europe's foremost ecological poets, yet Carrigskeewan is ultimately symbolic, a microc "Its slim physique belies the muscularity, reach and number of poems within; and within lurks that sure and reassuring voice that is quintessentially Longley.... A Hundred Doors offers more portals behind which await the 'soul-arenas' of Longley's fertile imagination; another milestone on the journey, an addendum to everything fine that he has given before, and the hope that more will come." The Scotsman
* * *
"The entirety of 'Horseshoe', from Michael Longley's ninth collection, A Hundred Doors, reads: "I find a rusty horseshoe where skylarks / Rise from the sheep-shitty path, God-sparks, / Sound-glints for bridle and bridle hand. / I am the farrier in this townland." Read aloud, the lines begin to commit themselves to memory; something every poet wishes for. They read so naturally as to seem hardly art at all – which is the art in which Longley has been instructing himself for many years, evolving from classically educated formalism towards the conversational intimacies of his later work.
This is not a camouflage of naturalness to make art seem at home, but a proof of the continuity of poetic language with the world, a task perhaps especially urgent for an atheist, albeit, as he says, a "sentimental" disbeliever. There is a Yeatsian tilt to the poem's third line, and there is also a contemplative immersion here that recalls Edward Thomas's "Tall Nettles", another poem where seeming inconsequence masks a subtle power of evocation and suggestion. It is impossible to say finally whether Longley's poem marks celebration or loss, so acclimatised is it to its world." Sean O'Brien, The Guardian
$12.95 paperback with flaps
Now, in e-book form: http://wfu.tizrapublisher.com/hundred-doors/