Buy now!
Price: $ 10.00
print
The Copious Dark by Eilean Ni Chuilleanain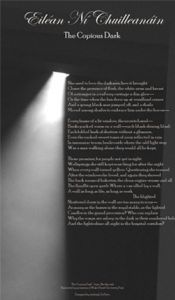 This broadside is first in a series of four, designed to celebrate and commemorate the publication of The Wake Forest Book of Irish Women's Poetry in 2011. In order to allow a broad audience to enjoy these signed broadsides, they are laser printed on quality linen paper.
Signed by the poet. AVAILABLE OCTOBER 24, 2011. You may pre-order.
8-1/2" x 14" Book club members, please take no discount. Thank you!