Buy now!
Price: $ 10.00
print
Some People by Rita Ann Higgins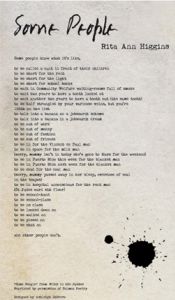 This wrenching poem by Rita Ann Higgins has a form that perfectly matches its content. It was created to coincide with the publication of the Wake Forest Book of Irish Women's Poetry in the fall of 2011.
AVAILABLE on October 24, 2011, though they may be pre-ordered. Bookclub members, please take no discount.
Signed by the poet
8-1/2" x14"
Used with permission of Salmon Poetry