Buy now!
Price: $ 12.95
print
Ciaran Carson - The Alexandrine Plan (paperback)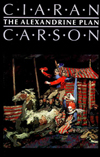 In these translations from the sonnets of the major nineteenth-century French poets – Rimbaud, Baudelaire, and Mallarmé – the relation of the poet to his world is adapted to the wild, fruitful imagination of Ciaran Carson, while formally the poems hold to their "Alexandrine Plan," twelve-syllable lines in the rhyme schemes of the original. As Carson carries these poems across into his own idiom and sensibility, he restores, with starting freshness, the essential joy and verve of the earlier poems.

" [A] reader with even a smattering of French might appreciate how thoroughly Carson both translates – that is, carries across – and then transplants in an altogether different soil and climate the richness of those originals." Thomas O'Grady, Boston Review

Selection from The Alexandrine Plan by Ciaran Carson

The Green Bar

I'd ripped my boots to pieces on the pebbly roads
Since Monday was a week. I walked into Kingstown.
Found myself in the old Green Bar. I ordered loads
Of cool ham, bread and butter. It was nearly sundown.

Pleased as Punch, I stretched my legs beneath the shamrock
Table. I admired the tacky '50s décor.
Then this vacant waitress in a tit-enhancing frock
Came on and wiggled up to me, her eyes galore

With hints of smoochy kisses and her gorgeous platter
Of green gherkins, slabs of ham and bread and butter,
Rosy, garlic-scented ham; and then she filled my beer mug

With a bright smile, and turned herself into a ray
Of sunshine, like an unexpected Lady Day.
I guzzled it all into me. Glug. Glug. Glug. Glug.

$12.95
1998 96 pages
paperback
In English and French; translations from Rimbaud, Baudelaire, and Mallarmé
ISBN 978-0-916390-83-9