Buy now!
Price: $ 14.95
print
Harry Clifton - The Winter Sleep of Captain Lemass (pb)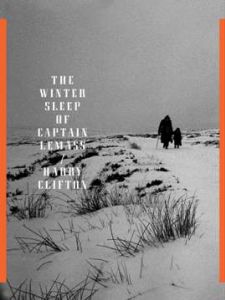 "The poems begin with something seen, remembered, or suddenly known, or a melancholy feeling about time passing, or complex emotions about love, and then they take a longer view, or hold their breath while a new tone, filled with sonorous risk and odd wisdom slowly seeps into an end-line of a stanza or a new section of a poem…. There are moments when you hold your breath… and you sit up in pure delight… there are a number of poems in this book that will be read as long as any poems are read anywhere…. The last poem, 'Oweniny, Upper Reaches', filled with soft, haunting cadences and strange, ambiguous musings on solitude, memory and the meaning of things, is a masterpiece. It displays Clifton's reticence and technical skill against the need to let the poem soar into a truth that emerges from the gap between the words, and then it allows the words themselves to glide up and out in all their hushed and controlled beauty." - Colm Tóibín, Irish Times
"Motion is all, language is all, both perpetuated in Clifton's formal considerations. Lines convey evenness but underlying meaning belies it. Stability, when found, comes by way of a marriage, a house, a place, but even so, remains suspect. In "Dying Generations," in which a caregiver describes a day like any other (taking care of someone whose "mind is gone") finds solidity only in the country itself.
…My skull
Was thin at birth. I sense the oncoming fronts
From the Atlantic, days before they reach us
Deep inland. A great ache
Or is it the change, or the slow beginning
Of something inherited, as the old man
Goes to pieces? I no longer believe in anything
But the greenness, the greyness,
The eternal everydayness
Of Ireland…
This speaks to the heart of the book, and the permanence, such as it is, that often lies in land and sea."
Valerie Duff-Strautmann, http://www.thecommononline.org
This collection follows Secular Eden: Paris Notebooks 1994-2004, published by Wake Forest in 2007, which won the Irish Times Poetry Now Award.
$14.95 ISBN 978-1-930630-60-4 Paperback with flaps
E-book: http://wfu.tizrapublisher.com/winter-sleep-of-captain-lemass/
Clifton is the present Professor of Poetry in Ireland.