Buy now!
Price: $ 8.95
print
Ciaran Carson - Belfast Confetti (paperback)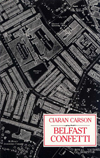 Belfast Confetti, Carson's third book of poetry, weaves together in a carefully sequenced volume prose pieces, long poems, lyrics, and haiku. His subjects include the permeable boundaries of Belfast neighborhoods, of memory, and of the forms of language and art. Carson finds unexpected uses — constructive and destructive — of the building rubble of Belfast history. Rich in lore of place, these innovative and vividly fresh poems draw deeply on traditions — oral, local, and literary.

"One of the most gifted imaginations in contemporary poetry." Douglas Dunn, Irish Literary Supplement


Bloody Hand

Your man, says the Man, will walk into the bar like this — here his fingers
Mimic a pair of legs, one stiff at the knee — so you'll know exactly
What to do. He sticks a finger to his head. Pretend its child's play —
The hand might be a horse's mouth, a rabbit or a dog. Five handclaps.
Walls have ears: the shadows you throw are the shadows you try to throw off.

I snuffed out the candle between finger and thumb. Was it the left hand
Hacked off at the wrist and thrown to the shores of Ulster? Did Ulster
Exist? Or the Right Hand of God, saying Stop to this and Noto that?
My thumb is the hammer of a gun. The thumb goes up. The thumb goes down.
$8.95
1989 110 pages
paperback
ISBN 978-0-916390-40-2