Buy now!
Price: $ 13.95
print
Peter Fallon - News of the World (clothbound)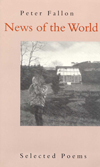 Editor and publisher of Irish literature, Peter Fallon founded the Gallery Press in 1970, and has published hundreds of volumes of poems, plays, and stories by Irish authors. This selection offers his own poems from four books: The Speaking Stones, Winter Work, The News and Weather, and Eye to Eye.

"I have the greatest liking for Peter Fallon's poetry. It does not filter the world of the small farm for some urban reader; rather it takes him there. It does so without sentimentality, giving us for instance the brute weariness of farm work (Pastorale) as well as the triumph of work well done (The Old Masters). On the whole, Fallon's words move artfully within the lexicon of the rural town; their poetry is in the rightness of naming and describing, the exact ear for the beat and savor of country speech, the honest tuning of the poet's feeling toward his chosen place." Richard Wilbur


The Herd

I studied in the hedge school
and learned religions are a cod.
They're all the one.
Ask any fool.
Every lamb's a lamb of God.

$13.95
1993 79 pages
clothbound
ISBN 978-0-916390-57-0