Buy now!
Price: $ 18.95
print
Michael Longley - The Weather in Japan (clothbound)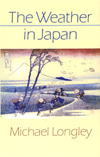 Winner of the Irish Times Irish Literature Prize for Poetry, 2001
Winner of the T.S. Eliot Poetry Prize, 2001
Winner of the Hawthornden Prize, 2000

"Michael Longley's The Weather in Japan is the best book I have read this year and, although I have admired him for some time, I did not expect him to surpass himself.... Brilliant, and taking me back to earlier brilliance, [it] shocked me into understanding that the poet I had admired had quietly become — along with Seamus Heaney, say, and Geoffrey Hill — a contemporary who should endure over the life of our language." Donald Hall, Los Angeles Times Sunday Book Review

The Daffodils
Poem Beginning with a Line of J.M. Synge

Your daughter is reading to you over and over again
Wordsworth's 'The Daffodils', her lips at your ear.
She wants you to know what a good girl you have been.
You are so good at joined-up writing the page you
Have filled with your knowledge is completely black.
Your hand presses her hand in response to rhyme words.
She wants you to turn away from the wooden desk
Before you die, and look out of the classroom window
Where all the available space is filled with daffodils.

$18.95
2000 80 pages
clothbound
ISBN 978-0-916390-96-9