Buy now!
Price: $ 9.95
print
Michael Longley - The Ghost Orchid (paperback)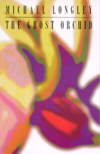 "It is a volume in which the preoccupations of a poetic lifetime are richly deepened, intensified and supplemented in poems of lucid, ceremonious courtesy and goodwill: a 'flowering' itself, in more than one sense." Neil Corcoran, Times Literary Supplement

"Longley's wittiest book to date.… The Ghost Orchid is as distinguished and memorable a collection as any published in our times." David Wheatley, Irish Review
Poem from The Ghost Orchid (1996) by Michael Longley
The Ghost Orchid
Added to its few remaining sites will be the stanza
I compose about leaves like flakes of skin, a colour
Dithering between pink and yellow, and then the root
That grows like coral among shadows and leaf-litter.
Just touching the petals bruises them into darkness.

$9.95
1996 62 pages
paperback
ISBN 978-0-916390-72-3