Buy now!
Price: $ 17.95
print
Women's Poetry in France, 1965-1995: A Bilingual Anthology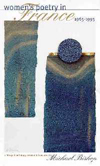 "Few such anthologies exist." Choice

"No one has done more than Michael Bishop to bring to the attention of interested readers the extraordinary range and diversity of contemporary women poets in France." World Literature Today

As the first North American anthology of French women's poetry ever published, Women's Poetry in France, 1965 - 1995 can radically open and alter our perception of recent French poetry. Michael Bishop's translations capture the distinctive voices of these twenty-eight poets, including such well-known writers as Anne-Marie Albiach, Andrée Chedid, and Marguerite Duras, as well as others who had been unjustly neglected even in their own country.

$17.95
1995 392 pages
paperback
Bilingual; translated by Michael Bishop
ISBN 978-0-916390-79-2