Buy now!
Price: $ 9.95
print
Claire Malroux - Edge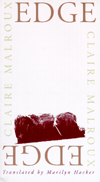 "These 37 lyrics (exquisitely translated by Marilyn Hacker) … with their bristling intensity, clipped phrasing, and brilliant flashes of imagery are apt to remind many readers of Dickinson, whose work Malroux has translated. … Malroux revels in all facets of womanhood, her sensuality rushing from seductive to nurturing, torrid to tender. And as Edge attests, its force shapes gem after gem." Timothy Donnelly, The Boston Review

Marilyn Hacker is the author of many collections of poetry, including Presentation Piece, which was awarded the National Book Award; Selected Poems: 1965-1990, which received the Poet's Prize; and Winter Numbers, which was awarded both the Lambda Literary Award in Poetry and the Lenore Marshall Poetry Prize.

Claire Malroux was born in Albi, France, and now lives in Paris and Cabourg. She is the author of numerous volumes of poetry and is herself a highly esteemed translator and received the Grand Prix National de la Traduction in 1995.
$9.95
1996 101 pages
paperback
Bilingual; translated by Marilyn Hacker
ISBN 978-0-916390-74-7