Robert Whaples
Professor of Economics
Wake Forest University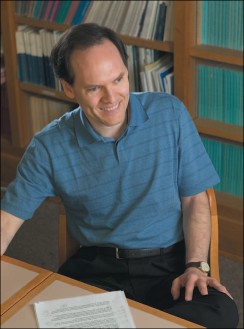 Robert Whaples
Department of Economics
Wake Forest University
Winston-Salem, NC 27109
336-758-4916
whaples@wfu.edu
Education

I graduated from the University of Maryland in 1983 with B.A.'s in Economics and History, and earned a Ph.D. in Economics from the University of Pennsylvania in 1990. My dissertation, "The Shortening of the American Work Week: An Economic and Historical Analysis," won the Allen Nevins Prize from the Economic History Association.

Research and Publications

I have edited five books. Historical Perspectives on the American Economy (with Dianne Betts, 1995), Public Choice Interpretations of American Economic History (with Jac Heckelman and John Moorhouse, 1999), The Routledge Handbook of Modern Economic History and The Routledge Handbook of Major Events in Economic History (both with Randall Parker, 2012), as well as The Economic Crisis in Retrospect: Explanations by Great Economists (with Page West, forthcoming). My early research focused on the history of labor markets, with emphasis on the length of the work week, aging, and discrimination. Several of my papers explore consensus among economic historians and economists, especially the widely-cited "Do Economists Agree on Anything?" and "Are Disagreements among Male and Female Economists Marginal at Best?" (with Ann Mari May and Mary McGarvey, forthcoming in Contemporary Economic Policy). A recent paper of mine argues that the U.S. Mint should stop producing pennies. My Modern Economic Issues course (2007), 36 half hour lectures on issues ranging from inflation, unemployment, inequality, trade, global climate change and taxes to WalMart, Social Security, health care, baseball, obesity and immigration, is available from The Teaching Company.

EH.Net and Economic History

I am Book Review Editor for EH.Net, which provides electronic services for economic historians. edited EH.Net's Encyclopedia of Economic and Business History. Read my interview with the Federal Reserve Bank of Richmond's Region Focus about a range of Economic History issues. "Is Economic History a Neglected Field of Study?" (Historically Speaking, 2010) contains my thoughts on the current state of the profession.

The Independent Review

In early 2013 I became Managing Editor and Co-Editor (with Michael Munger and Chris Coyne) of The Independent Review.

Teaching

I regularly teach Introduction to Economics, Current Economic Issues, American Economic Development, and Natural Resource Economics. In 1999 the Economic History Association awarded me the Jonathan Hughes Prize for Excellence in Teaching Economic History. (Here is a copy of my acceptance comments.)

Family

My wife, Regina, and I are the parents of two sons and three daughters.

Other

I am chair of Wake Forest University's Department of Economics and coach of the Wake Forest quizbowl team.
---