The Mercy of Eternity: A Memoir of Depression and Grace (Evanston, IL: Northwestern University Press, 2010)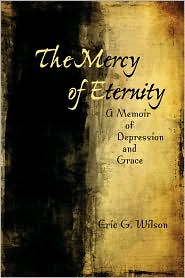 Purchase at Amazon.com
"Wilson's memoir is a gripping Lazarus story of the chiaroscuro of human existence, the transfigurative power and love and forgiveness, and spiritual death and rebirth. The story of his struggle with depression is a modern-day Everyman play that speaks to all of us who at one time or another find ourselves lost in our own darkling wood. Written with grace, candor, and insight, The Mercy of Eternity is a book to cherish." Kerry Walter, author of Merciful Meekness: Becoming a Spiritually Integrated Person.
"Brilliant, transcendent . . . In this raw, beautiful memoir, Wilson personalizes the themes he explored in his critically acclaimed 2008 book Against Happiness: In Praise of Melancholy, exploring not only his own mental illness but the intellectual, emotional and spiritual journey he embarked on that saved his life, even infused it with meaning and beauty." Minneapolis Star Tribune

"Wilson's . . . passage from despair to 'grace' is hopeful in the end, and it is profoundly enriched and illuminated by the Romantic poets and philosophers he teaches. Wilson was never completely isolated by his depression; his literary companions illuminated a path to grace, and his
daughter." Raleigh News and Observer

"Eric G. Wilson blends the literary with the meditative in an intelligent and moving memoir about the author's many- sided approach to his own mental illness. . . . Masterfully weaving in the writings of poets and thinkers from Emerson to Randall, Wilson finds solace in 'fellow travelers' along his passage from despair to grace." bp: Bipolar Magazine

In his best-selling book Against Happiness: In Praise of Melancholy, Eric G. Wilson challenged our culture' s blindly insistent pursuit of happiness at all costs. In his harrowing yet ultimately hopeful memoir, The Mercy of Eternity, the author turns an unsparing eye on his own continuing struggle with bipolar depression and finds, within the very illness that causes so much suffering, the resources for hope, forgiveness, and love.

Although it is Wilson s illness that brings these virtues into sharper relief, The Mercy of Eternity charts challenges that any reflective person must consider in his or her lifetime. As a bright student-athlete on his way to West Point, Wilson seemed to be well on the way to a fulfilling life. Yet from his teen years he was haunted by overwhelming feelings of his deep insignificance. As he grew older, the traditional means of fulfillment marriage and professional success did nothing to assuage the descents into darkness and destructive behavior.

As a scholar of literature, Wilson often encounters the biggest question of life: Is this suffering meaningful? From the Book of Job to Oedipus Rex to Hamlet to the poetry of Emily Dickinson and beyond, writers have wrestled with a similar question. For most of his life, Wilson has tried to eradicate the either real or imagined sources of suffering. Therapy and medication have offered some relief, but the birth of his daughter ultimately forces his hand. In some ways, the answer has been in front of him the whole time, for Wilson finds in the literature of Coleridge, Blake, and others the lessons that depression might teach. When he comes upon negative theology the school of thought that finds God in the dark night of the soul Wilson discovers the framework for a radical call to forgive depression. Only by forgiving this capricious, impersonal force is Wilson able to find the grace to move beyond the cycles of destructive self-absorption.

In a refreshingly honest coda, Wilson explains his title, based on this passage from Blake: Time is the mercy of eternity . . . without Time's swiftness, which is the swiftest of all things, all were eternal torment. Wilson admits that he continues to struggle, but in facing his depression instead of trying to escape it, he finds wisdom and grace. Beautifully and accessibly written, The Mercy of Eternity is a brief yet profound meditation on the largest question of life.