Adobe Premiere Elements 9
http://www.adobe.com/products/premiereel/
http://www.adobe.com/support/premiereelements/
http://help.adobe.com/en_US/premiereelements/using/index.html
http://forums.adobe.com/community/premiere_elements
Reviews
New Features
File based camera support
Cisco Flip support - oh well, anyone care at this point? no 1080p, concentrate on Flip share? no wonder it has to close
DSLR support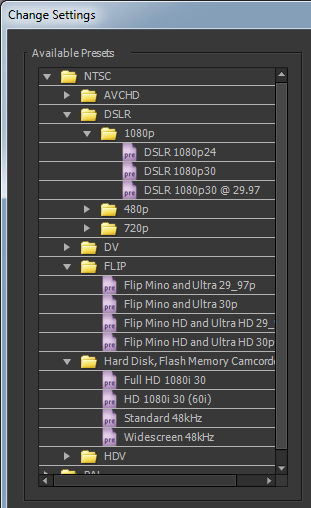 Facebook, sharing
need to go through Organizer? (Flickr also)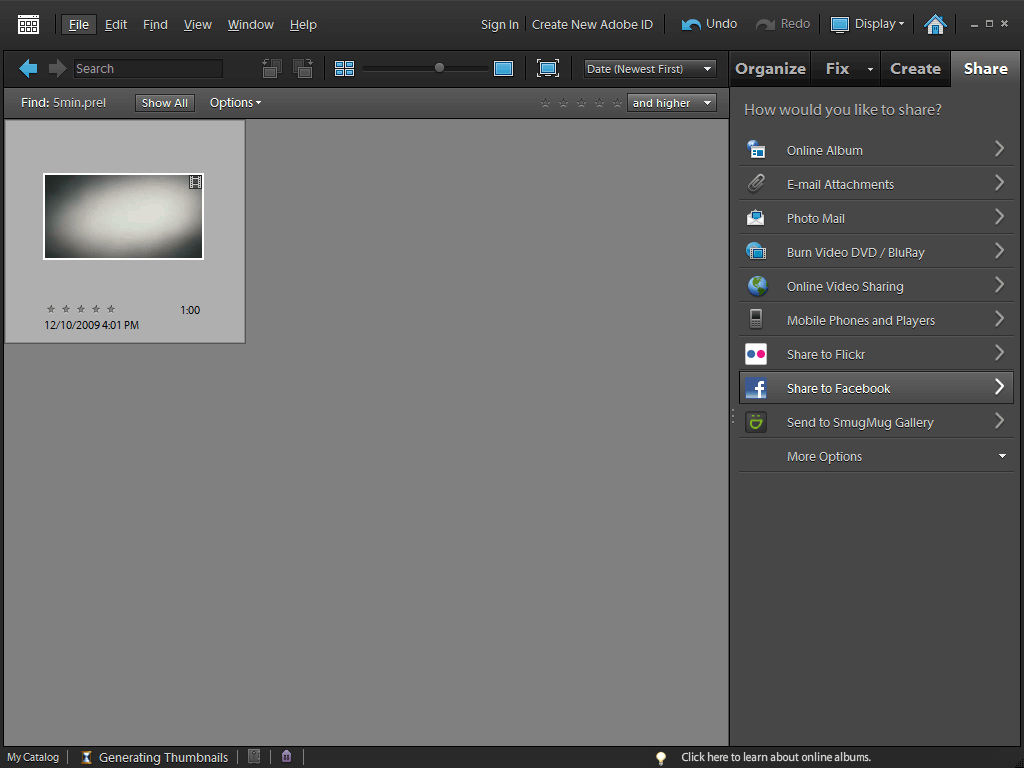 (background - CCTV ad)
WebDVD
flash based?
crash on me during compiling media 99%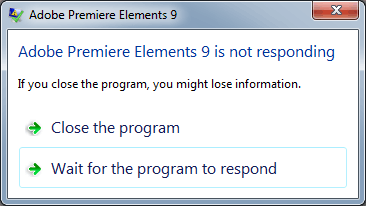 Fix audio problem easily
background noise, volume, but clarity?
Professional Flair?
cartoon style is professional? some only for plus
Good
DVD burning (Blu-Ray can only burn direct to disc, not to folder?) and media conversion builtin, no need to switch to Encore and Adobe Media Converter
Bad
slowwwww sometimes (especial on first run and create new), you will see that barber shop spinning no-progress bar a lot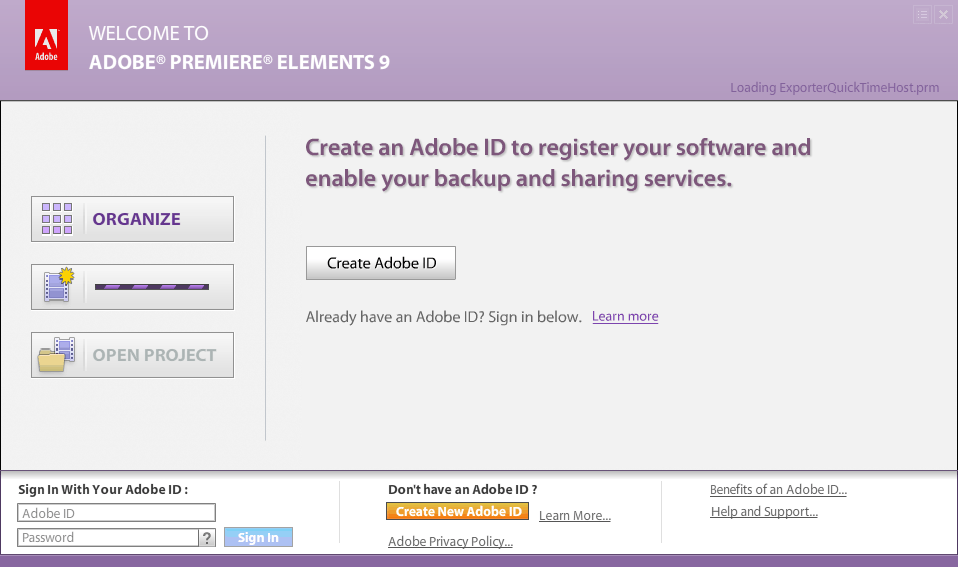 UI changes - bin (called project) on right, create new UCL, bar and tone there instead from menu (why obsessions with those "non-standard" elements recently? splash home screen open project button is like that too, it is a popup menu.). effects not a palette, use edit button. some windows are popup, not dockable?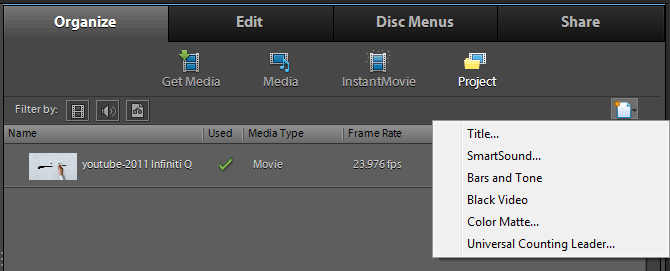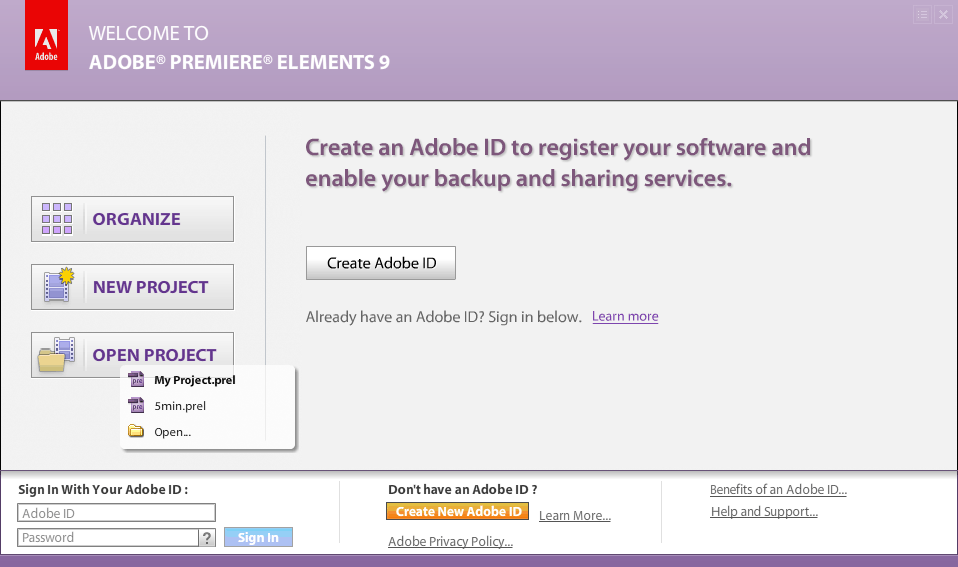 multiple downloads for full content. i guess that is a good thing for some, don't have to download SD or HD or any extra if you don't need them.

MPEG2 and MPEG4 SP components need activations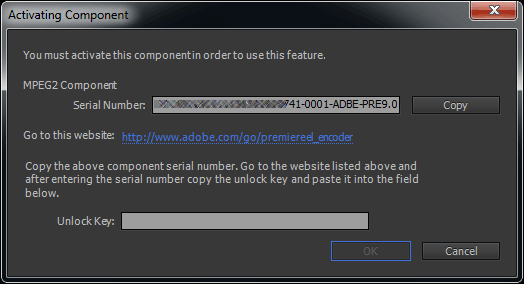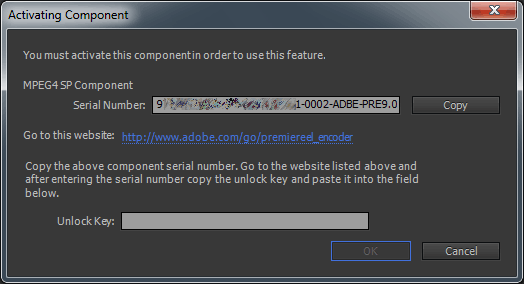 Youtube, photoshop.com - have to download share online profiles on first use, not preloaded, store in user appdata, not system .epr, why? - Pr CS4 only has up to 720p, PrE 9 has 1440 and 1080 (not sure why the filename of the 1080 .epr is under Flash instead of H.264. the xml file is unreadable, things like codec and bitrates are in codes, not plain text). No advance button to see exact settings or change?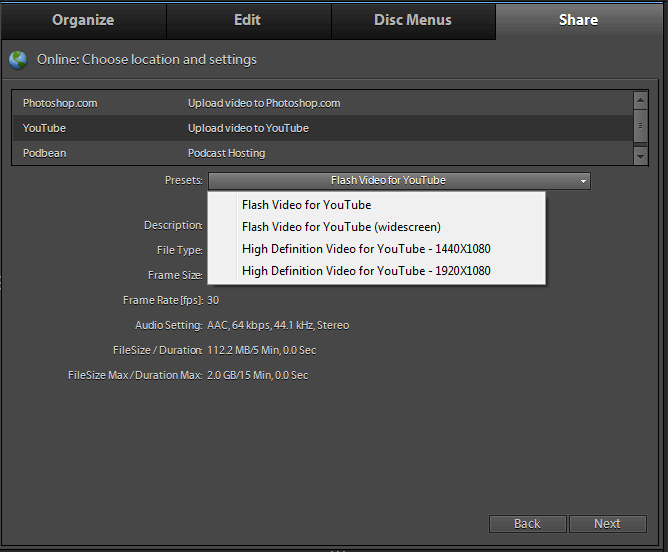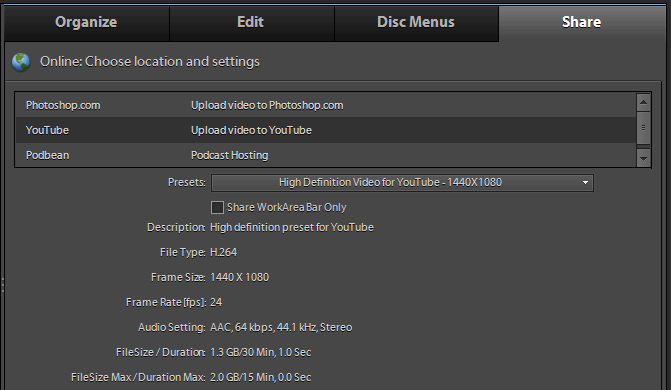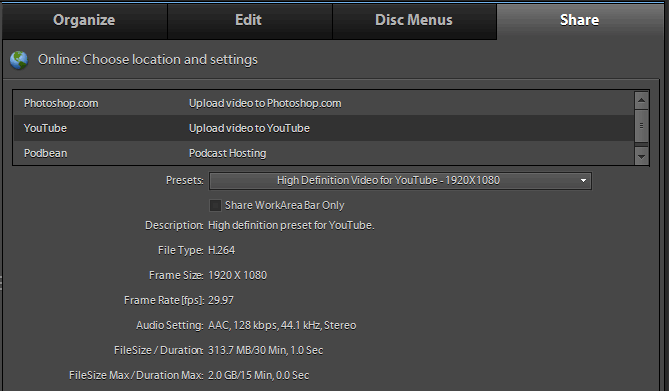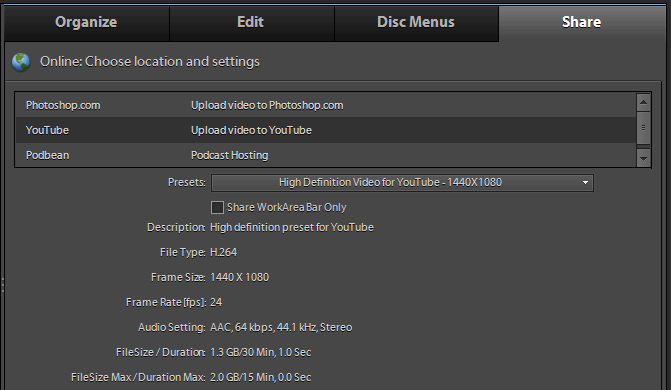 Nice (or annoying if you use it alot) warning about copyright materials.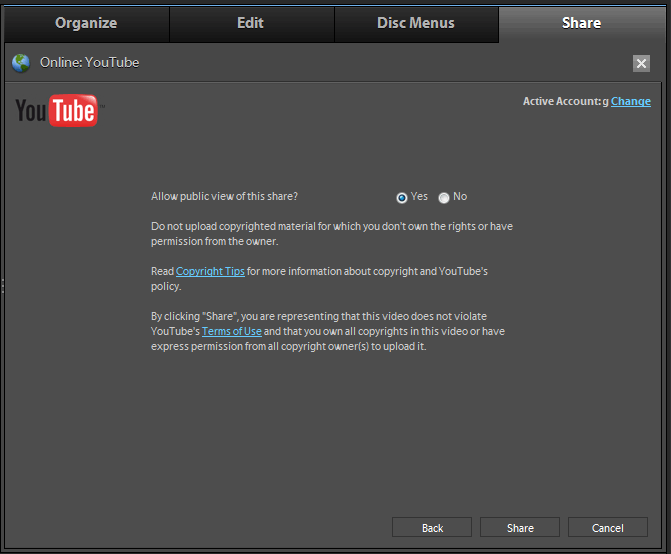 iPod presets (1st - 3rd generation iPod touch, 4th generation can play 720p H.264) make no sense, high quality 640x480 H.264 128kbps AAC, medium quality 320x240 H.264 but 160 kbps AAC? why?

(background - CCTV ad)
Plus membership - annoying upsale. sounds like Pinnacle Video Studio now.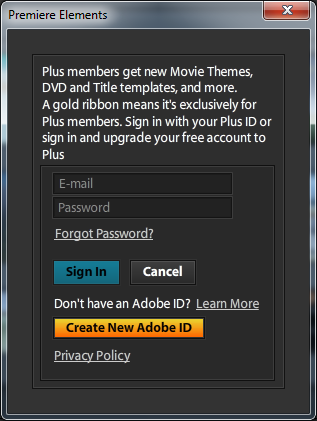 Cannot cross fade channel with still and channel with video like regular (professional) Premiere just dropping transition onto clip, have to right click on still to fade. or edit effects to get to setting panel, or use anchor points
Using instant movie themes locks the timeline? cannot change where effects come in? (only random?)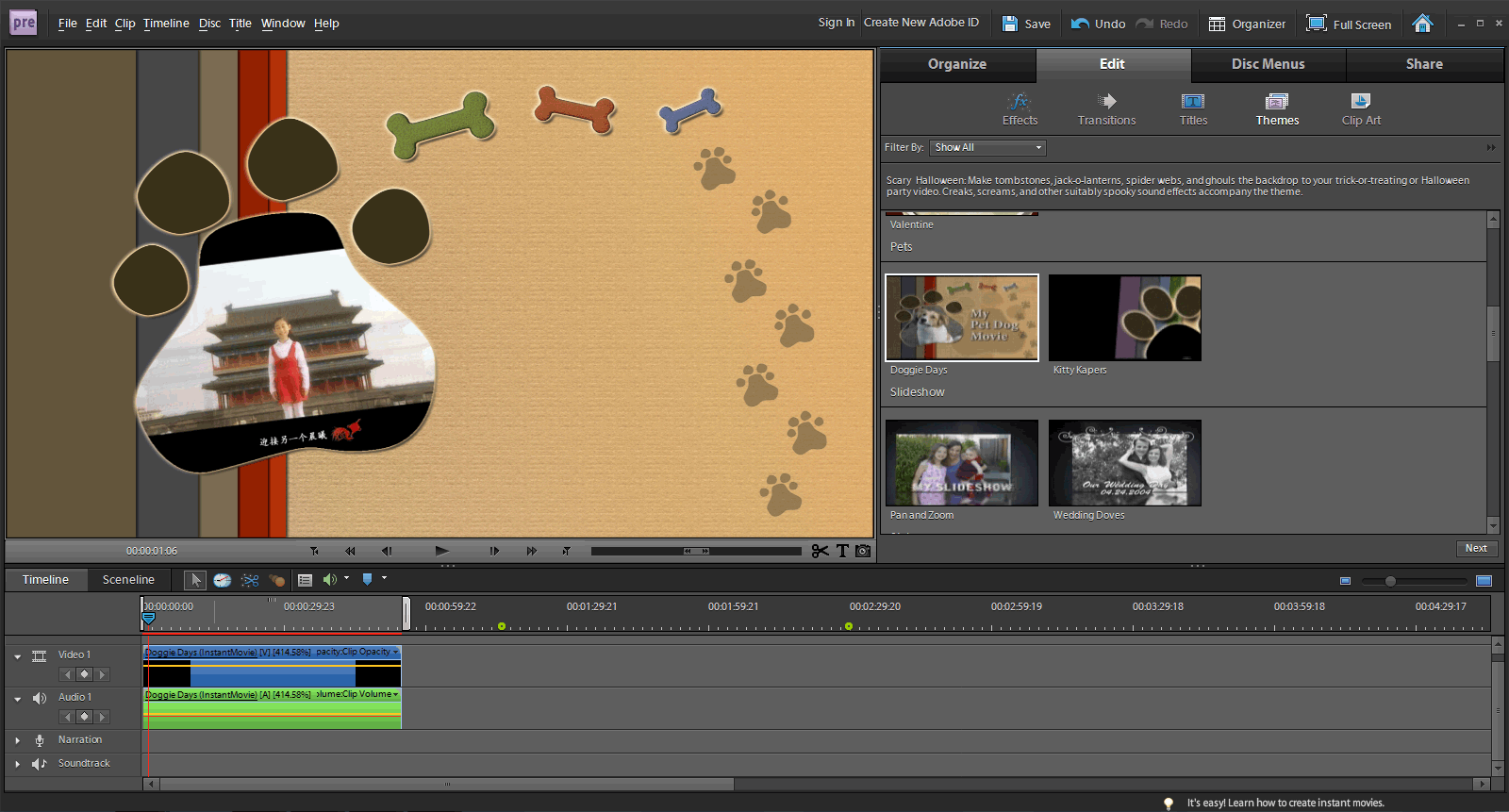 (background - 2008 Beijing Olympic song)
AVCHD LITE? 720p24/30/60, non-Lite if 1080i? no 1080p (not in HDV either)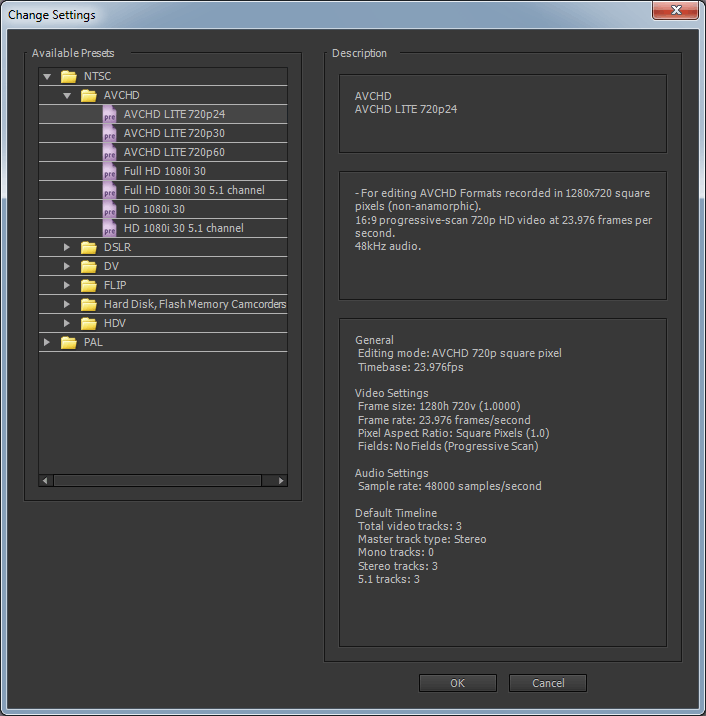 not Adobe problem - Intel Sandy Bridge media SDK QuickSync encoder acceleration plugin - i think i followed the instruction correctly, got nothing shows up in preset
http://www.intel.com/technology/quicksync/index.htm
http://software.intel.com/en-us/articles/adobe-premiere-propremiere-elements-encoder-plug-in-using-intel-media-sdk-and-intel-quick-sync-video-technology/
Competitors
Corel VideoStudio X4 Pro (formerly Ulead. and the new non-sense URLs)/Digital Studio 2010 VideoStudio Express- http://www.corel.com/servlet/Satellite/us/en/Product/1175714228541, http://www.corel.com/servlet/Satellite/us/en/Content/1245942755341
(Avid) Pinnacle Studio http://www.pinnaclesys.com/PublicSite/us/Products/Consumer+Products/Home+Video/Studio+Family/
Sony Creative Vegas http://www.sonycreativesoftware.com/vegassoftware
Cyberlink Power Director http://www.cyberlink.com/products/powerdirector/overview_en_US.html
Roxio various products http://www.roxio.com/enu/store/video.html
Acrsoft various products http://www.arcsoft.com/intouch/intelsnbconsumer/, http://www.arcsoft.com/estore/video_products.asp
Magix various products http://www.magix.com/us/video/
Movavi various products http://www.movavi.com/products.html
Not sure i should include it, it is so worthless with the new 2011 version (no timeline, transition only on end, no narration, even worse than version 2.6. as usually, easy of use blah blah blah BS) http://explore.live.com/windows-live-movie-maker
and of course iMoview for Mac OS, iOS (iPhone), iOS (iPad) http://www.apple.com/ilife/imovie/
may be even FCP X if it is so dumb down that it sends people back to Avid (at least it is cheaper, not like previous years (at least for academic versions, went up like $200 each of last 2 upgrades?) http://gizmodo.com/#!5793175/why-final-cut-pro-x-is-sending-me-back-to-avid
free
Kdenlive? http://www.kdenlive.org/
LiVES http://lives.sourceforge.net/
Lightworks http://www.lightworksbeta.com/
Cinefx (formerly known as Jahshaka) http://www.cinefx.org/
Cinelerra http://www.heroinewarrior.com/cinelerra.php
Lumiera http://lumiera.org/
PiTiVi http://www.pitivi.org/
VideoLAN Movie Creator VLMC http://trac.videolan.org/vlmc/
Open Shot http://www.openshotvideo.com/
Open Movie Editor http://www.openmovieeditor.org/