Last Updated: May 16, 2011 8:30 AM
First published: April 11, 2011
Xoom - Android HoneyComb tablet
http://www.motorola.com/staticfiles/Consumers/US-EN/TABLETS/tablets.html
The dual core CPU is fast and responsive. UX leaves gaps, need improvements
OS Update
- didn't tell you what changed
3.1 - movie studio shortcut broke, need to add again. Not all the gadgets are resizable yet (gmail, bookmark - yes, clock, twitter - no)
Red Light of Death
- sometimes it won't power on, the front camera's red light just blinks. people in forum said Power/lock+Volume Up force reboot can do it (sometimes)
MicroSD
- need to wait for Firmware update
Flash
- original 3.0 need 3/11 OTA update to 3.0.1 to use 3/18 Flash 10.2 beta (already comes with new firmware for new ones)
- final Flash 10.2 waiting 3.x update
- 3.1 ok for 10.3?

Screen Capture
- No hardware key? (power+home on iOS) need to root and install app or USB tether to PC with SDK? ...
https://supportforums.motorola.com/message/342933
Browsers
CNBC, Engadget, Yahoo Hong Kong all detected it as phone and switch to mobile versions. (got CNBC to desktop version once). Have to do about:debug (no change in UI), go to settings, debug and change UAstring from Android to desktop.
Youtube still change to m.youtube.com version. Sharing URI redirection to desktop doesn't work in Firefox.
If Firefox 4 installed, would ask which to use until change setting, it comes back and ask again after a while.
Gmail
cannot turn off conversation?
HDMI
just need straigt Type D (v1.4) micro-HDMI cable to output 720p (a little bit overscan crop on pana tv) [supposedly can do 1080p, problem with kernel]
Video
picky, got some H.264 .mp4 won't play, guess have to recompress to baseline profile
https://motorola-global-portal.custhelp.com/app/answers/detail/a_id/63258
http://developer.android.com/guide/appendix/media-formats.html#core
HandBrake
turn off B-Frames, CABAC Entropy Coding, 8x8 Transform, Weighted P-Frames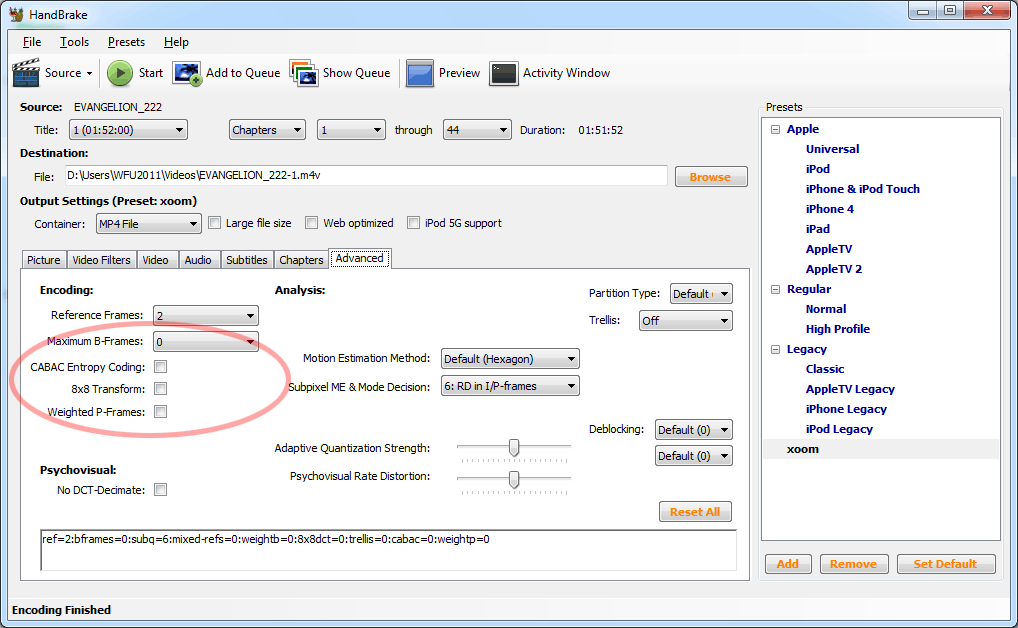 Mediacoder
Turn off B-Frames in x264. both baseline level 3.1 or 4.0 work.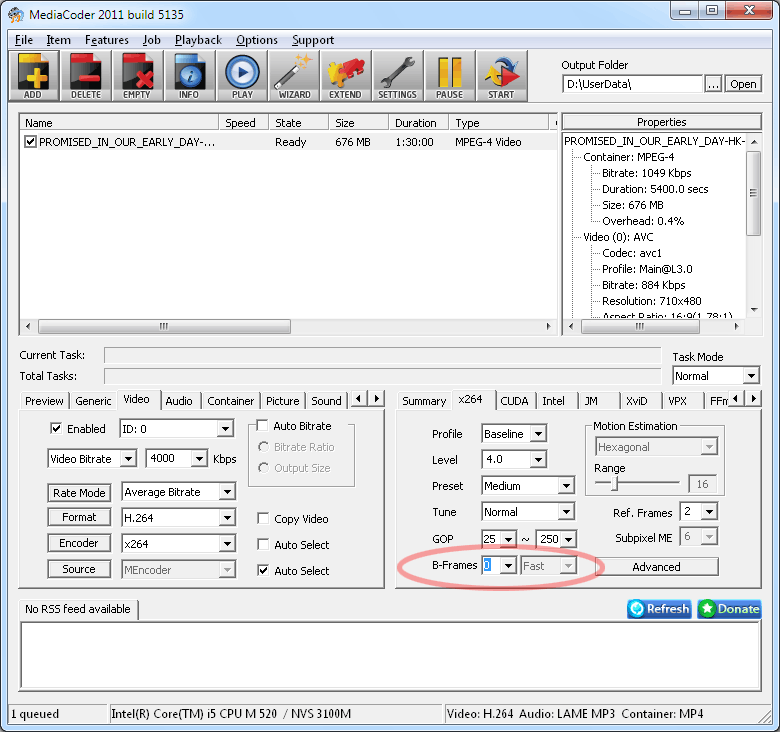 Music
not so sure about the diagonal coverflow. simple list option?
Transfer
mount as filesystem is a lot better than iOS only give you photos, the rest have to use iTunes
CJK input
no built-in CJK (Chinese-Traditional, Chinese-Simplified, Japanese, Korean), pinyin, handwriting etc. IME (no in iOS 3 either, fixed in iOS4), has Mandarin & Yue voices. (via Google) and Google pinyin IME that you can download
MultiLing does work too well - enable said device not supported platform, vertical scroll select language doesn't work, have to use space bar horizonal scroll. Developer @HanWriting says fixing it
MarketPlace
Flash 10.2 beta install, first time didn't even work. AIR crashed during install, have do it second time.
only work in landscape mode.
confusing YouTube listed, but doesn't install
updates screen didn't highlight changes (vs AppStore), popup on status bar is kind of annoying.
multiple places show progress bar is both good and bad.
Crashed
have to force close these so far- MarketPlace, browser, twitter, CNBC RT (it is funny, try to send email to support), CNN (go back to first launch), and USA Today.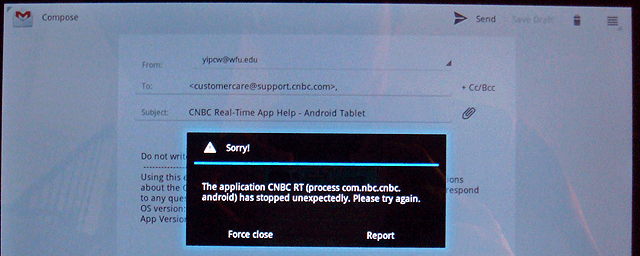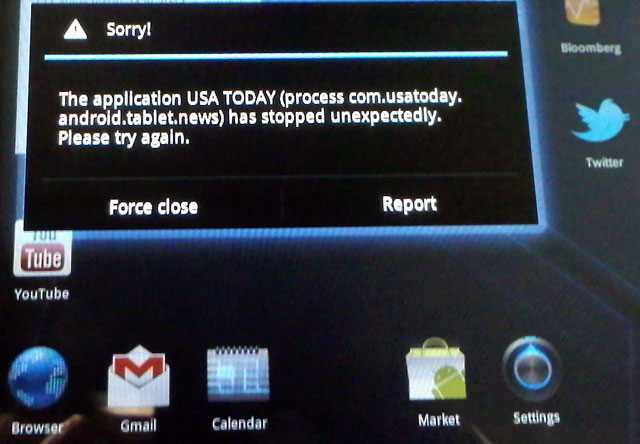 Apps
Good ones
Amazon Kindle, Pulse, USA Today, CNN (slow) are good.
CNBC RT tablet friendly - cannot re-order my stock?
Twitter
no three column, still phone version, not tablet (still fullscreen, better than 1x, 2x on iOS)
CNBC for Android Phone
CNBC for Android Phone not tablet aware
The Weather Channel
not using the tablet features
Bloomberg
not tablet aware. Ridiciouslt long EUAL, it fills the 2 screens with tiny text.
vs. iOS iPhone, iPod Touch, iPad, iPad 2
Safari - Browser
Mail - Gmail & Email
Calendar - Calendar
Contacts - Contacts
Camera - Camera
Maps - Maps
iPod - Music
Videos - Movie Studio
YouTube - YouTube
iBooks (download) - Books
Photos - Gallery
App Store - Market & Downloads
Settings - Settings
doesn't come with Notes, Weather, Stock, FaceTime, Photo Booth, Game Center, iTunes. But come with Cordy and Dungeon Defense games, Google Search, Voice Search, Latitude, Navigation, Places, Talk, Clock, Calculator
Forums
Reviews
FAQ