iPad - for work in education
Last Updated: May 25, 2010 4:38 PM
I know, I know, it is supposed to be a third device, in addition to your smartphone and computer, always connected, eeeeeasy to use, and not cheap.
You can read the reviews, and the reviews of the reviews
http://www.engadget.com/2010/04/03/apple-ipad-review/
http://gizmodo.com/5507037/ipad-mega-meta-review-works-great-no-surprises
on how it is great for mom, grandmom for
- watch/listen/buy/rent online videos/music
- read webpages/news/books/comics/weather/stock/recipes/sports related stuff
- light duty email/documents content creation
- use google apps, facebook, twitter
- edit blog/wiki
- store things in cloud
- online 24/7
and what other educators think
http://listserv.educause.edu/cgi-bin/wa.exe?A2=ind1004&L=CIO&T=0&F=&S=&P=23802
http://stevecheney.posterous.com/the-ipad-will-change-education-forever
and other specifically ideas for academics (thanks Darcy for the links)
http://blog.stratepedia.org/2010/01/29/5-ways-the-ipad-and-education-could-go-together/
http://edutechnophobia.com/2010/02/six-ways-the-ipad-will-transform-education/
You still want to see whether you can use it as a main productivity tool, right. http://www.engadget.com/2010/04/03/entelligence-the-ipad-as-a-productivity-tool/
Input Keyboard language
Has Simplified Chinese (handwriting and pinyin) and Japanese. (I think I still like Windows TIP and IMEs better)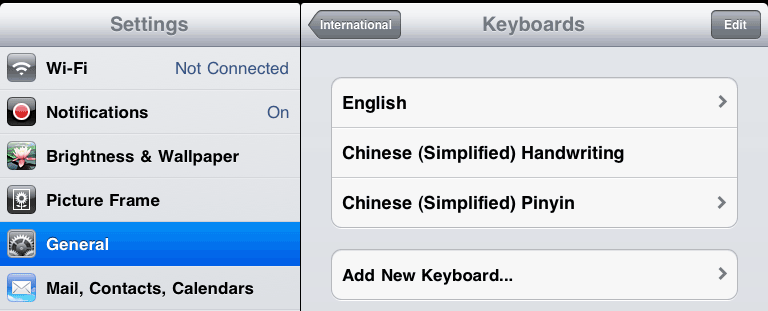 No Traditional Chinese, and Korean.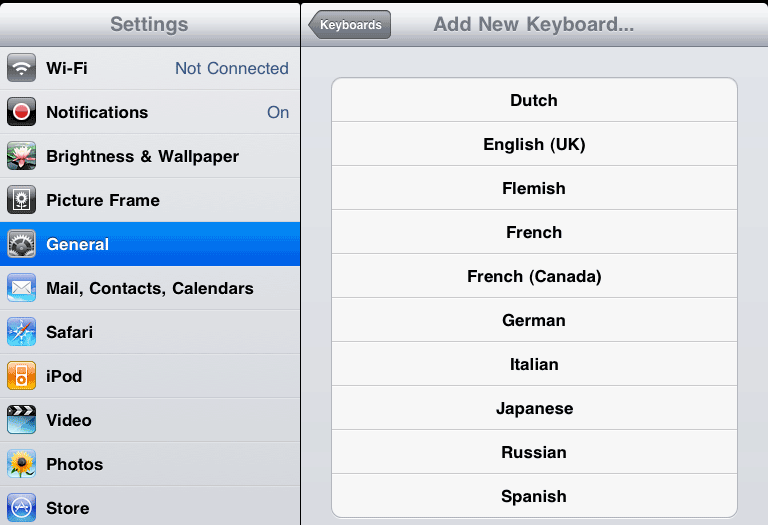 no handwriting recognition for English and Japanese?
ePub
you can do add file to library in iTunes your own ePub, there is no confirmation dialog, it is easier to drag and drop.
http://gizmodo.com/5505907/itunes-91-takes-epub-ebooks-but-not-much-else
http://gizmodo.com/5508805/hands-on-apple-ibooks

text to speech not built-in to iBook? use VoiceOver instead?

see http://gizmodo.com/5522341/how-to-fix-todays-ebook-readers on what's wrong with iBook and Kindle
Video
you have to downsize your 1080p videos before sync, aaaaaa
http://gizmodo.com/5508909/ipad-test-notes-your-video
You probably want to deinterlace the video also. Handbrake 0.9.4 DVD-video using default universal profile don't look too good with interlacing. It doesn't really have enough resolution also for 1024x768, 720x480 (1.78), 850x368 display size loose anamorphic, 60,78% RF:20 constant quality [subtitle also does not work (not in VLC either), won't show in audio & subtitle list, have to do burn in, and only one track for m4v.].
No idea why it won't work with sorcerersapprentice-tlr2_h720p.mov, it will play in iTunes but won't copy

As far as I can tell, it is the same as others
salt-tlr2_h720p.mov
redcliff-tlr_h720p.mov
redcliff-clip_h720p.mov
ironman2-clip2_h720p.mov
ironman2-34rgrwt9-tlr2_h720p.mov
curseofthegoldenflower-tlr_h720p.mov
curseofthegoldenflower-tlr3_h720p.mov
that work, H.264, AAC, 24fps.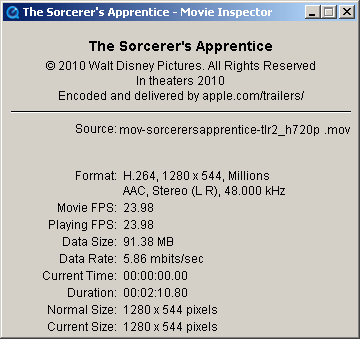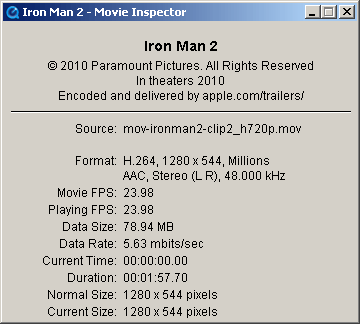 cannot delete on device?
cannot change order, sort by name only?
Battery
there is no AC cord with it. $29.
some devices won't charge it.

http://www.engadget.com/2010/04/03/apple-ipad-charging-woes-usb-hubs-non-macs-and-weak-ports-not/
http://gizmodo.com/5508851/apple-ipad-not-charging-via-usb-for-some-users
Continuous use, supposedly just shy of 6 hours.
http://gizmodo.com/5510095/ipad-test-notes-battery-life
I wonder whether it is really 1.5 hours if Flash is available
http://gizmodo.com/5475005/steve-jobs-flash-video-would-make-the-ipad-battery-life-15-hours
non-user replacement - $99 to get a new iPad
http://www.engadget.com/2010/03/13/dead-ipad-battery-never-mind-replacing-it-apple-just-sends-ano/
Calendar
cannot repeat every Mon, Wed, Fri, or every Tue, Thr?
cannot flick to go to prev/next day|week|month, have to tap arrows?
Pages
$9.99
How do I insert equation?
TOC?
New document from template (other than blank), cannot change one word/line, have to delete whole block?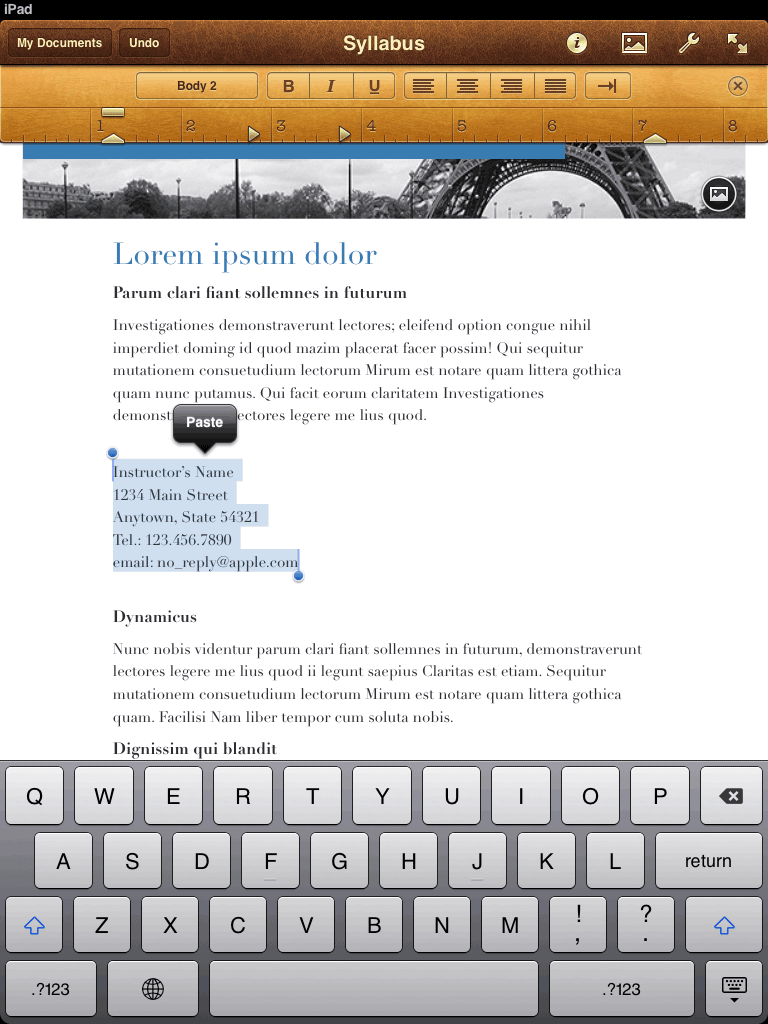 Help all online, no local copy.
How to transfer documents to/from? http://gizmodo.com/5508935/ipad-test-notes-how-to-transfer-documents-to-and-from-your-computer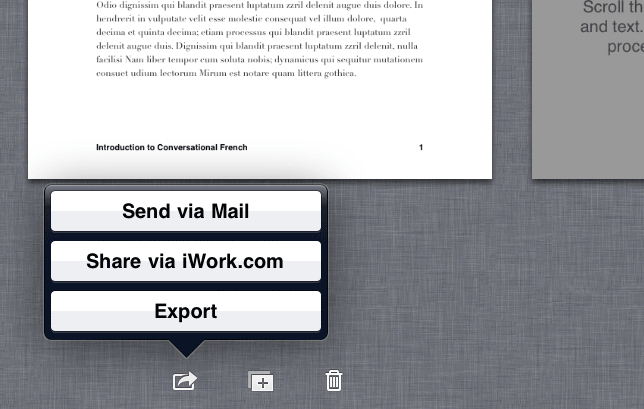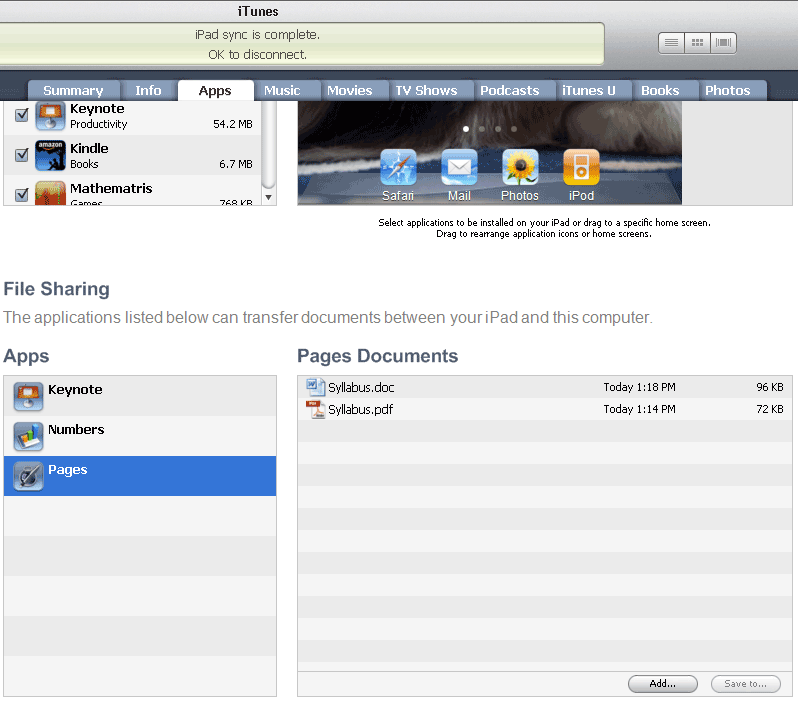 Cannot import (or read) shared PDF (from export or copy from computer)
there is no delete button, or context menu, just hit delete key
cannot open two documents to cut and paste?
no footnote/endnote
bullet list is under body/header style instead of separate style.
take 3-5 taps to specify fonts.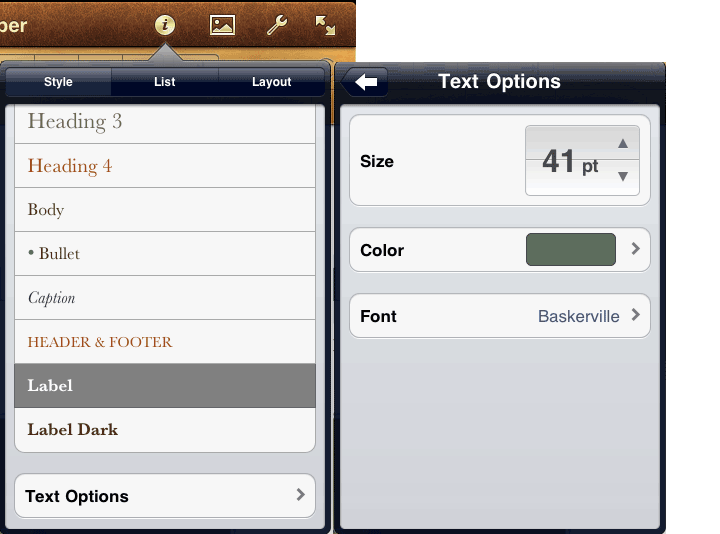 Only 43 fonts
Academy Engraved LET
American Typewriter
AppleGothic
Arial
Arial Hebrew
Arial Rounded MT Bold
Baskerville
Bodoni 72
Bodoni 72 Oldstyle
Bodoni 72 Smallcaps
Symbols
Bradley Hand
Chalkduster
Cochin
Copperplate
Courier
Courier New
Didot
Futura
Geeza Pro
Georgia
Gill Sans
Heiti J
Heiti K
Heiti SC
Heiti TC
Helvetica
Helvetica Neue
Hiragino Kaku Gothic
Hiragino Mincho ProN
Hoefler Text
Marker Felt
Optimal
Palatino
Payrus
Party LET
Snell Roundhand
Thonburi
Times New Roman
Trebuchet MS
Verdana
Zapf Dingbats
Zapfino


very different set from Windows.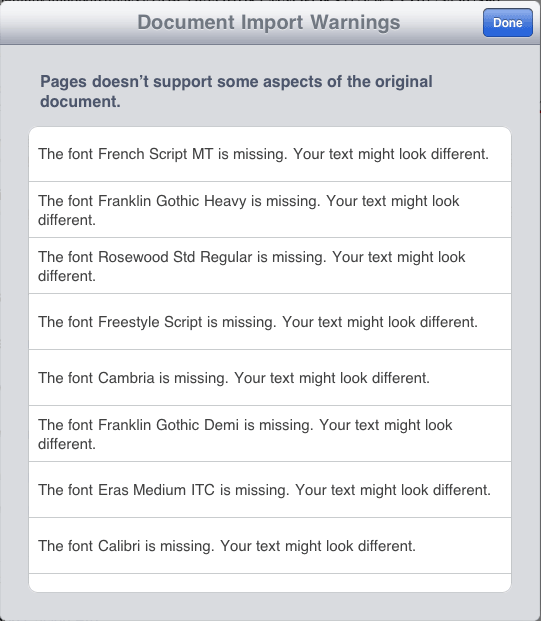 cannot insert live Numbers sheet?
can export to PDF, DOC (no DOCX) [iTunes file sharing], or via email or iwork.com only. (no folder structure?)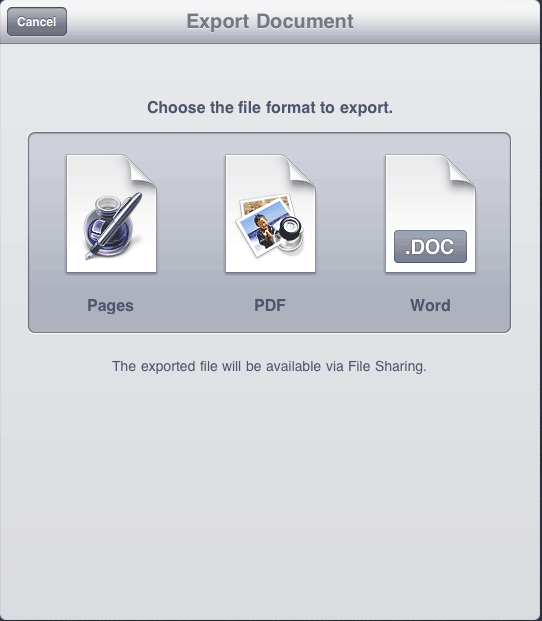 export syllabus template got an "Cannot extract the embedded font 'HGZHYK+Didot'. Some characters may not display or print correctly" error from the sample template.

export Get started to PDF, pcnttw and helvetica-bold font error on Windows.
How to show space (e.g. for remove extra) or paragraph marks?
cannot drag selection to another location?
Keynote
$9.99 again
not presenter notes?
no export back to PPT/PPTX?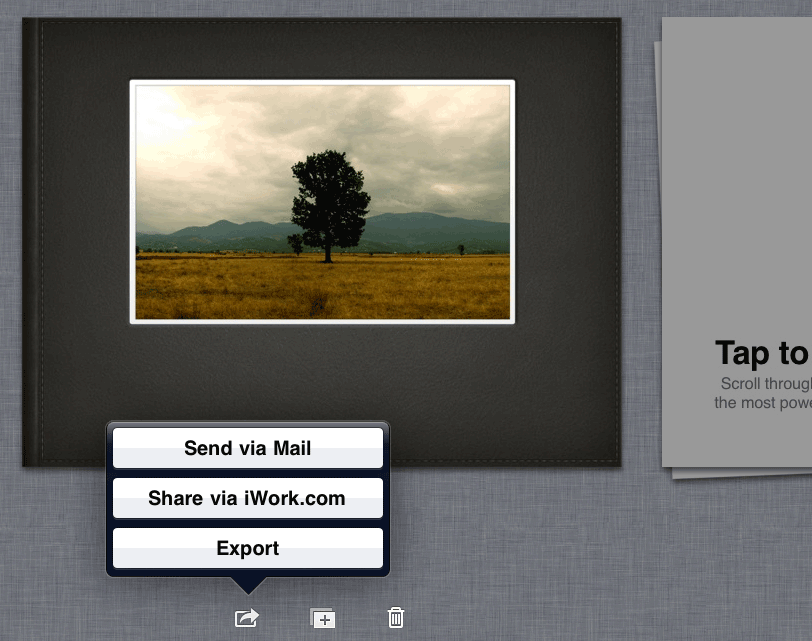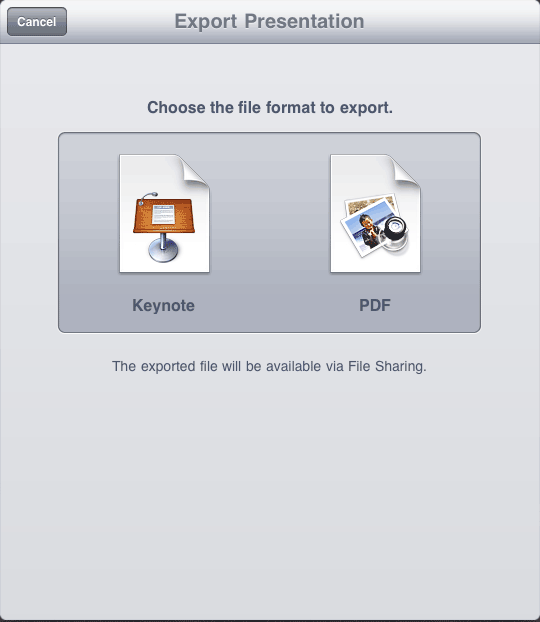 export Get started to PDF, xmaifx and helvetica-bold font error on Windows.
no embed video?
no portrait, 16:9/16:10? 4:3 landscape only.
no redo?
no save as?
Numbers
$9.99 yet again
chart drawing objects may be in wrong places.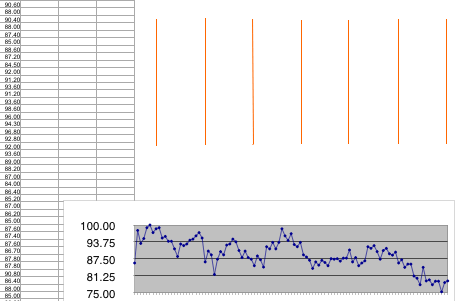 chart axis scale are wrong, don't read date numbers correctly.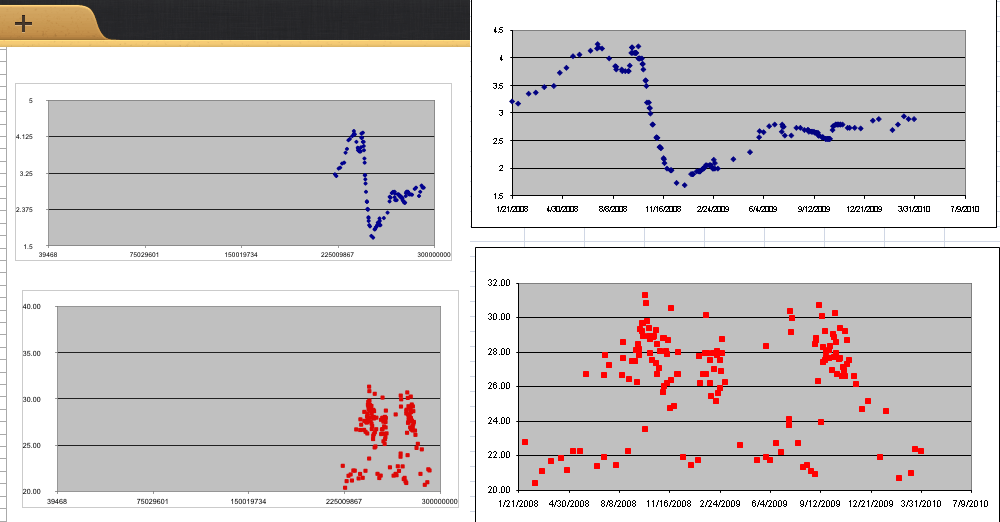 similar font issues to pages.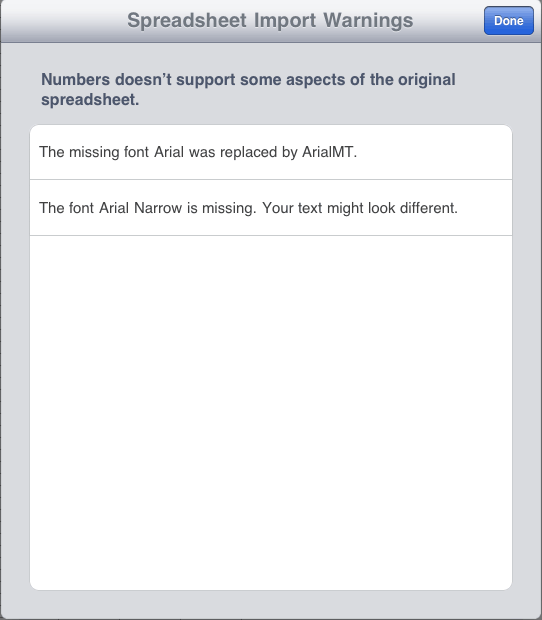 no export back to XLS/XLSX?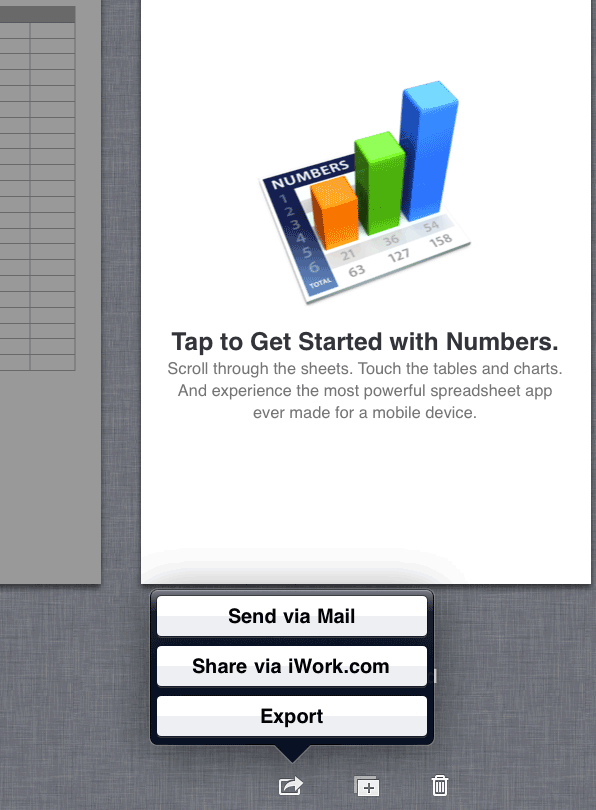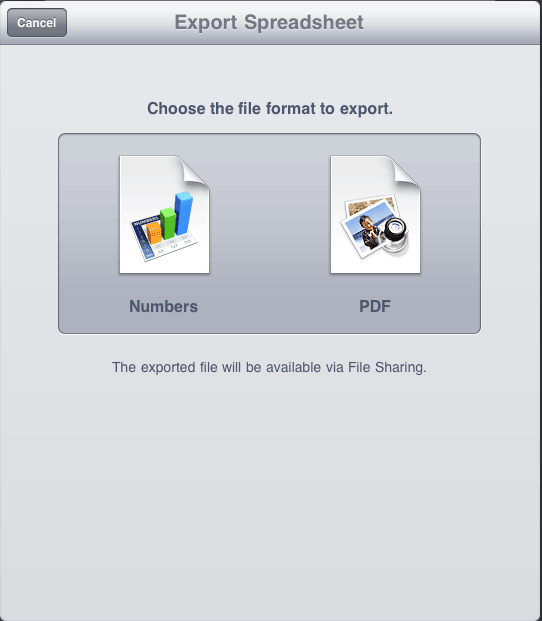 export Get started to PDF, rbhxic and helvetica-bold font error on Windows.
see http://arstechnica.com/apple/reviews/2010/04/iwork-for-ipad-clever-subtitle-goes-here.ars for more issues of the 3 iWork apps.
iWork.com
Apparently, it is not that simply to get it to work.
http://discussions.apple.com/thread.jspa?threadID=2212164&start=45&tstart=0
http://listserv.educause.edu/cgi-bin/wa.exe?A2=ind1004&L=CIO&T=0&F=&S=&P=64192
PDF
Can file sharing to import PDF for iPDF? only by search, not even URL?
no annotation
Cloudreaders - it was originally for comic books (it even use comic-*.zip as filename when upload. you have to rename them to .pdf to read), but work fine for PDF.
in v1.0, when you connect to iTunes on computer, you use a build in web page to update (it crashes a lot)
in v1.0.2, you can use iTunes app tab to upload. It crashes a lot though opening some PDF files.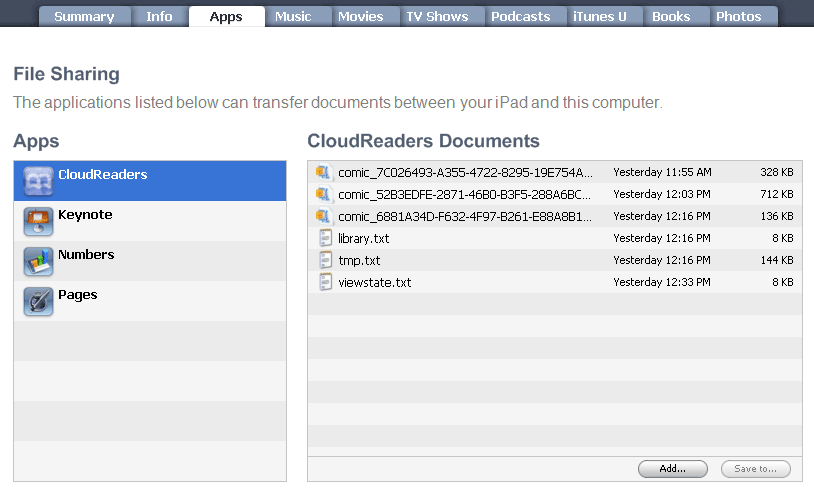 Safari
Can you save a local copy of webpage?
At least it can show PDF.
Can do .ics for calendar, but not .zip.
Google Calendar and Google Doc Kick into mobile mode sometimes?
One PDC page got it into infinite loop, sometimes even shows desktop.
No Flash ... ...
Photo
Cannot change sort order? see details and alternative of using adobe portfolio
folders under folder in My Pictures all lumped into one album. Only top level ones are used as album?
iTunes automatically "optimize pictures before transfer. Cannot have a high res. pictures and then zoom in/out on the iPad?
Help
not local, it is webpage http://help.apple.com/ipad . you can download PDF from http://support.apple.com/manuals/ipad/ (but not access it if not iPad, it will redirect)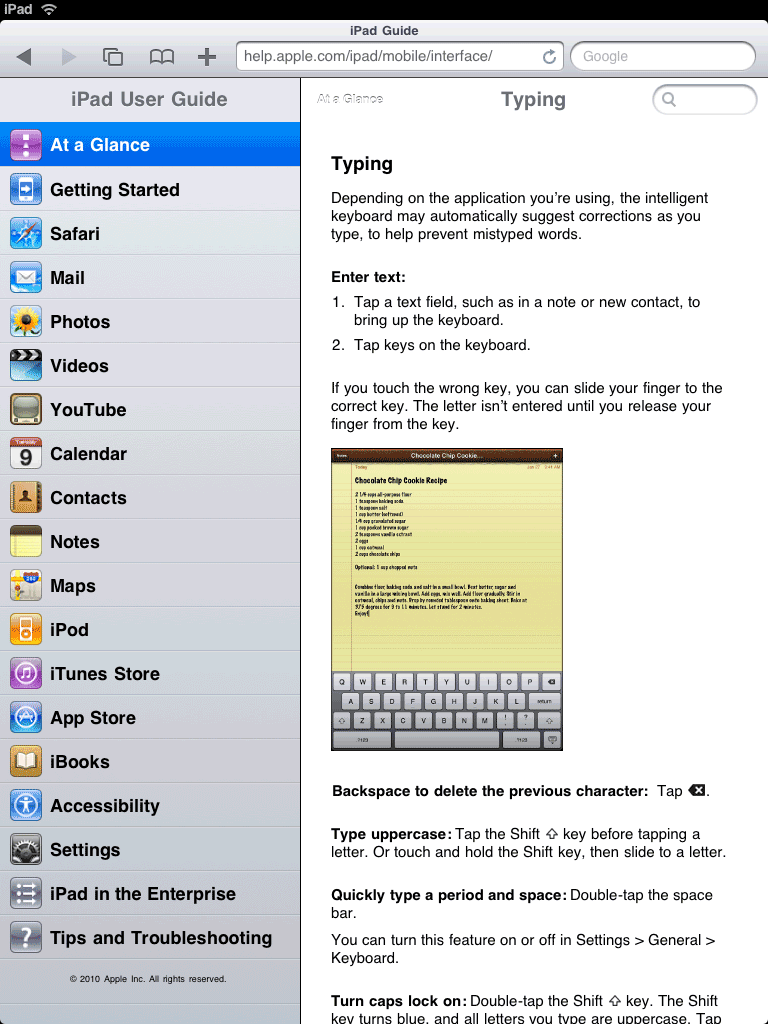 video out
another $29 VGA adapter. No HDMI, DisplayPort.
It doesn't show desktop (padtop), only active when playing video (pad screen show controller and poster film only, no mirror or preview), or running keynotes (no preview either).
About iPad Dock Connector to VGA Adapter compatibility
http://support.apple.com/kb/HT4108
Videos
Photos—Slideshow playback only
YouTube
Keynote
Safari—Video content on webpage
<http://forums.appleinsider.com/showpost.php?p=1567867&postcount=3>

"... Just wanted to relay a bit of information one of Apple's Systems Engineers gave to us during his monthly presentation at our school:

VGA output on the iPad is application specific.

It won't be the same as what Jobs and company showed on stage where seemingly everything was projected on screen (that was something custom for the stage as with other past products).

Each developer will need to [optionally] include a system call to output video for their specific app.

In the case of the iPad, Keynote is a video output ready app. ..."
I missed FnF7 already.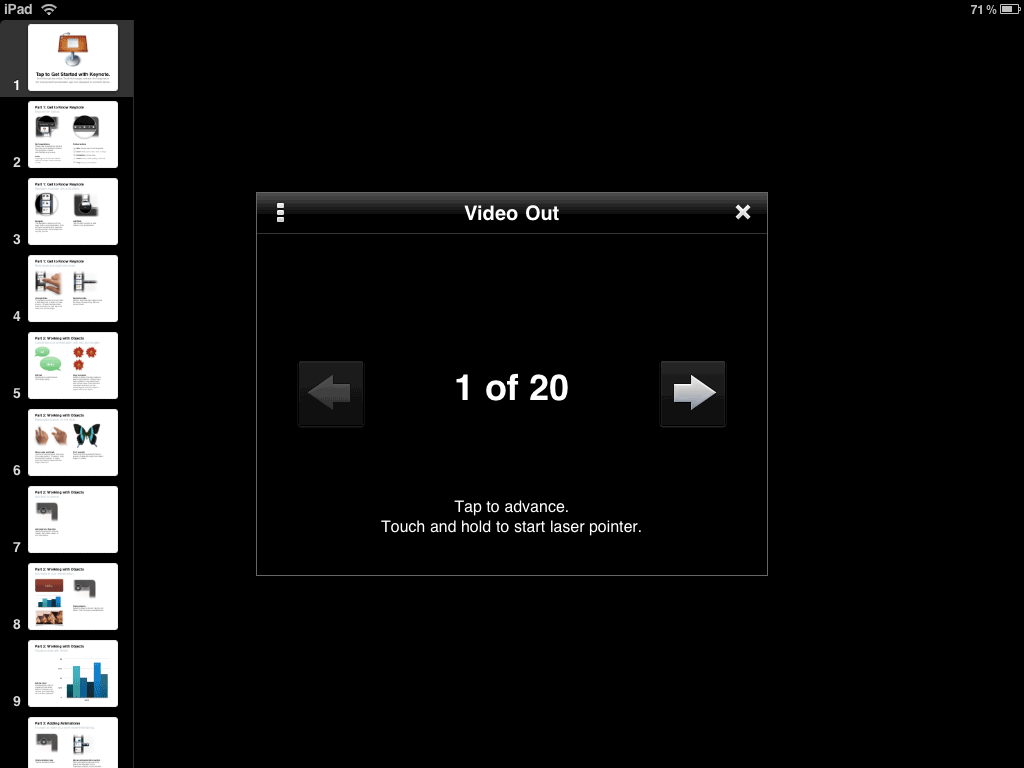 I wonder there is a Lenovo Classroom Director, Smart Sync client/server for it.
RDP/VNC/SSH/SCP/FTP/SFTP
no free clients? have to pay.
Need to try free Mocha VNC Lite to see whether it works.
iPod
Cannot flip through Cover Flow when playing music like in iTunes?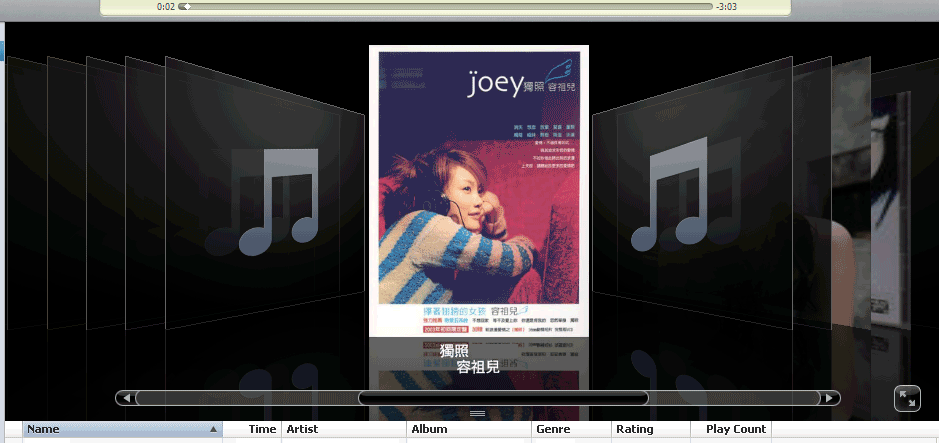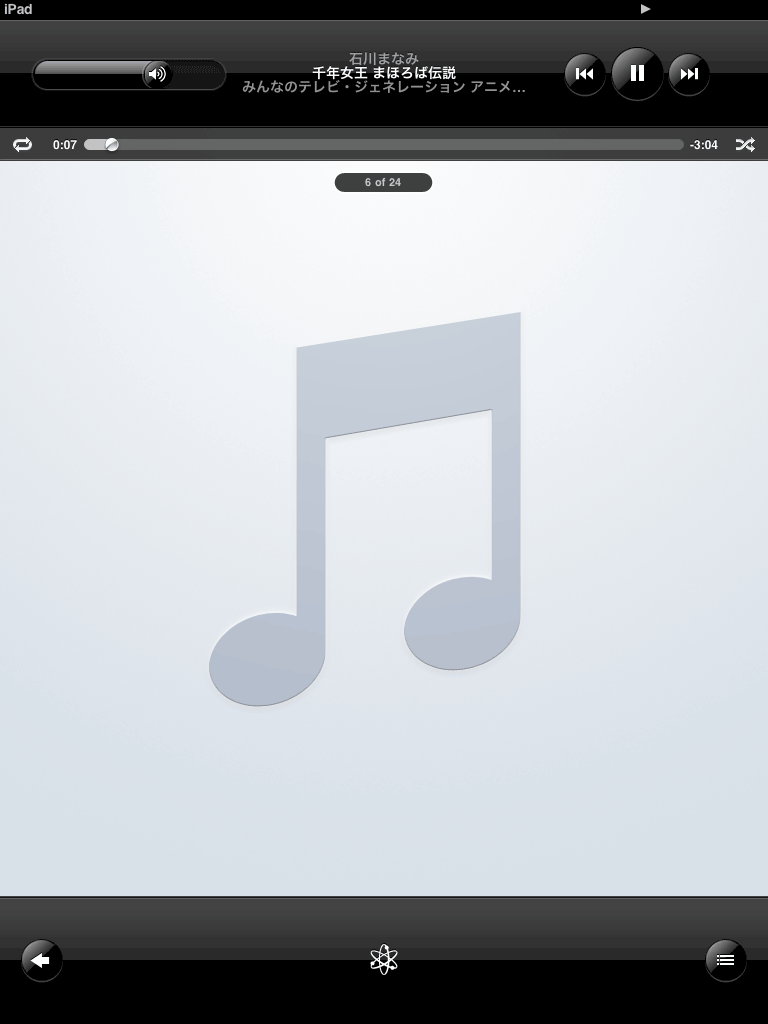 iTunes Appstore
How do I figure out what other clients I have authorized before? (other than you can reset all 5 once a year)
Once pass 80 apps, got out of memory error

Past 118 apps, the infamous 5002 error, sync and backup slow as molasses.

Multi-tasking
I really miss Alt-Tab to copy an URL or picture. This is getting more and more like pre 6.0 Single Finder. (at least that got HyperCard) I hope OS 4.0 (with multitasking) is free, not $9.99 again.
What about TSR like Borland Sidekick or Norton Commander from DOS days, or Desk Accessories from early Mac style calc that way would be handy.
Or, may be time to resurrect Lotus Symphony, Ashton-Tate Framework, Microsoft Works.
Or
http://gizmodo.com/5507697/the-desktop-app-lets-you-pretend-that-your-ipad-can-multitask
Or
http://gizmodo.com/5513525/ipad-dashboard-app-rejected-for-contradicting-ipads-user-experience
http://www.engadget.com/2010/04/09/dashboard-ipad-app-rejected-by-apple-made-open-source-instead/
email
still no universal inbox and detach attachments http://www.washingtonpost.com/wp-dyn/content/article/2010/04/03/AR2010040302488.htm (until 4.0)
And why the default signature "Sent from my iPad|iPhone|Verizon|Nokia or what not", that's just stupid.
I got a hard time to undo (only for typing, not action like move to folder?), shake it is inconvenient or inpractical especial if you have it on stand, or it start to rotate instead.
it get really arcane quick
no view (or saved search as view)
no filter rules
no tag
no threads
no auto predetermined interval auto archive
cannot do get more messages? only what's set in settings.
use mobileu for SMTP, mail.wfu.edu does not work just like iPod Touch?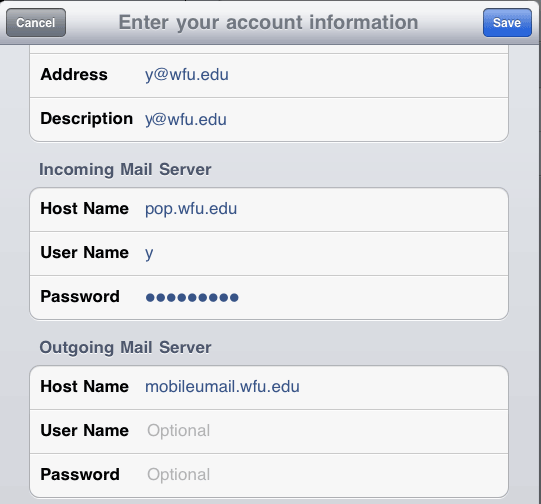 Camera
There goes Skype, sorry mom.
GPS
hardware only in 3G models?
Printing
I know, go paperless. And there is a (paid) app (actually a lot) for that.
or
http://www.engadget.com/2010/04/15/ipad-printing-solved/
Calc, Clock, Voice memo, Stock, and Weather
didn't make it to iPad from iPod Touch/iPhone? I guess you need a app (free, paid) for each.
http://gizmodo.com/5510939/replacing-the-apps-apple-left-off-the-ipad
A graphing calculator would be nice.
Paint
It won't kill them to throw in a MacPaint or MS Paint for a tablet. Have to download Adobe Ideas, Doodle Buddy, Draw, Dudel or paid for things like in
http://www.engadget.com/2010/04/07/ipad-apps-creativity-unleashed/
Charmap
gizmo, widget would be really nice.
Wireless
some reported issues http://www.engadget.com/2010/04/06/dost-thine-ipad-trouble-thee/
http://gizmodo.com/5511075/how-to-fix-the-ipads-wi+fi-issues
weak or intermittent WiFi signal, which we have seen also.
And Apple acknowledged there are Wi-Fi issues
<http://www.wired.com/gadgetlab/2010/04/ipad-wifi/>
And no LEAP or PEAP, have to use WPA2 Enterprise (for UCC only). iPhone Configuration Utility equivalent for custom configuration profile?
http://www.theipadguide.com/faq/does-ipad-support-leap-or-peap-wi-fi-authentication
" ... Does the iPad support LEAP or PEAP Wi-Fi authentication? | iPad FAQ

Apple has not mentioned whether or not the iPad will support LEAP or PEAP Wi-Fi authentication. iPhones already have EAP (Extensible Authentication Protocol) support via the iPhone Configuration Utility. Since the iPad will run iPhone OS 3.2, it's likely that support for these will be included.

iPhone users are limited to WEP, WPA, WPA2, WPA Enterprise, and WPA2 Enterprise when connecting to Wi-Fi networks without custom configuration profiles.

The iPhone Configuration Utility supports TLS, LEAP, TTLS, PEAP, and EAP-FAST. ..."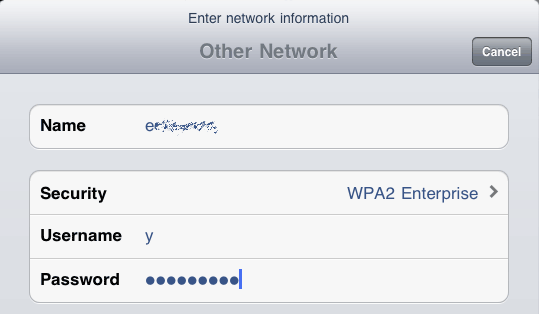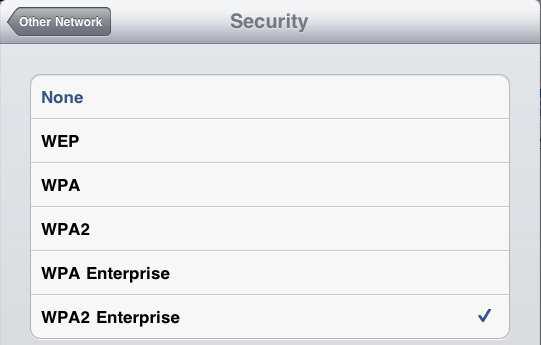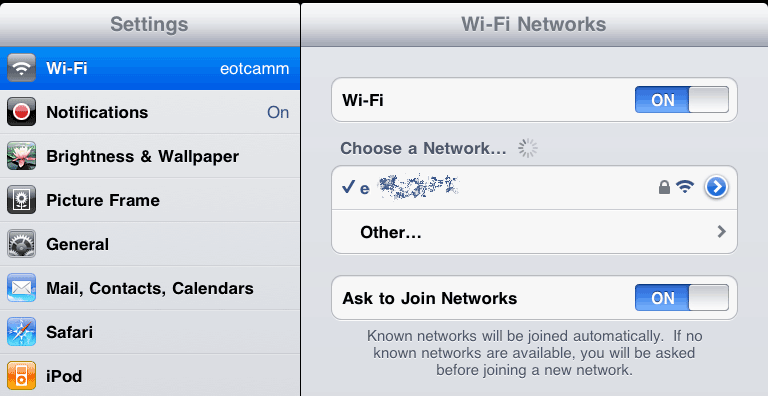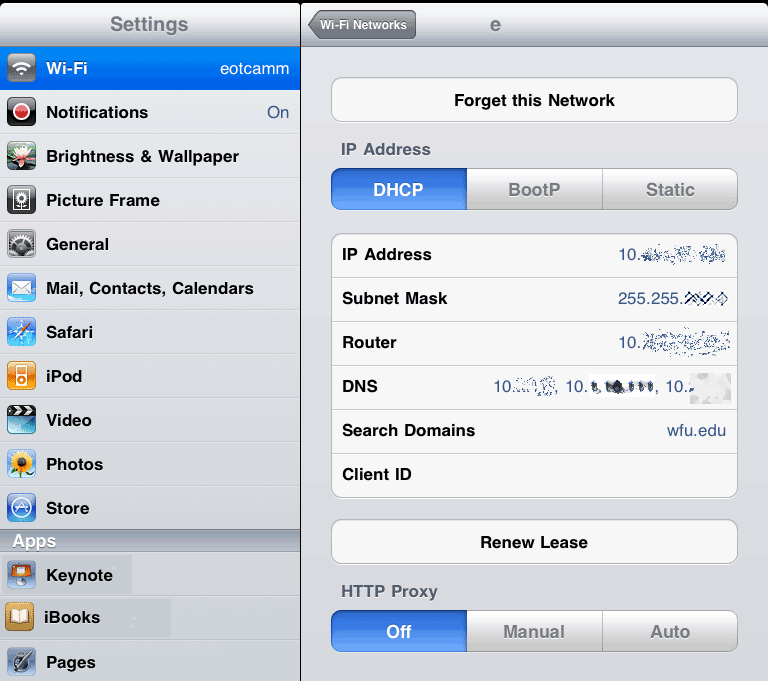 Screen
It get dirty so quick that you won't believe. http://gizmodo.com/5508937/ipad-test-notes-the-screen
you can see fingerprints exactly where the keyboard keys are, quite funny.
and before sleeping, hum ...
http://latimesblogs.latimes.com/technology/2010/04/ipad-kindle-ebook-sleep.html via http://gizmodo.com/5524005/experts-kindle-helps-you-sleep-ipad-causes-insomnia
rotation
Got couple apps that got confused about the screen rotation, one magazine one would continue to rotate when the pad is not turning and go crazy. Another screen dialog box didn't resize, so you can't even close it after rotate since the close box is off screen.
keyboard dock
$69, ship route through Shanghai instead of ShenZhen(CN)/Chek Lap Kok (Hong Kong)/Anchorage
don't like it that much, the connection got loose sometimes and lose cursor and keyboard control, have to jiggle a bit to get it back.
no AC cable with it :(
stylus
http://www.engadget.com/2010/04/08/jobs-if-you-see-a-stylus-or-a-task-manager-they-blew-it/
http://www.instructables.com/id/Soft-iPhone-and-iPad-Stylus/
iPhone, iPod Touch apps
no AA? http://gizmodo.com/5508853/why-you-shouldnt-bother-with-the-ipads-iphone-app-upscaling
I think I actually like my iPod Touch more. I put it in a Western Digital My Passport Elite bag (free) and in my shirt pocket. iPad case, another $39.
Reuters
Gallery 1.0.1 - got it working once, keep crashing afterwards.
SDK
compiled for 3.2 won't run on 3.1?
Walled Garden
I really miss my Firefox, Thunderbird, Microsoft Office 2003, Adobe Creative Suite, Camtasia.
you should not buy one if http://www.boingboing.net/2010/04/02/why-i-wont-buy-an-ipad-and-think-you-shouldnt-either.html
of course some people think he is wrong http://www.insidehighered.com/blogs/technology_and_learning/why_cory_doctorow_is_wrong_about_the_ipad
http://www.insidehighered.com/blogs/technology_and_learning/questions_about_the_ipad
http://www.roughtype.com/archives/2010/04/the_ipad_luddit.php
and if you like Adobe, CS5 ... ...
http://techcrunch.com/2010/04/09/adobe-go-screw-yourself-apple-2/
http://techcrunch.com/2010/04/09/is-steve-jobs-ignoring-history-or-trying-to-rewrite-it/
http://blogs.adobe.com/conversations/2010/04/cs5_countdown_is_on.html
vs
<http://daringfireball.net/2010/04/why_apple_changed_section_331>
<http://www.engadget.com/2010/04/10/steve-jobs-responds-to-complaint-about-new-development-tool-rest/>
Is it really a Faustian bargain?
<http://ctoatgfu.blogspot.com/2010/04/omg-os-is-internet.html>
or just 80s interactive multimedia CD-ROM all over again
<http://www.oblomovka.com/wp/2010/04/01/cd-roms-and-ipads/>
or is it a Disruptive Innovation
<http://www.amazon.com/Disrupting-Class-Disruptive-Innovation-Change/dp/0071592067>
or The Shallows: What the Internet Is Doing to Our Brains
<http://www.amazon.com/Shallows-What-Internet-Doing-Brains/dp/0393072223>
Screen Capture
You can take picture by holding down power and home key. http://gizmodo.com/5508399/10-essential-ipad-tips--tricks.
It is saved in Photo as "saved photo" album. You can email yourself. But when you plug in USB, it act as an USB camera. Cannot move, only copy first, then delete.
Every once a while, one of the capture would have .BMP extension instead of .PNG for no reason. When you copy that, it changed back to PNG on computer, weird.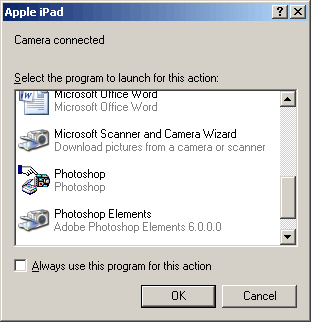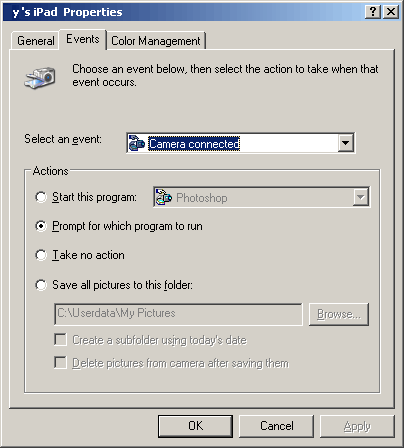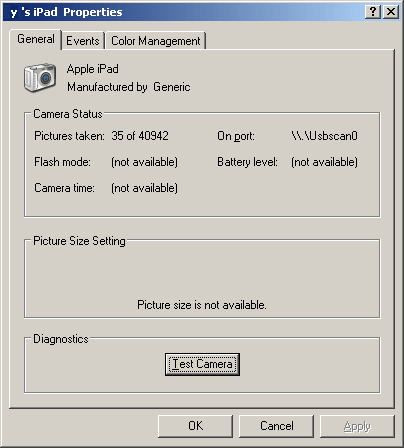 Note that iTunes would not sync it like my pictures just like iPod (I suppose youcan use iPod/iPhone utilities for that or use something like disk mode? or something like that to do that).
Since there is no memory card slot. I wonder whether the $29 USB/SD camera kit (not available until end of April) is input from camera only also, can you save out.
Kindle
Covers are in color, but not the content :(
no text to speech either?
Free Books
Cannot delete books downloaded?
no annotation?
How to redownload partial downloaded and not working book?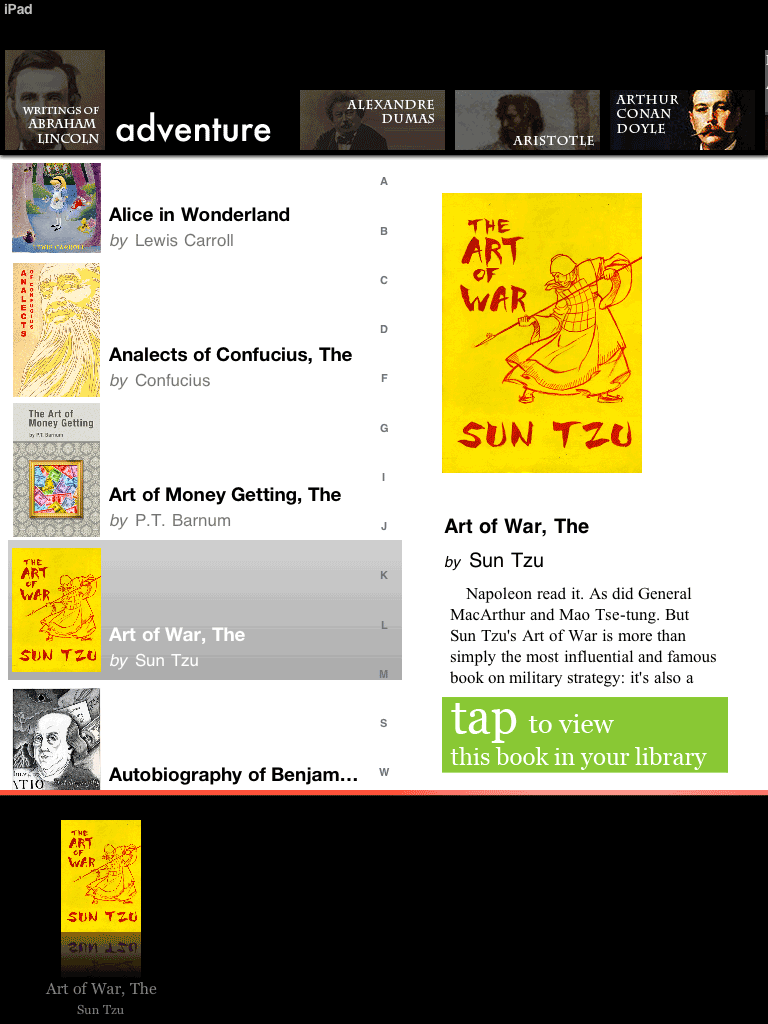 Twitteriffic
Deleted Direct Message still shows?
VPN
no SSL?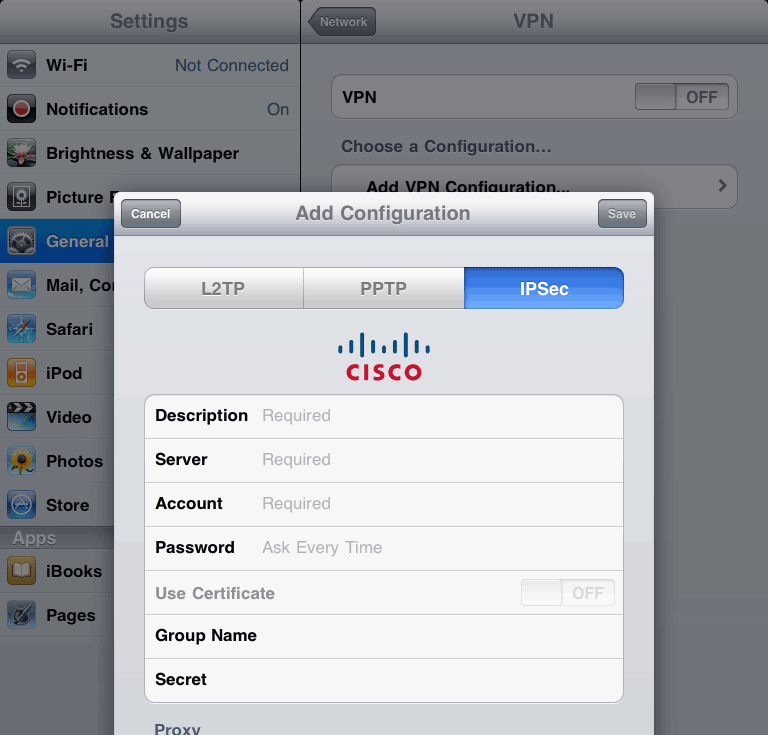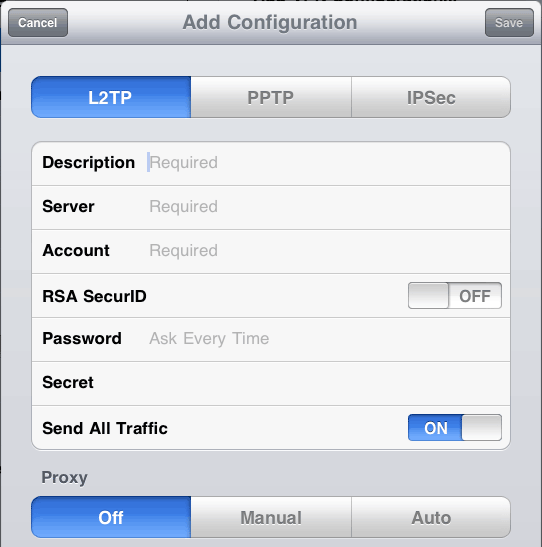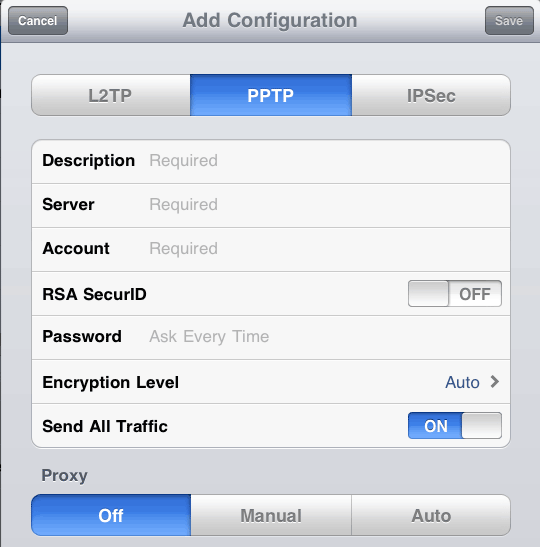 WFU current setup works fine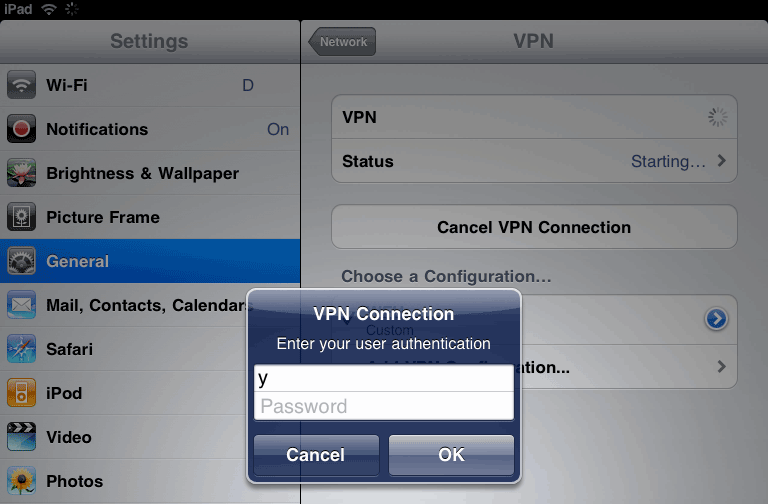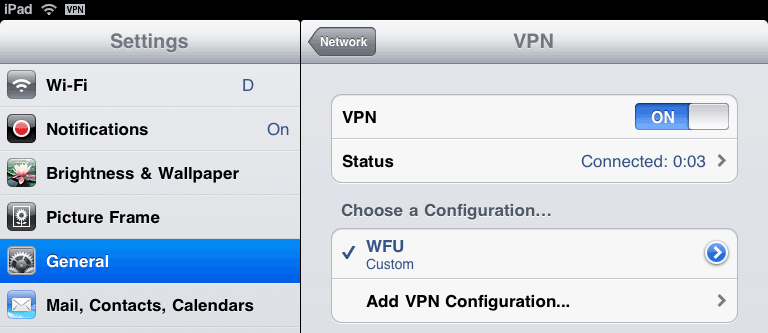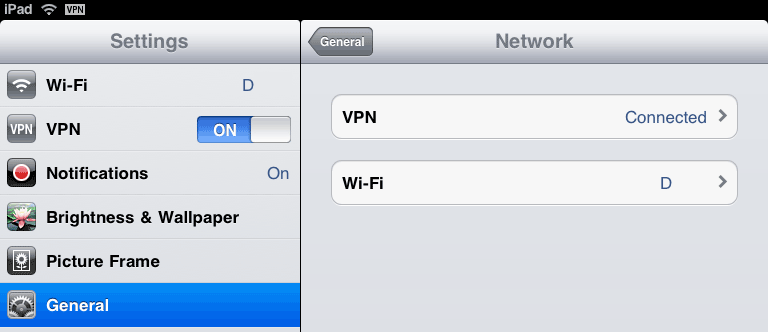 TO DOs
Enterprise - profile