USB 3.0 (Superspeed) vs USB 2.0 vs eSATA vs SATA vs IEEE 1394a (Firewire 400/S400/iLink) vs iSCSI
Test System
Seagate Black Armor PS110 USB 3.0 Kit., 7200 rpm 500GB.
Lenovo Thinkpad T410, M520, Windows 7 Professional
Installation
You have to plug the disk in first to install the driver for the NEC ExpressCard adapter.
You also need a USB 2.0 port to supply power to the ExpressCard. In the case of the T410, it is kind of cumbersome since the USB port is at the back of the machine on the left, the ExpressCard/34 slot is in the front of the right side. Your USB-power cable have to loop in front of the optical drive and microphone/headphone combo jack.
HD Tach 3.0.4.0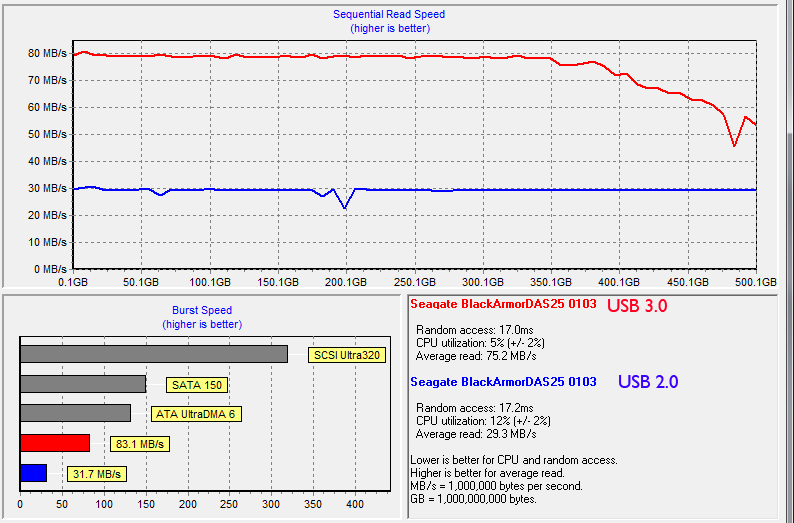 For comparison, data for eSATA (Seagate XTreme 1.5TB), T410 internal 250GB 5400 rpm SATA drive, T400 160GB 5400 rpm internal drive, USB 2.0 Seagate FreeAgent Go 880 GB (5400 rpm?), LaCie Bigger Extreme 912 (two disks?) Firewire 800->400, DroboPro iSCSI 3x2TB dashboard 1.6.7/firmware 1.1.4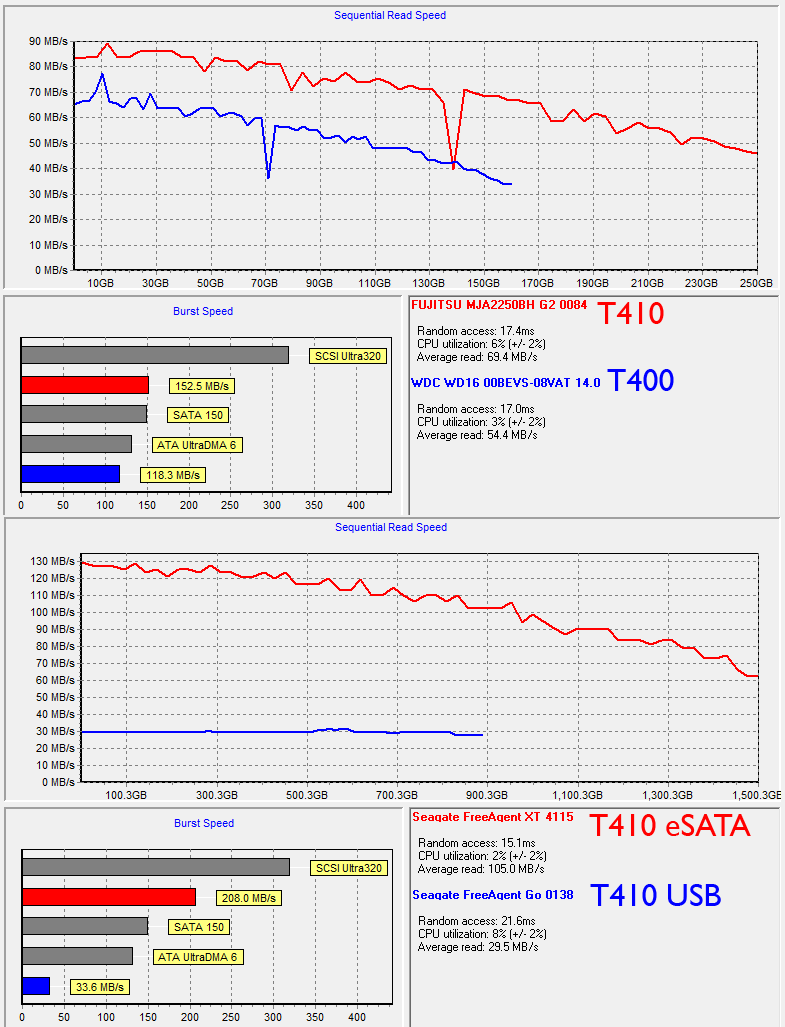 Here's Intel X25M (1st gen. 50nm MLC SSDSA2MH080G1G 045C) SSD using coolgear/cooldrives eSATA/USB to SATA SS-SCBP/ASC-25GH adapter (the current SCBPA version said it uses Jmicron JM20336 and "supports" SATA II 3.0Gbps), looks like it is capped by SATA I 1.5Gbps speed since it is slower than using internal tray on W500 (still much faster than HDD in HDTach 3.0.4.0 or CrystalDiskMark 2.2).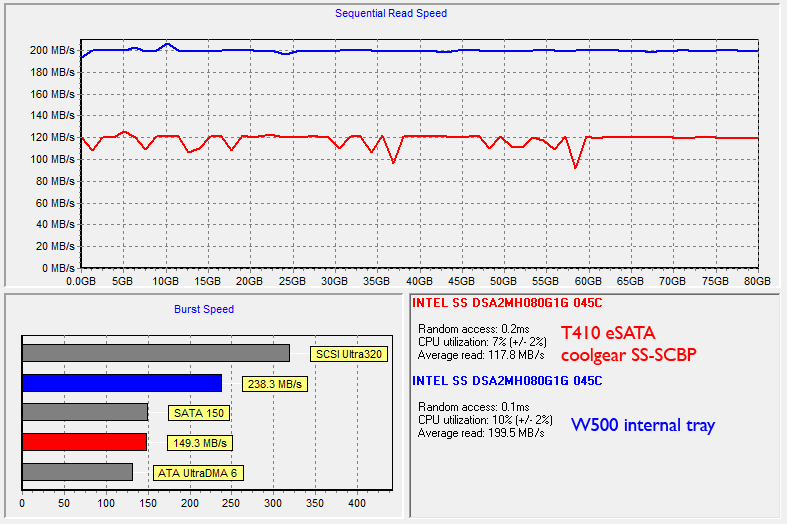 Using ThinkPad Serial ATA Hard Drive Bay Adapter III http://www-307.ibm.com/pc/support/site.wss/document.do?lndocid=MIGR-73170 , 43N3412 on the T510 or using as internal drive in T410, still slower than W500 tray for some reason, but much faster than eSATA.
Lenovo change the tray again, the old ThinkPad Serial ATA Hard Drive Bay Adapter II 43R1980/FRU 43R1984/ASM 43R1981 http://www-307.ibm.com/pc/support/site.wss/MIGR-70090.html no longer works.