T61 T400 asian font differences
There are only 11 asian (CJK) font families on the T61
Kozuka Mincho Pro B/EL/H/L/M.R 小塚明朝體 (Adobe Masahiko Kozuka 小塚昌彦)
Kozuka Gothic Pro B/EL/H/L/M.R 小塚哥特體
MS Gothic/MS PGothic/MS UI Gothic 微軟哥特/ゴシック体
MS Mincho/MS PMincho 明朝
MingLiU/PMingLiU (新)細明體 (HKSCS, HKSCS-ExtB, ExtB)
SimSun/NSimSun (新)中易宋体 (ExtB)
SimHei 中易黑体
Batang/BatangChe
Dotum/DotumChe
Gulim/GulimChe
Gungsuh/GungsuhChe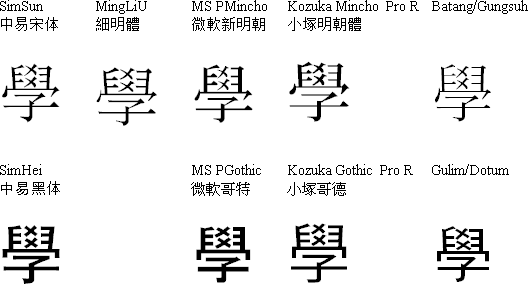 The T400 has more (like the R60/T60p, plus Vista only Meiryo メイリオ (明瞭) ), has to careful sharing documents between the generations. If unsure, send as PDF and make sure font embedding is enabled.
Adobe FangSong Std R 仿宋
Adobe Heiti Std R 黑體
Adobe Kaiti Std R 楷體
Adobe Ming Std L 明體
Adobe Myungjo Std M
Adobe Song Std L 宋體
DFKai-SB 華康楷體
Fangsong 仿宋
FZShuTi 方正舒体
FZYaoTi 方正姚体
KaiTi 楷體
HGGothicE HGゴシックE (Ricoh)
HGGothicM
HGGyoshotai HG行書体
HGKyokashotai HGS教科書体
HGMaruGothicMPRO HG丸ゴシックM-PRO
HGMinchoB HG明朝
HGMinchoE
HGPGothicE
HGPGothicM
HGPGyoshotai
HGPKyokashotai
HGPMinchoB
HGPMinchoE
HGPSoeiKakugothicUB
HGPSoeiKakupoptai
HGPSoeiPresenceEB
HGSeikaishotaiPRO HG正楷書体-PRO
HGSGothicE
HGSGothicM
HGSGyoshotai
HGSKyokashotai
HGSMinchoB
HGSMinchoE
HGSoeiKakugothicUB HG創英角ゴシックUB
HGSoeiKakupoptai HG創英角ポップ体
HGSoeiPresenceEB HG創英プレゼンスEB
HGSSoeiKakugothicUB
HGSSoeiKakupoptai
HGSSoeiPresenceEB
KaiTi 楷體
LiSu 隸書
Meiryo メイリオ (明瞭)
Microsoft Jhenghei 微軟正黑體
Microsoft YaHei 微軟雅黑 (方正/蒙納 Founder Electronics/Monotype)
STFangsong 華文仿宋
STKaiTi 華文楷體
STSong 華文宋體
STXihei 華文细黑
STZhongsong 華文中宋
YouYuan 幼圓
etc.
selected samples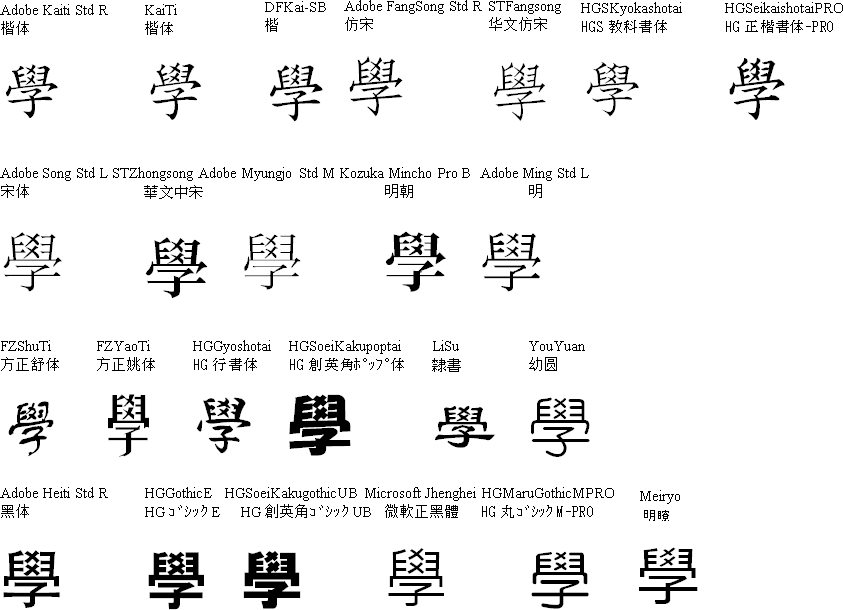 five are GB 2312 only (Simplified)                     
STCaiyun 華文彩雲
STHupo 華文琥珀
STLiti 華文隸書
STXingkai 華文行楷
STXinwei 華文新魏