Lenovo Thinkpad W500 (4061) Windows 7 RTM
Last Update: February 9, 2010 8:00
post-launch day
Lenovo
drivers tickling out
System Interface Driver v1.01.0907 2009.08.31
Fix for issue of HDD with HD detection v1.02 2009.09.08 (when I did it manually, it won't take, have to use system update to do it)
UltraNav Utility v2.11 2009.09.11
UltraNav driver v14.0.16.0 2009.12.16 (64-bit separate package)
Power Management v3.12 2010.01.08 (left click doesn't bring up power plans but launch the app?)
Power Management driver v1.60 2009.12.11
Active Protection System v1.71 2009.12.17 (64-bit separate package)
Conexant Audio Software v4.92.12.0 2009.12.17
Modem Software Adapter v7.80.5.0 (6IMA03WW) 2009.12.21 (version number didn't change, date changed from 2009.10.02) (install package directly failed on 64-bit, run the installer in \drivers\ModemOM instead) 7.80.5.0 (6IMA04WW)(why same version as before?) 2009.12.21 added support for T410, T510, W510
Integrated Camera Software v1.27.500.0 2009.10.02 (T400 has a different camera, driver is v5.8.53003.0)
Ricoh Multi Card Reader Driver v3.62.02 2009.10.02
Access Help v3.00 2009.10.02
Intel Matrix Storage Manager Driver v8.9.2.1002 2009.10.02 (64-bit separate package) (need manual install from device, easier let system update do it)
Registry Patch to arrange icons in Device and Printers folders v1.00 2009.10.02 (for ?)
Hotkey driver v3.02.0000 2010.01.22 (- Restricted Fn functions to the programs with digitally-signed by Lenovo, huh? Fixed an issue that enabled the Fn+F7 key function (display switching) before logon on Windows 7. What is "Added support for Presentation Display Controller in the FullScreen Magnifier as the alternative of the Presentation Director.?"
BIOS: 3.12 (the webpage is confusing, it said 3.12/3.11, ECP?) 2010.01.08
Switchable Graphics Driver 8.641.1.1-090824a-089811C (between Catalyst 9.8 and 9.9. 9.10 supposes to add "... GPU support for the Windows 7 Drag and Drop video converter application found in the Windows 7... but not one know seems to know how that works") 2009.10.13 - still got occasion problem waking up from sleep, has to open (blank after HDD stop), close, open the lid again to get the screen to display
Intel Wireless LAN (11abgn, abg, bg) v12.04.3000 2009.10.05 (old one is 12.4.1.4, very confusing numbering - why jumps to .3000 from .1.4. )
Intel Wireless LAN (11bgn) v13.00.0000 (driver 13.0.0.107) 2009.10.16 [000b fixed something, no change in driver] (it is very confusing, system update tries to install both v12.x and v13.x, also v13.x said it is for bgn, but 5100 is abgn. The release note is useless, fixed the drop connection and throughput problems? I can get ~ max. 43% 54Mbps network utilization.)
System Update 4.0.0024 2009.10.19 (what're the differences for jumping from 3.x to 4.x? I got not useful exception error once, I assume server problem. It is very very slow the first time you started it also. Also, the installer package no longer said Lenovo (Japan), now it is Lenovo (Shenzhen))

DVD optical only has WinDVD 5.x, that need to upgrade from 5.0.11.1194/1231/1243/1266/1268/1294. to WinDVD 8.0.20.121 SD
ThinkVantage Device Experience + Tool - what exact does it do? It copies a 4.60MB devcemetadata-ms files to \ProgramData and create a GUI for the TVT tools? not sure it is the same as "Windows 7 Lenovo Enhanced Experience"http://www.pcworld.com/article/172742/lenovo_claims_fastest_windows_7_boot_times.html mentioned. If you do (from support tools or SDK) cabarc.exe -p x (l for just listing) on it, you can see all the 10.5MB of devicestage xml, ico etc.
problematic ones
Bluetooth with Enhanced Data Rate Software II v6.2.0.9600 2009.10.01 (won't download through System Update 4.0) - if I install manual (64-bit), it got two errors failed and device unplugged in Blietooth Peripheral Device.


Intel Chipset Support v9.1.1.1016 2009.10.02 (won't show if filter for Windows 7 drivers, shows up in Vista instead even it is Windows 7/Vista/XP) The installer said it is for 5/3400 series only, lenovo notes said it is for 5/3400/4/3/900/800 server/workstation.
Lenovo ThinkVantage Toolbox v6.0.5387.30 2009.10.28, 6.0.5387.31 2009.11.05, 6.0.5449.29(64-bit separate package) - it sits in the taskbar, next to the language bar and there is no close option if you right click (you can close it if you close it in windows task bar toolbars option, which is weird for users since it does not look like a normal toolbar, developers sometimes got too cute with their visuals). There are no tech notes for each release, bad. I got it PCA kicked it once if you open and close it first and compatibility mode automatically attached to .exe. Its splash screen also don't remember the setting of show me next time, reset to don't show every time. It also replace Productivity Center when you push the blue button. It is a very annoying pest. If give you red exclamation if you don't have rescue and recovery. It still gives you that if you install it and don't run backup. 6.0.5449.31 2009.11.26, no changelog again, Doesn't seem any better, I got a slew or errors from scriplet.



I haven't tried these yet
lcd/monitor profile (install to \driver, need to manually update)
Enabling Wake on LAN from Standby for ENERGY STAR Version 4.0 v1.05 2009.08.20
System Migration Assistant v6.0.009 2009.09.27 6.0.010 2009.10.23
Rescue and Recovery v4.30.0027 2009.09.30, and Sysprep backup accessories
Access Connections v5.50 2009.12.15
Intel AMT 4.2 Management Engine (ME) Firmware v4.2.0.1023 2009.12.21
Intel AMT 4.2 - Management Engine Interface v4.2.0.1008 2009.10.02
Intel AMT 4.2 - Local Manageability Service (LMS) and Serial Over LAN (SOL) Driver v5.4.1.1016 2009.10.06
WinDVD v8.0.20.129 2009.10.13 - only for Blu-ray or HD DVD players
Client Security Solution 8.3 2009.10.22
Patch to fix compatibility issue between Client Security Solution 8.3 and Microsoft Office 2007 1.0 2009.12.08
Patch to fix compatibility issue between Client Security Solution 8.21 and Mozilla Firefox 3.5 Web browser 2009.12.21
we don't have these options - SSD+firmware update, fingerprint, GPS, WiMax, SmartCard, Thinkpad wirless (Atheros I assume), GM45 (already in switchable I assume, it is listed twice in download), Vodafone, AT&T (HSPA), Verizon (UNDP) Wireless WAN, Turbo Memory
QFE KB977632 2009.12.16 A computer that is running a virtual machine in Windows Virtual PC may stop responding or restart when you resume it from sleep or from hibernation in Windows 7.
QFE KB 975741 2009.12.11 Some function keys or keyboard shortcuts do not work correctly on a computer that is running Windows 7.
QFE KB 974476 2009.12.11 The computer stops responding when an USB device resumes from the USB Selective Suspend state in Windows 7.
No more presentation director, easy eject, mobility center customozation, productivity center, and message center (plus)?
Drive Letter Access (DLA) and its replacement Drag2Disc are definitely not available for Windows 7. Not sure about RecordNow.
see http://www-307.ibm.com/pc/support/site.wss/MIGR-40970.html
Incompatible
I have not tried these (only the ones I think some users have, not exhausive), but compatibility center http://www.microsoft.com/windows/compatibility/windows-7/en-us/default.aspx (it is not very user friendly, you have to click each sub-categories, cannot do a list all) said not compatibile, that's pretty sure won't work. There is a new XLS 2010/01/12 which is easier to deal with - 8465 entries
<http://www.microsoft.com/downloads/details.aspx?displaylang=en&FamilyID=890e522e-e39e-4278-aebc-186f81e29173>
Microsoft SQL Server 2005 Standard/Enterprise (x64) version 9
Microsoft Exchange Server 2007 v685
Microsoft Hyper-V Server 2008, 2008 R2
Microsoft Money 2007
Microsoft Money Plus Deluxe/Home & Business/Premium
Microosft Office Small Business Accounting
Microsoft MSN Investment Toolbox
Microsoft Visual Studio 2005 Team Suite v.8
Microsoft Robotics Developer Studio 2008 Academic/Discovery/Express/Standard v.2 (free upgrade to 2008R2), v.1 (paid upgrade)
Microsoft Compute Cluster Pack
Microsoft Embedded v.1
Microsoft Fundamentals for Legacy PCs v.1
OmniForm version 5
Microsoft Outlook Express (use Live Mail)
Microsoft Office Communicator 2005
Microsoft Windows Mail
Microsoft Live OneCare v.2
Microsoft Live OneCare Family Safety v.2
Norton AntiVirus 2005, Internet Security 2005/2006/2007 (paid upgrade required)
Symantec Norton AntiVirus 2006 (v12), 2007 (upgrade required, it said it is free, i doubt it though)
Norton 360 version 2 (upgrade required, it said it is free, i doubt it again)
Norton Partition Magic version 8 required
Norton Save & Restore version 2
Panda Anti-Virus Pro 2009/2010
Microsoft Windows Defender v1593
Microsoft PowerToys
Microsoft TweakUI v.2
Microsoft ActiveX Control Pad
Microsoft TweakMCE
Microsoft Ink Desktop 1.0
Microsoft Digital Image Suite v11
Microsoft Picture It! Library v9, Photo 2001, Photo and Print Studio 2002
HP 4400 vista driver
games - 84 total
Microsoft Encarta Encyclopedia 2005 Standard, 2008 Standard/Premium, 2009 Premium
Learning Essentials for Microsfot Office version 1
Microsoft Student with Encarta, 2009
Keyspeak Typing Tutor
Pinnacle Studio 9, 10, 11 Plus/Ultimate (paid upgrade required)
Pinnacle Mobile Media Converter
Pnnacle DVD Maker Plus
WinAmp 5.51 (5.57 info coming)
BSPlayer version 2.4 needed
Sony Ericssion PC Suite v.2
Diskeeper 2008 v12
Lotus Notes v8
Microsoft
Live web installer still bad, cannot install the out of beta Movie Maker, need to use the full offline installer. (you can also find the msi on the web, but use those at your own risk)
XP Mode cannot install over RC, need to uninstall and reinstall. Just update VPC and integration components got CB monitor crash on logout/shutdown
Even I have the MUI already installed, Windows Update still give me the 30 optional lang pack, strange.
Office 2010 starter (current preview at least) is 32-bit only.
I got Media Center to blue screen on me three times on the ATI driver module when switching from desktop back to full screen (it crashed once on T410 with Intel HD graphics also), or scrubbing, or close one dvrms and open another. There is no double click to full screen kind of annoying. Need to right click to get to menu like CC, Zoom is strange also.
Adobe
from Dave Helmly's TechTable

- System crashes when Blu-ray is selected as the format in the Build panel (need new roxio pxengine)
- Encore CS4 crashes if the system goes into Sleep mode while you are building a project
- Transcoding pauses when the system goes into Sleep mode
and for CS5/CS Next, whatever it is going to be called, no more 32-bit Premiere Pro and After Effects. 64-bit only.
http://blogs.adobe.com/genesisproject/2009/10/its_official_64bit_is_the_futu.html
http://blogs.adobe.com/keyframes/2009/10/our_next_release_64-bit_native.html
http://blogs.adobe.com/davtechtable/2009/10/its_official_the_future_of_ado.html
more at
http://www.adobe.com/support/OScompatibility.html
info coming soon - acrobat.com, Captivate, Cold Fusion, Digital Editions, FrameMaker, Media Player, RoboHelp, RoboHelp Server
not compatible - Director, FlexBuilder
the only things that are definitely Yes are -
Acrobat Connect Pro, AIR, Audition, Camera Raw, Flash Player, PsE, Lr, Photoshop.com, PrE, Acrobat Reader, Shockwave Player.
Rest are see FAQ.

Acronis
needs TrueImage 2010 ($49.99, $29.99 upgrade)? $29.99 Plus Pack can be used for different hardware? (there used to be coupon/sale for upgrade $29.98 that has free Plus Pack)
Intel
Driver for only for Intel 945, 965, 3 and 4 Series Express Chipset. For 810, 815, 845, 852, 855, or 865 Chipset or Intel 910 or 915 Express Chipset, only XPDM.
http://www.intel.com/support/graphics/sb/CS-030908.htm
TechSmith
Camtasia Studio (6.0.3) is listed as supported, but not listed for SnagIt and Jing. TSSC codec 2.0.6 (2005.06.27) has no detail system requirement info, just said Windows.
Autodesk
Maya 2010 is not officially supported, but is being test for qualification, but not 2009 or older.
http://usa.autodesk.com/adsk/servlet/pc/item?id=13583898&siteID=123112
Same for 3ds Max 2010 SP1, but not 2010 or ealier.
http://usa.autodesk.com/adsk/servlet/pc/item?siteID=123112&id=13606773
Matrox
Mtx.utils (for mxo2 mini with max) v.2 2009/11/16 add windows 7 support.
Creative
driver 2.18.0013 2009.06.26 added windows 7 support for SoundBlaster X-Fi
Connectify
Couldn't get the first v0.1 beta to see Verizon USB UM175VW REV_01 modem with VZ Access Manager 6.10.10 (2247b) or 7.0.12 (2384a) [now compatible with Windows 7]. (they sent a postal mail flyer said 7.0 is out, but check for update didn't find anything until December 2009). v0.2 beta works great, be sure to check the doc, 5100 is not compatible with 32-bit, need v13.x driver on 64-bit etc. I can get the hotspot for about a min. in 64-bit, but then it errored out. Some new problem in v0.3 crashing. Didn't try v0.4.
1.0 has a know problem identifying 5100, v1.1 supposed workaround it (and 6xxx)
Mozilla
Earlier Firefox 3.6 beta has some integration features, but removed in beta 3.
Thunderbird 3.0 RC2 supposed to have some index features?

Sony
There are posts about problems with Vegas, not sure the details yet.
There is a new SxS Pro (mainly for XDCAM EX) driver for Windows 7.
http://www.sony.ca/promedia/drivers.htm (not listed in http://www.sonybiz.net/, which is always slow)
Webbie MHS-CM1 SPUDownloadManagerInst.2009/05/15 and Picture Motion Browser Update version 4.2.10 SPU_Upgrade0902a 2009/04/17 supposedly work for Windows 7. (there is a 4.3.00 2009/09/03 version listed in PMB support site (Japan), but not the updater to download.

Skype
4.1.0179 2009.10.22 lists Windows 7 as supported. There are posts about problems before, not sure the details.

Matlab
No idea why, supposedly you cannot have network connection when installing R2009b, see
http://www.mathworks.com/matlabcentral/newsreader/view_thread/261487
Corel
WinZIP 14 supposes to take advantages of W7.

IP-Switch
WS-FTP 12.2 supposes to take advantages of W7.

Hummingbird (Open Text Connectivity Solutions Group)
Exceed 14 supposes to be Windows 7 compatible.
Xming
Xming 7.5.0.15 2010/01/06 (7.5.0.16 2010/01/29 for portablePuTTY) supposes to be Windows 7 compatible.

Design Science
MathType 6.6 supposes to be Windows 7 compatible.

APC
PowerChute Personal Edition v2.2.0 2010/01/15, Business Edition Single Node (what about server and console?) 8.0.1 2008/12/11 supposes to be compatible

Pasco
Data Studio 1.9.8r8 2009/10/30 not listed as Windows 7 compatible.

Quicken
2010 supposed to be compatible. Forum people said 2009 would run also.

Paint .NET
Paint .NET 3.5 said preferred platform is W7.

VLC
VLC 1.0.3 supposedly fixed all the outstanding issue to make it compatible. (I have issue with scrubbing FLV that used to work for that version on other platform though ... .)

7-zip
Supposedly works with W7. v4.65 (2009.02.03)

Foxit
Notepad++
May have problem with search & replace dialog box transparency.

Audacity
Provisional support in 1.3.11 beta

Real
DivX
v7.x does not have Windows 7 listed.

TrueCrypt
v6.3 (2009.10.21), v6.3a (2009.11.23) supposedly fully compatible.
Blender
May have problem(s).

WinSCP
4.24 beta supposedly added workaround for w7 issue.

Roxio
RecordNow 10 versions are compatible after 2009.10.22 only?

TeraCopy
2.01 supposedly added features for w7.

SmithMicro
supposed to be compatible Poser Pro 2010 beta
Drobo
supposed to be compatible even the software (Dashboard 1.6.1 2009.11.02, Pro Firmware 1.1.3. 2009.09.14. At least you can download them now, used to be have to do it through update. need to recheck currently 1.6.4/1.1.4) and spec. do not listed it currently.
http://support.datarobotics.com/app/answers/detail/a_id/105
Manual update of firmware doesn't work if you leave the .tdz file in user folder even if you have administrative right, copy them to \program files\update (also need fix permissions in help, support?)
AVerMedia
A868 (Volar) USB is not certified, but AverTV 6.0.7 2007.09.13 (may need to install driver v1.3.0.79 2009.02.26 afterwards) works, Media Center is mostly ok, may have problem stopping recording and switch channel sometimes. (I have Media Center crash just playing old DVRMS (why the new .WTV format?) too, its screen saver is only on extended screen also)
DViCO
v3.81 (2009.10.08) supposedly add WHQL for Express series (what about old USB5 Gold?).
On 64-bit, got errors in device install.

Also got "DShowHelper::CreateFilter() Dvico UYVY Converter creation failed" running. Crashed once when flipping channel BSOD. Got Application stopped error. SVHS as input doesnt' work. Not sure how to turn off remote and app tray icons, turn off auto launch do not help. Disable video hardware acceleration, same problem
SIIG
eSATA II ExpressCard (SC-SAE512-S1) driver 32-bit - v1.0.21.1, 64-bit - v1.0.14.1,
eSATA II ExpressCard RAID (SC-SAE612-S1) driver and RAID GUI v1.5.18.0,
FireWire 800+400 CardBus Dual (NN-8CB212-S1) v5.62
FireWire 400 2-Port ExpressCard/34 (NN-EC2012-S1) built in support,
FireWire 800 2-Port ExpressCard/34 (NN-000042-S1) v5.62,
FireWire 800 ExpressCard/54 (NN-EC2812-S2) version 2 hardware only (version one still at 5.11/5.21, same as FireWire 800 1-Port ExpressCard/34 (NN-EC2822-S1 )) v5.62,
supposedly support for Windows 7
HandBrake
0.9.4 supposedly support for Windows 7
VMware
Workstation 7 (2009.10.27) supposedly add support for Windows 7
Cygwin
v1.7 supposedly add support for Windows 7
Wacom
6.1.2-5 2009/11/25, 6.1.3.-5 2010/01/21 supposedly Windows 7 compatible.
Seagate
FreeAgentCN (32, 64-bit), FreeAgent Classic Desktop (32-bit only) and SeaTools (v1.2.0.0) do not have Windows 7 listed. Not sure about SeaTools Enterprise, need registration for that.
FreeAgent software v2.1.600 withe encryption (may be used in conjunction with DockStar) has Windows 7 listed, but need to fill out an on line form to contact support etc. etc. What year these people live in, that's called support? (Seagate's tech support is never very good. I got forward to some number oversea once that I can barely understand what they said (it would be actually easier for me if they have Chinese accent.), they won't tell me where they are, it sounds Indian.) for some simple RMA. I am sure they would say licensing, accounting, governance, blah blah blah blah.
Western Digital
Looks like only the new ones like MyPassport with WD SmartWare got updates - WD SmartWare 1.2.0.7 (2009.11.16), Virtual CD Manager (w/ the unfortunate acroynm VCD, same as VideoCD) 1.0.7.4 and Firmware 1.032 (2009.11.16). The older ones don't have new versions - WD Sync 7.0.328 (2008.01), Mionet, even 64-bit Vista still in beta, only AnyWhere backup (Elite only) has a new v4.50.6354 R2 (2009.11) but requires registration to download (Seagate is worse, see above.)
---
pre-launch day (2009/10/22)
Graphics
Switchable Graphics
Still does not work. If you go through Windows Update and install both Intel Mobile 4 Series Express Chipset Family and ATI Mobility Radeon HD 3650, the screen went black.
Go into BIOS
Disable "OS Detection for Switchable Graphics"
and
change "Graphics Device" to "Discreet Graphics"
it would work ok.
FireGL
Still does not pull down the professional version driver for Mobility FireGL V5700 (M86GL 120 unified shaders 30W TDP Subsystem ID 2126/2127 (can be 9595), not the 700 millions transistor FirePro V5700 [3870] w/ 320 shaders), run as consumer ATI Mobility Radeon HD 3650 (Subsystem ID 2116/2117).
PCI\VEN_1002&DEV_9591&SYBSYS_212717AA&REV_00
PCI\VEN_1002&DEV_9591&SYBSYS_212717AA
PCI\VEN_1002&DEV_9591&CC_030000
PCI\VEN_1002&DEV_9591&CC_0300

Bios: BK-ATI VER010.088.000.021.030541
Interal DAC (400MHz)
0x9591 chip
Using 733MB Shared System Memory + 512MB Dedicated Video Memory to a Total Available Graphics Memory of 1245MB using WDDM 1.1 8.612.0.0 2009.04.28 driver (= Catalyst 9.5, currently 9.7 2009.07.23)
driver crashed couple times with IE8 only running, auto restart and recovered.
once close lid to sleep and wake up in lower resolution (800 or 1024) instead of 1680x1050
TMM
not in task scheduler like Vista, need to disable in regedit.UseIViewHelper?

Windows Update
5 unknown devices, 3 Base System Devices, 1 unknow device, and 1 PCI Simple Commnunications Controller. WU will fix 4 of them.

11 as of 2009.08.07
Richo - Bus controllers and ports, storage - xD-Picture Card Controller, SD/MMC Host Controller, Memory Stick Host Controller
Lenovo - Thinkpad Display 1680x1050, ThinkPad PM Device
Intel - Mobile 4 Series Express Chipset Family, 82567LF Gigabit Network
ATI Mobility Radeon HD 3650
Update for Windows KB958559
Update for IE8 compatibiluty list KB972636
Definition Update for Windows Defender KB915597 (Definition 1.63.1021.0)
Intel AMT
one yellow icon, error code 28

PCI Simple Commnunications Controller
PCI\VEN_8086&DEV_2A44&SYBSYS_20E617AA&REV_07
PCI\VEN_8086&DEV_2A44&SUBSYS_20E617AA
PCI\VEN_8086&DEV_2A44&CC_078000
PCI\VEN_8086&DEV_2A44&CC_0780

install Lenovo 7vr113ww v4.0.1.1074 20090610 Management Engine interface driver would fix that.
PCA kicks in after decompressing into C:\DRIVERS\WIN\AMT.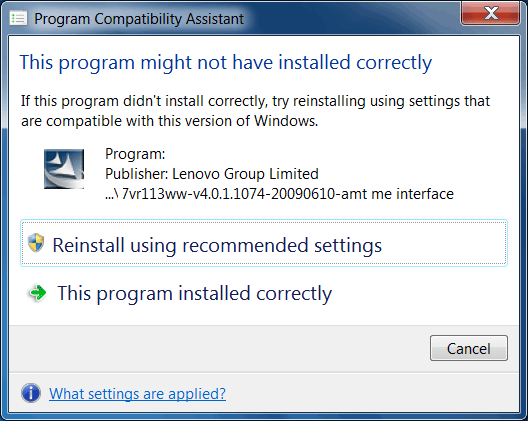 Run setup.exe, it will fail after difxapi.dll, let PCA use recommended setting to reinstall, it would be fine.

Trackpad
cannot disable in generic mouse driver (can be disable in BIOS?)
install
Lenovo (beta) system interface driver
UltraNav driver (need to turn off middle button, default is scroll)
UltraNav util (control FnF8?)
(also hotkey if you want OSD for brightness, audio level etc. add TPFNF6R.exe to startup?, but that key combination does not do anything?)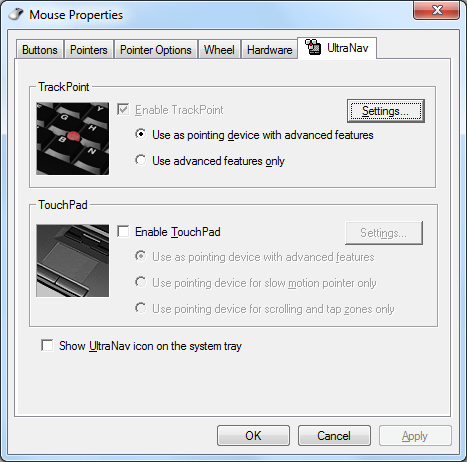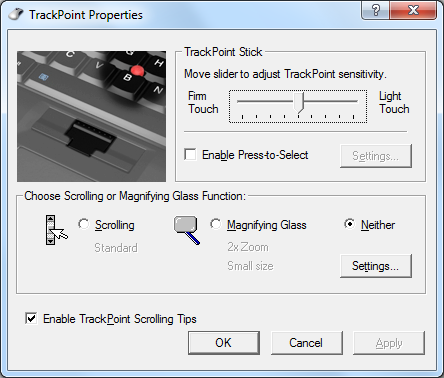 WEI
new scale 1.0-7.9
5700 512MB (w/o FireGL driver, shown as 3650) improved from 5.9/5.3 to 6.3/6.3 on Gfx (Aero) and Gfx (gaming)
P8600 (2.40GHz 3MB 2nd cache) went from 5.3/5.4 to 5.9
160GB 5400 rpm WDC WD1600BEVS-08RST2 ATA same at 4.9
(actually from a T61, T400 has 08VAT 14.0 which runs a bit faster. Newer W500 usually has 1136MB/s media transfer and 22% less power consumption HTS723216L9SA60 7200rpm 7K320 [OEM SATA 150], older ones got slower 876MB/s 7K200 )
However
memory (2GB) dropped from 5.9 to 5.5
Windows Virtual PC
Still in RC along with XP Mode.
Intel VT, VT-d are off by default in BIOS. Turn them on, power down (just reboot won't do it, otherwise the installer won't run if no virtualization hardware found), reboot before install.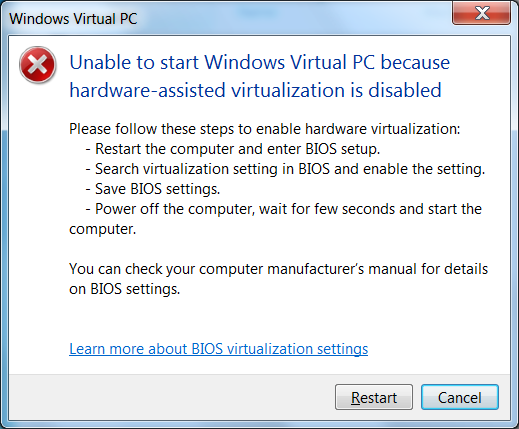 Backup
Vastly improved, you can actually pick which folder(s) to backup. No more mysterious which filetypes to backup nonsense like in Vista. see
http://www.wfu.edu/~yipcw/atg/windows/vista/backup/
Using our 1004 filetype test, all are saved in ZIP. (actually it added two files to 1006, .eml and .nws got %OEcustomproperty shadows).
However, there is no easy way to delete network location once you added, right click does not have context menu. You can regedit and reset everything by deleting HKEY_LOCAL_MACHINE\SOFTWARE\Microsoft\Windows\CurrentVersion\WindowsBackup\ValidConfig like it wasn't setup before, which is not the best workaround.
Windows Media Player
"Now playing" mode in v12 is even worse. It really want to be more a library centric application than a player.
Codec
Audio/Video codecs are not listed in device manager (same as Vista), have to do a Help | About | Technical Information in Windows Media Player to show that.
DivX, H.264 MOV/MP4, DVD support right out of the box.
see http://www.engadgethd.com/2009/04/01/microsoft-clarifies-codec-position-for-windows-7/ and many other links about Third Party codecs.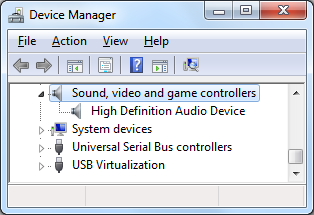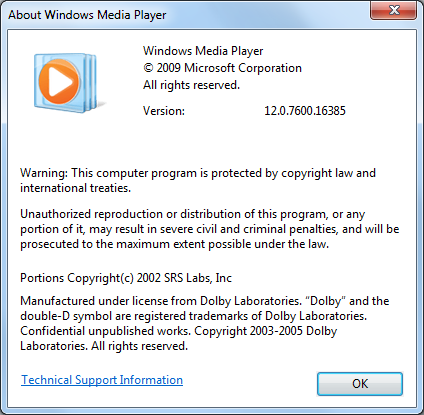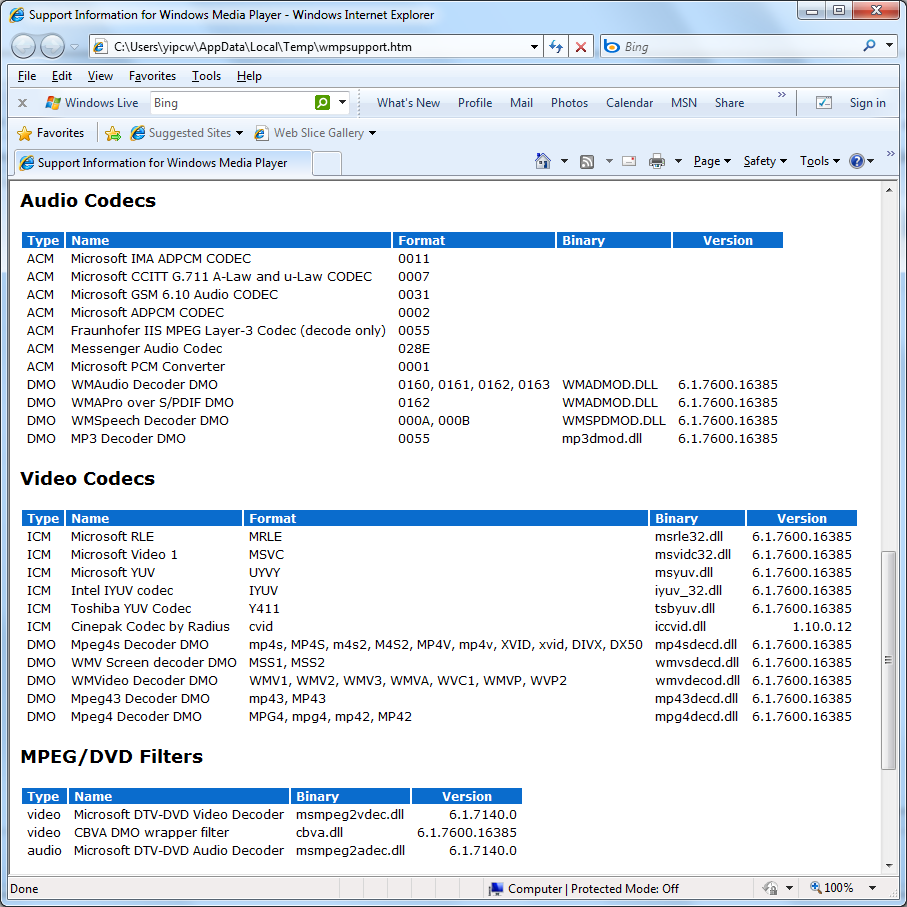 Taskbar
Both Mozilla Namoroka 3.6 alpha 1 (Firefox) and Thunderbird 3.0 beta 3 (integrated Windows Search works? font runs together if use default 125% dpi, use 100% instead.) setup still try to install icons into QuickAccess bar which is not there anymore.
To use Drag and Drop open with ... hold down the shift key, default is pin to.

Profile
My Videos, My Pictures, My Documents are back like in XP. Vista green junction point folders dropped the My, just Videos, Pictures, Documents.
Long overdue change - Sample Pictures shortcut no longer in My Pictures, but in the new Library - Pictures.
International
Out of the box, not quite ready. No MUI from Windows Update for Enterprise (only for Ultimate?), no IME 2007 v12.x or higher like from Office 2007 MUI.
To install MUI, use lpksetup and point to langpack folders (no ZHTW yet).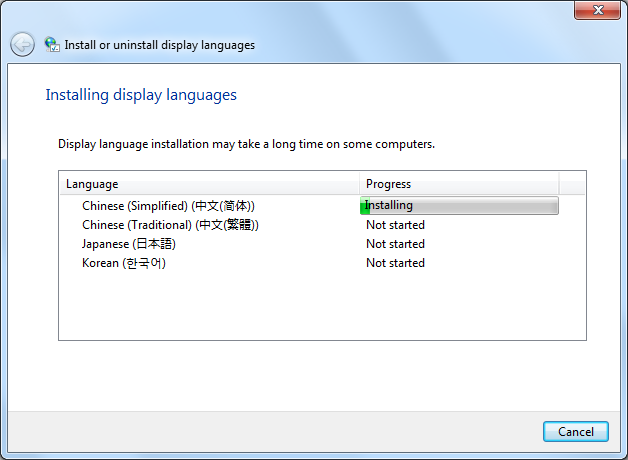 TIP
OOB, no CHS(PRC), JP, KO handwriting recognition, install MUI.
for new features, see http://blogs.msdn.com/e7/archive/2009/04/23/ink-input-and-tablet.aspx



once MUI installed


I did get TIP JP to crash once clicking outside the box when suggestion just shows up.
see
versions differences
http://www.wfu.edu/~yipcw/atg/ime/2007/
Vista version
http://www.wfu.edu/~yipcw/atg/ime/2007/vista/
IME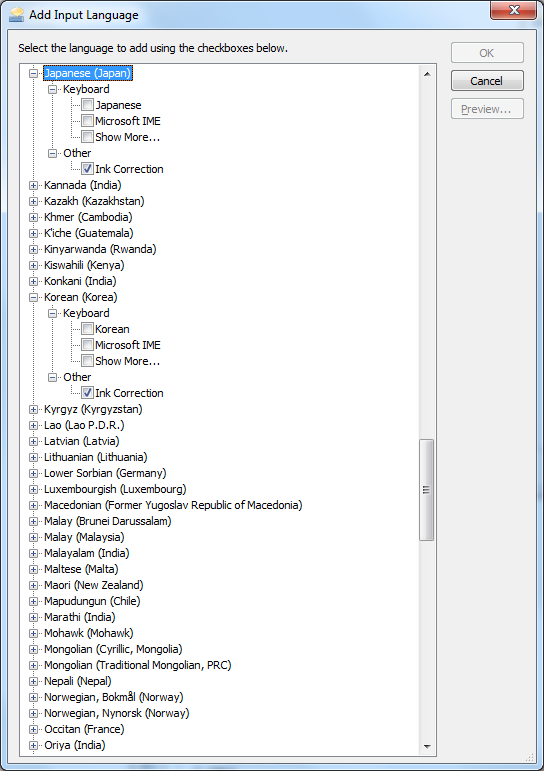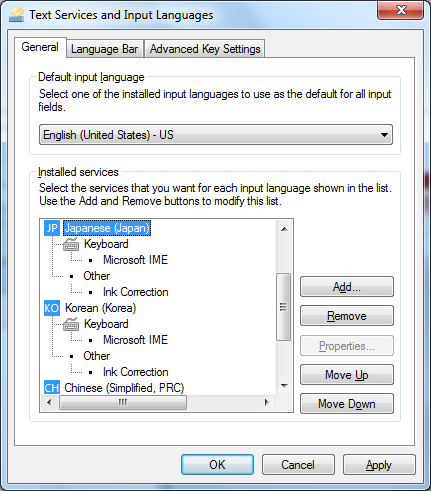 JP IME 10.1.7600.0 (2009) (same as Vista?)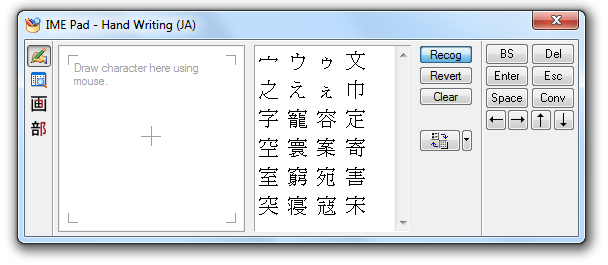 KO IME 8.1.7600.16385 (2009) (same as XP?)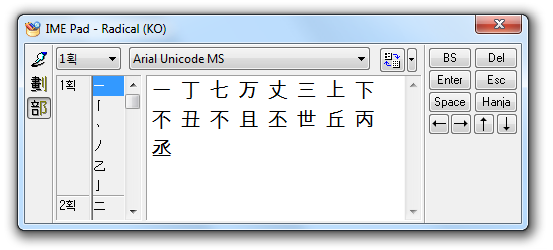 CHS (PRC) no IME, only Microsoft Pinyin New Experience or or ABC Input Style 10.1.7600.0 (2009) (same as Vista?)
- no handwriting in IMEpad, only dictionary. Install Office 2007 IME instead.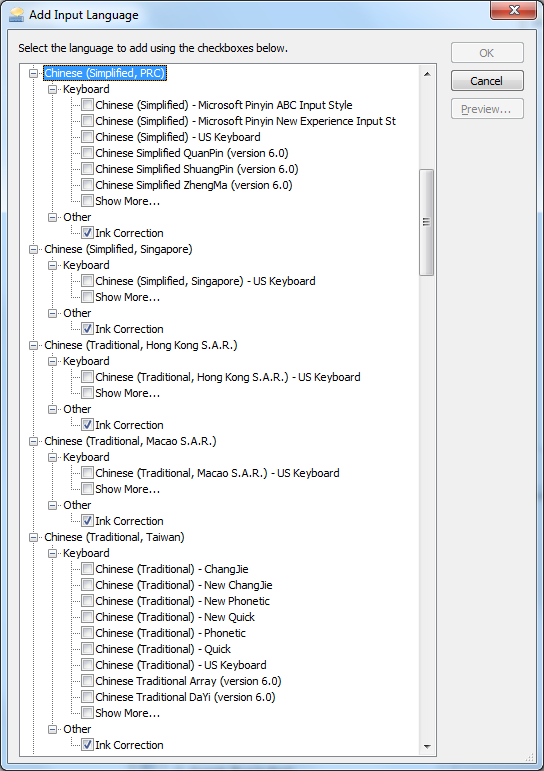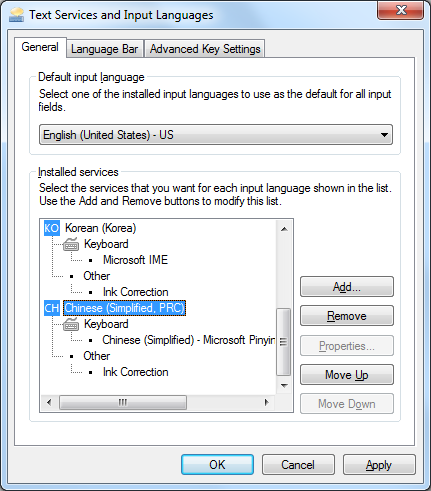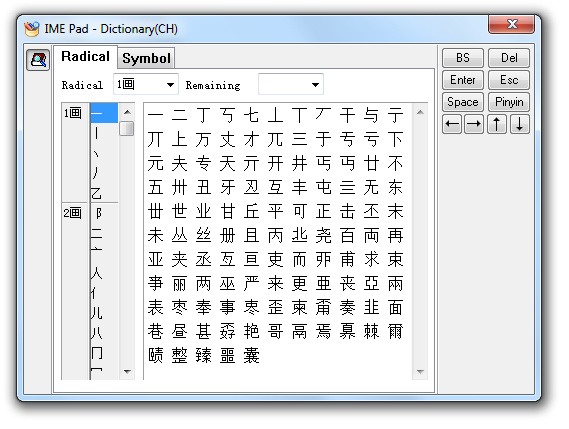 after install IME 2007 from Office 2007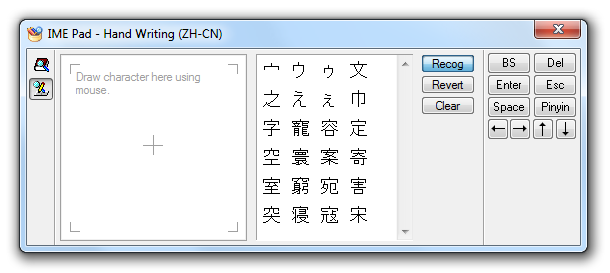 VZAccess
Pantech UM175
Driver portion will fail with OS not supported error. Switch to XP or Vista compatibility mode will let the install to complete.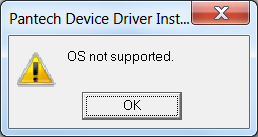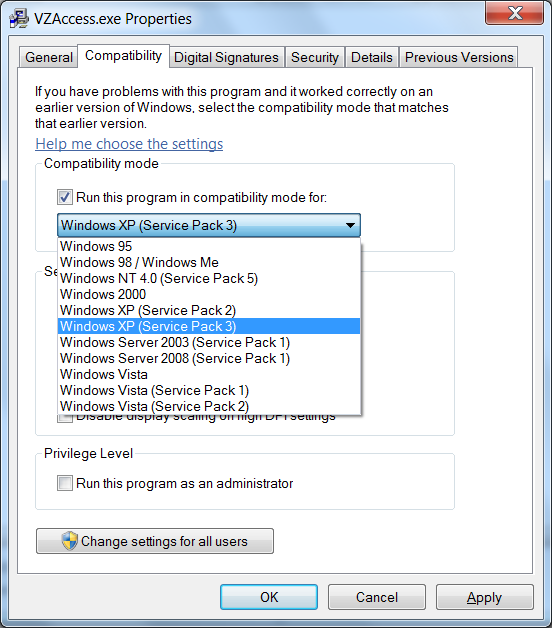 it does labeled wrong in network connection folder, tied to the modem instead.
Windows Virtual PC
still in RC.
mouse does not work out of the box (same since 7.04), need to add i8042.noloop to the kernel boot line in /boot/grub/menu.lst.
people has reported before, Ubuntu is incredible slow (1GB RAM, undo disk), takes seconds between clicks, virtual unusable as is.
Delete shortcut in Virtual Machines does not actually remove VHD in appdata\local
Movie Maker
not included anymore. Install Vista version 2.6.
No more Movie Maker HD for Vista Ultimate? (can edit HDV?)
Mail
no more Windows Mail for Vista or Outlook Express in XP.
Calendar
no more Windows Calendar for Vista.
PhotoGallery
gone also?
Photo Viewer only (as dllhost, not an application). Note that shortcut keys for zoom/actual keys have been changed from XP's Windows Pictures and Fax Viewer.
Live Essentials
supposes to replace Movie Maker, PhotoGallery IM, blog, calendar and mail (offline also?), Family Safety (Toolbar, Silverlight etc. also)
infamous "Couldn't install programs. Please try installing Windows Live programs again. Error: OnCatalogResult: 0x80072ee6 Next steps: An unknown error occurred." error installing during Windows Updates or standalone wlsetup-web.exe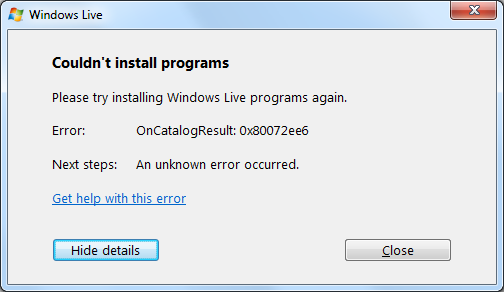 regsvr32 msxml3.dll doesn't work.
uninstalling live add-in 1.4 and live ID Sign-in assistant doesn't work.
you can run wlsetup-all.exe though. (not sure that give you the latest versions though.)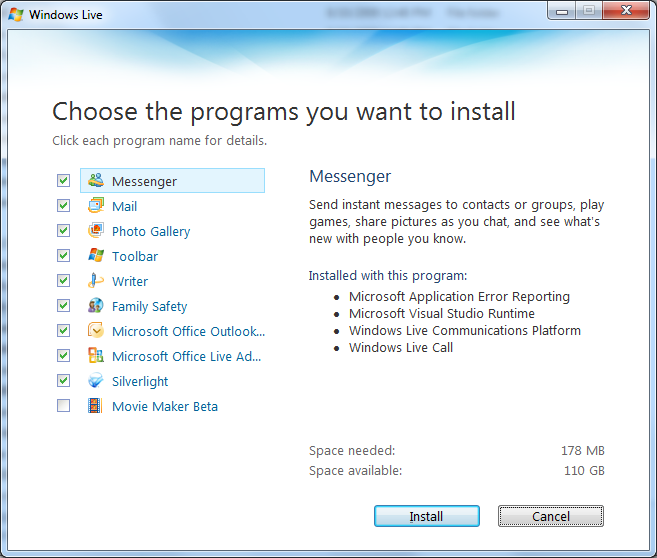 Ultimate Extras
gone also? Enterprise same as Ultimate except licensing - MCE etc.?
Control Panel
Cleartype, iSCSI, offline files, pen and touch, system icons, Tablet, TTS moved to elseware?
VPN
Cisco VPN Client
currently 5.0.05.290 installs under 32-bit. But
http://technet.microsoft.com/en-us/library/dd787668(WS.10).aspx
"... Cisco VPN Client (IPsec) 5.0.5+, x64
http://www.cisco.com/kobayashi/sw-center/sw-vpn.shtml
No official support for this version planned by Cisco. Use the Cisco
AnyConnect VPN Client for both Windows 7 and x64 support ..."
There is a new v.5.0.06.0160, that supposed support 32-bit Windows 7
release notes.
<http://www.cisco.com/en/US/docs/security/vpn_client/cisco_vpn_client/vpn_client5006/release/notes/vpnclient5006.html>


Virtual Wi-Fi
5100, which has MyWifi (Cliffside) PAN, does not show as a Microsoft Virtual WiFi Miniport adapter in Network Connections folder.
Driver version 12.4.1.4. (Vista is at 12.4.3.9 2009.06.25)
Not detected as Hosted Network so no SoftAP?
chkdsk
check the many pages about the chkdsk /r on non-primary partition issue, e.g. http://blogs.zdnet.com/Bott/?p=1235
Beta Drivers
http://www-307.ibm.com/pc/support/site.wss/WIN7-BETA.html
Hotkey Features driver
Intel AMT 4.2 MEI
Intel AMT 4.2 LMS&SOL
Ricoh Multi Card Reader
System Interface driver
ThinkPad Power Management driver
ThinkVantage Access Connections
ThinkVantage Active Protection System
UltraNav driver
UltraNav driver 2 (T400 only)
UltraNav Utility
WLAN Intel Echo Peak driver
Install
RC created a 100MB system partition besides the main partition if you delete the drive first. Not the case anymore?
No need for Intel chipset and matrix storage drivers anymore?