WFU First-year Seminar Conducts Exit Poll
On election day in November 2008, our exit poll interviewed 250 voters and correctly predicted the results of all 5 contests, except for one county commissioner. We also gathered the following demographic data from each respondent:
age
ethnicity
education level
household income
gender
political party affiliation
2004 presidential vote
time of voting decision
Summary of Demographic Results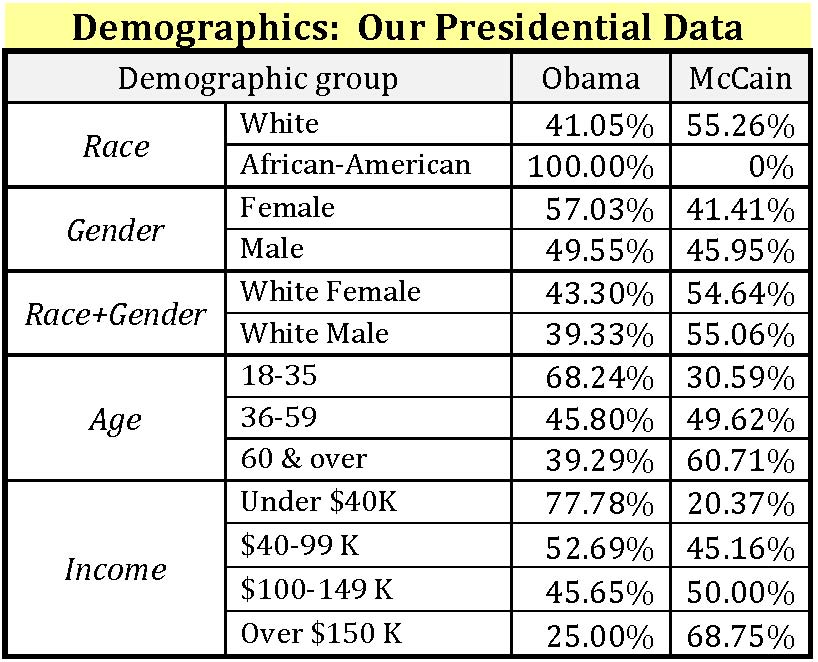 Interpretation for presidential race
Barack Obama defeated John McCain in our county (Forsyth Co., NC) by receiving 55% of the vote to Senator McCain's 44%. According to our exit poll, President Obama won several key demographics which enabled him to win by such a substantial margin. Over 92% of voters who voted for John Kerry in the 2004 election continued their support of the Democratic Party by voting for Obama. This continued support was important for Obama as he was able to retain the base of the party. Conversely, McCain lost the support of 17% of the voters who cast their votes for George W. Bush in the 2004 election, which was one reason why Obama was able to turn many states "blue", including North Carolina.
We were surprised at the voting contrast along racial lines: our 41 African-American respondents unanimously voted for Obama, while among white voters he lost by over 14%.
The demographic data we collected reinforces many widely reported factors in the 2008 race. Obama enjoyed strong support from both younger voters and poorer voters, while John McCain was more popular with middle-aged voters and elderly voters. One surprise was that income and not race produced Obama's strongest category of support, namely voters with incomes less than $40,000. Almost 80% of these voters chose Obama, and they formed roughly a quarter of our electorate. Meanwhile, McCain's strongest support came from wealthy voters; our wealthiest group favored him by over 40 points.
We also examined the demographics of the senatorial and gubernatorial races of the state of North Carolina. The same trends appeared in these two races as in the presidential race: all produced Democratic winners who received large support from young voters, lower-income voters, female voters, independent voters, as well as voters from minority groups (though the minority vote was no longer unanimous).