Learning Technology immediate needs (1-6 months)
** for the Mac version of this document
---
IV. Courseware development
Authoring tools
For professional quality multimedia programs, Macromedia's Director is one of the most popular tools of choice.
academic price ~$300/per license in 10 packs ($3000).
$ 800 street price.

It is also bundled in Director Multimedia Studio bundled suite, $ 1,500 (non-academic street price).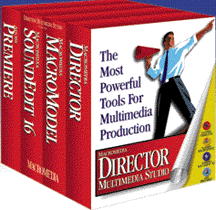 Director 4.0.4 (Mac or Windows)
Premeire 4.0.1(Mac or Windows)
MacroModel 1.5 with Renderman (Mac or Windows)
SoundEdit 16 1.0.1 (Mac) or SoundForge 3.0 (Windows)
For Physics' CUPLE project courseware, Asymmetric Multimedia Toolbook 3.0a will be needed, academic ~$300. Computer Based Training (CBT) version, list price ~$ 1,000.
3D modeling
Usage: 2D illustrations, even 2D animations are still within the level that is achievable in printed media. The greatest addition of computer presentation comes from the ability to show 3D objects.

Autodesk's 3D Studio Release 4c2, ~$350 academic price, is the prefered choice for DOS world. The next version, release 5 will require Windows NT.

Strata Inc.'s Strata Studio Pro 1.75 for Macintosh, $1000 list/~400 academic is the afforable choice for Mac platform.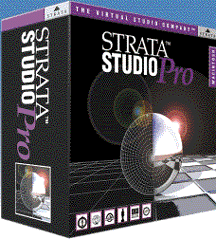 Input device - Tablet
Usage: Mouse is designed as an pointing device. For more extensive work on drawing, illustration, and photo editing, tablet will be required. It also easier for beginners to be confortable with drawing using computer and tablet. This can prevent the sometimes frustrating experience associated with drawing using mouse.

Wacom ArtZ II serial tablet, $350 (both Mac and Windows version available)
with Painter 4.0, paint program, $600 (both Mac and Windows version available)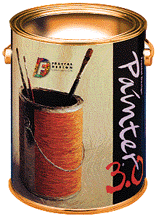 Training/references, most with CD-ROM
> $ 500

Interactive Training for Macromedia Director 4 CD-ROM, $100
Official Macromedia Director Studio, $40
Macromedia Animatin Studio, $50
Desktop Video Studio, $50
QuickTime : Official Guide, $50
Advanced Adobe PhotoShop, $50
Adobe Photoshop for Windows, Classroom in a Book, $50
Adobe Illustrator for Windows, Classroom in a Book, $50
Adobe Premiere for Windows, Classroom in a Book, $50
Production Essentials, $40
Imaging Essentials, $40
Design Essentials 2/e, $40
Inside 3D Studio Release 4 $50
II. Multimedia presentation development :
1. Presentation software
For simple presentation, since Microsoft Office 4.2/Office 95 is bundled with every machine, Microsoft PowerPoint 4.0/7.0 is included.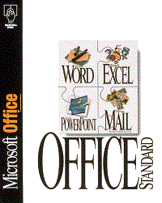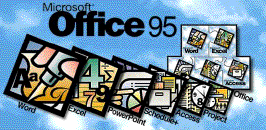 Multimedia presentation development
Category
PC solution :
2. Scanner

HP ScanJet 4c, $1,000
bundled with Caere's OmniPage Limited OCR software and
Corel Photo-Paint 5
3. OCR software
limited edition bundled with scanner, upgrade to full version
Caere OmniPage Professional OCR, ~$200 upgrade

4. Image processing software
basic package bundled with scanner, Corel Photo-Paint 5, ~$200. A full feature product
Adobe Photoshop 3.0.1 $250 academic price


5. Color Printer
EPSON Stylus Color, $550 or


HP 660c, $550
6. Low cost digital camera:
Kodak Digital Camera DC40 (for both Windows and Mac), ~$900

or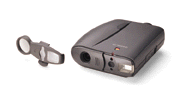 Apple QuickTake 150 (both Windows and Mac compatible), ~$700
Accessories :
QuickTake Travel Case, QuickTake AC Adapter or Batter Booster Pack, QuickTake Connection Kit for Windows, $300.
7. 2D illustration software
Macromedia's Freehand 5.5 for Windows, $ 150 academic price.

or
CorelDraw 6 for Windows 95, $ 400.
8. Screen capture software
Windows : Lotus ScreenCam 2.0 for Windows, ~$100
---
III. Live video production :
1. Low cost camcorder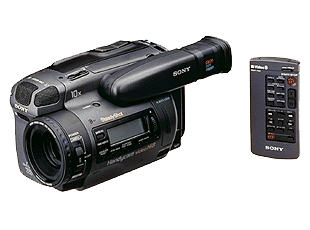 SONY Handycam series, CCD-TR400, ~$1200

Accessories :
Batteries SONY NP-80D, $100
Battey Recharger/Reconditioner, $ 300+
Carrying Case, $200
Lightweight video tripod with level indicator, fluid head, $300
120-min blank Hi-8 video tapes, $10 each
Head cleaning tape, $10
S-Video 15 ft. cable, $20
Gold video dubbing cable, 10 ft., $20
Additional lens, $ 300+
2. TV
NTSC TV set equipped with S-video A/V input ports
Possible choices :
SONY PVM-1390 450 lines $ 540
SONY PVM-1351Q 450 lines $ 820
SONY PVM-1354Q 600 lines resolution $ 1,000
SONY PVM-1954Q 600 lines resolution $ 1,700
3. Computer hardware requirement for digitizing video
Computer
PC solution :
computer
133 MHz Pentium, Triton chipset
256K+ SRAM Cache
32 MB+ EDO RAM
6x SCSI CD-ROM
2 GB SCSI HD
2 MB DRAM video
SoundBlaster 16 with speaker
15" monitor
Keyboard, mouse

Micron P133PCI Millennia Plus
$ 5,000
RAM
32 MB total RAM min.
additional 16M RAM (total 48M) = $500
additional 32M RAM (total 64M) = ~$1100
CD-ROM

usually bundled 2x, 4x, or 6x CD-ROM drive

option


external 6x SCSI CD-ROM drive - NEC MultiSpin 6Xe, $600


Ethernet
10Base-T ethernet card
option:
Keyboard
option:


Microsoft Natural Keyboard, $100

Pointing device
option:


Microsoft Mouse 2.0A, $60
Mac solution
PC solution :
Video display

built in support for 2 monitors at 16/24-bit color depth

option:


accelerator video cards:
Radius Precision Color 24XK,24X, Thunder IV GX-1152 ($800, $1200, $2000)

DRAM video card usually bundled

option:


Diamond Stealth 64 4M VRAM PCI, $500

Monitor
options:


15" monitor usually bundled

option:

2nd monitor : Apple Multiple Scan 15, $500
requires PowerMac video connector, $50
2 monitor option not available.
upgrade 15" bundled monitor to 21"
Video capture/editing equipment
Mac solution
PC solution :
Video capture card
Radius SpigotPro AV add-on for AV Mac (640x480 30fps), $1400

Mac AV build in video capture goes up to only 320x240 10fps

Intel SmartVideo Recorder Pro, $700

4. Video capture hard drive
APS MS 4.0AV (Micropolis 3243AV mechanism), $1,650
Seagate Barracuda series, $1,650
5. Video editing software
bundled in Director Multimedia Studio suite
if purchase separately, Adobe's Premiere 4.0.1, $ 250 academic price.


bundled in Director Multimedia Studio suite
if purchase separately, Adobe Premiere 4.o for Windows, $250 academic.

SCSI controller
built-in
option:

6. Laser disc player
Laser video disc has become least commonly used nowadays. However, there are still excellent courseware available that are in video disk format.
SONY MDP series - MDP800, ~$ 1,200
7. Audio
Digital audio production
Mac solution
PC solution :
Sound
built-in
SB16 usually bundled
option:

Speakers
needed to be magnetic shielded (in case they are placed close to the monitor and hard drive

options:


SONY SRS series - SRS88PC (~$200), SRS-D2KPC (~$150)
Yamaha YST-SS1010 (YST-M10+YST-MSW10) ~$200

usually bundled

Microphone
built-in

SONY FPC series - FPC30, ~30
Audio software
Macromedia's SoundEdit 16, ~$400, $150 academic price.
bundled in Director Multimedia Studio suite
SoundForge ~$400
bundled in Director Multimedia Studio suite
Mac solution
PC solution :
8. Secondary storage
Drive: APS 1.3GB MO, $1800 ($100/1GB cartridge), or

Iomega Jaz 1G cartridge drive

Low cost alternatives


Bernoulli 230M, $ 500. Cartridge cost $ 100 each.


230M MO, $ 600. Cartridge cost $ 50 each.
SyQuest 270M, $ 600. Cartridge cost $ 80 each.
100M ZIP drive, $ 200. Cartridge cost $ 20 each.


9. Backup, DAT drive
APS 4G HypeDAT, $1000

or HP Jet Direct

UPS

APCC's Smart-UPS 600VA, or 900VA, or 1250VA ($370, $540, $680)
depends on computer's power requirement
10. Utilities: Disk defragmentation / repair
Norton Utilities 8.0, ~$80 academic
Anti-virus
Norton Anti-Virus, ~$100 academic
Back-up
PC Tools for Windows 2.0, ~$100 academic
11. Printer

HP LaserJet 5MP, $1200

Cables
SCSI, audio, video cables, >$ 500
Supplies
backup DAT tapes, floppy/MO disks etc. >$ 500

---
I. Classroom presentation equipment :
LCD panel
e.g. 10.4 in. nView Z-series, $5000-7000
8.4in. models $3000-4000
Proxima Ovation+ 846 $6700
Accessories
nView Z series BackBright Light Stand $550 - to convert the LCD panel into a stand-alone video monitor (no need for an over-head projector) for viewing by small group of audience.

3500+ (better in the range of 4000-6000) lumens overhead projectors, $ ~500

Laser pointer $300

Remote mouse $200
---
| Table of Contents | Goals | Cost Summary | 1-6 mon. | 1-6 mon. price | 7-12 mon. | References |
---
Ching-Wan Yip, Department of Chemistry, Wake Forest University, Winston-Salem, NC 27109-7486, U.S.A.
yipcw@wfu.edu
---
Copyright © 1995 Ching-Wan Yip