Using Animation Wizard
Run JASC Software's Animation Wizard.
Select File > Animation Wizard.
Choose "Same size as first image frame."
Click "Next."

The default color is not important unless we are using transparent frames. Just click "Next".

If we are using identical size frames, the next questions are irrelevant, too. Just click "Next".

The next window specifies the repeat pattern. Do you want to loop forever, play once, or play just a few times? How long (in hundredths of a second) should each frame be displayed?
Choose your options and click "Next".

Choose the images you want to animate and arrange them.
Click "Next".

Now we optimize the output file.

Choose "File > Optimization Wizard."
Select "Animated GIF file."
Click "Next".

For a tutorial with a few tens of frames of line art, one might as well choose "Better Image Quality."

When the optimization has finished, click "Next".

The preview is to make sure that lower quality settings caused problems with output color. If things look fine, click "Next." Had we used lower quality and were dissatisfied, we could go back and choose a higher quality setting.

You can view the size of the file and download times. If the time is too long, go back and choose a lower quality setting.
When satisfied, click "Finish."
That's it!
You can alter the time for any frame by right clicking on it. When finished, select "File > Save As".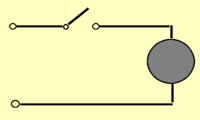 ---
Other pages of possible interest: