Lenovo IdeaPad Yoga 2 Pro
Last Updated: June 12, 2014 1:10 PM
First published: Apr 2, 2014
---
http://shop.lenovo.com/us/en/laptops/ideapad/yoga/yoga-2-pro/
announced: September 5, 2013 http://news.lenovo.com/article_display.cfm?article_id=1714
Blog
http://blog.lenovo.com/design/introducing-yoga-2-pro
Videos
Forums
Good
Quad HD+ 3200x1800
"normal" keyboard
360-Degree Flip-and-Fold Design - Multimode 4-in-1 - Laptop, Stand, Tent, Tablet Modes
Bad
no TrackPoint
no pen
no mini DisplayPort, VGA, Ethernet
miniHDMI too recessed for some adapters
no dualband 802.11n (Kona Intel chip?)
no 802.11ac
one USB 3.0, one USB 2.0 with power only
no Lift and Lock keyboard like ThinkPad Yoga
no OneLink port
no Ethernet
no Ambient Light Sensor?
no NFC
no fingerprint reader
no RapidCharge battery
slow driver update
no Lenovo System Update - need manual update?
no other Lenovo ThinkVantage stuff - QuickConnect, QuickCast, Settings, Companion, Support, Password Manager, Access Connection, Reach
no TPM 1.2/2?, iAMT? hard drive password? eDrive? OPAL? connected standby?
others
Information
data sheet - http://www.lenovo.com/shop/emea/content/pdf/IdeaPad/Yoga/en/ideapad-yoga2-pro-datasheet.pdf
User Guide - 2013/10/16 - http://support.lenovo.com/en_US/detail.page?DocID=UM019242
Driver Matrix - http://support.lenovo.com/en_US/downloads/detail.page?DocID=DS038317
HMM -2013/10/16 - http://support.lenovo.com/en_US/detail.page?DocID=UM019262
Product Overview - http://support.lenovo.com/en_US/product-and-parts/detail.page?DocID=PD030402
Parts list - System configuration for your product - IdeaCentre, IdeaPad and 3000/Lenovo G, H, K, Q, S, U, and Y Series systems. To learn the system configuration of your product, please kindly contact our support centre for assistance:?
Specifications
i7-4500U (4MB Cache, 1.8GHz up to 3.00GHz) 4th Gen Intel Core
i5-4200U (3MB Cache, 1.6GHz up to 2.60GHz)
i3-4010U Processor (3MB Cache, 1.70GHz, no Turbo)
13.3" high-resolution QHD+ (3200 x 1800) IPS wide-view display with 10-point multitouch technology
Integrated Intel HD graphics 4400
Up to 8GB DDR3L 1600 MHz, 1 SO-DIMM slot (2GB / 4GB / 8GB)
128GB / 256GB / 512GB SSD
1 x USB 3.0, 1 x USB 2.0
Audio Combo Jack (headphone and microphone)
micro HDMI-out
2-in-1 (SD/MMC) card reader
Integrated stereo speakers with Dolby Home Theater
Intel Wireless-N 7260 802.11 b/g/n
Bluetooth 4.02 (optional)
720p HD webcam
Integrated dual digital array microphone
Backlit AccuType keyboard
Multi-touch 2 button touchpad
weight (average) 1.39 kg (3.06 lbs)
4 Cell 54 Watt Hour Lithium-Ion
>=9 hrs Windows 8 Idle @150 nits - Battery
>=6 hrs FHD playback @ 150 nits
330 mm x 220 mm x 15.5 mm1 (12.99" x 8.66" x 0.61")
Windows 8.1 Pro 64
Windows 8.1 64
bloatware
McAfee Internet Security (30-day free trial)
VeriFace Pro
OneKey Recovery
Zinio Online Newsstand
Skype
Amazon Kindle for PC
CyberLink YouCam
Microsoft Office 365 Home Premium 30-Day Trial
Lenovo Cloud Storage
Phone Companion - Bespoke?
Yoga Camera Man
Yoga Chef
Yoga Photo Touch
Yoga Picks
Lenovo Motion Control
Lenovo Voice Control (Dragon Assistant also?)
Pricing
as of 2014/04/02
too bad that lenovo stopped publishing ipbook.pdf after version 437 2013/06/06 and Janet X. Zhang departed PSREF development after 6 years, 111 versions "... Due to reduced resources ...." "... PSREF sheets will only cover Think branded commercial product lines, and stop covering all Lenovo & Idea branded consumer product lines going forward....", hard to figure out the exact configuration, only 2 models left on sale on website, closing out? new models coming out?
$1049 i3-4010U/4G/128GB (1.7) - 59394185 silver gray
$ 999 i5-4200U/4G/128GB (1.6) - 59394174 silver gray
$1049 i5-4200U/4G/256GB (1.6) - 59409364 clementine orange
$1199 i5-4200U/8G/256GB (1.6) - 59394171 clementine orange
$1199 i7-4500U/4G/256GB (1.8/3.0) - 59409368 silver gray
$1199 i7-4500U/4G/256GB (1.8/3.0) - 59409367 clementine orange
$1199 i7-4500U/8G/256GB (1.8/3.0) - 59386391 silver gray- BestBuy only?*

$1499 i7-4500U/8G/256GB (1.8/3.0) - 59394180 silver gray
$1599 i7-4500U/8G/512GB (1.8/3.0) - 59409372 silver gray
$1749 i7-4500U/8G/512GB (1.8/3.0) - 59394173 silver gray - w/ integrated camera?
* $1499+ web price -> BestBuy -> $1149 (buying from them is a whole different story. they "give" you one year free Kasp., Webroot, or Trend Micro Anti-Virus, but the cashier won't give you unless you give them phone number, email. Tried to give them the store phone number, she won't take it, I complained to supervisor, there is no reason they need to store my personal information, didn't they learn from Target, unless it is absolutely essential, he said it is policy, need to "active" the software blah blag,(
Accessories
Lenovo Yoga Slot-In Case (888015541) $39.99
Yoga 2 Pro Screen Protector (888016036) $9.99
Tested System
59386391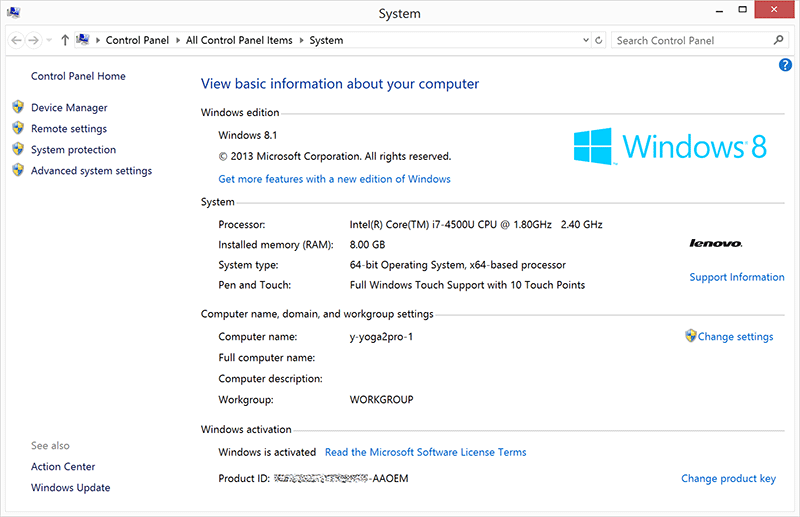 Device Manager

Weight
by WFU Post Office scale
laptop - lb oz
AC adapter - oz
travel weight (2 pieces) - lb oz
Battery
powercfg battery report
LiP?
DESIGN CAPACITY - ? mWh
FULL CHARGE CAPACITY - mWh (out of the box)
running handbrake, high performance profile
drained to 5% shutdown - h m
charge back to 100% - h m
95%    m
80%   m
70%   m
66$   m
51%   m
30% h m
20% h m
10% h m - 1st warning
 7% h m - 2nd warning
---
 5% 
10%    m
20%   m
40%   m
52$   m
66$   m
80%   m
90%   m
95% h m
98% h m
99% h m
Battery - Windows Assessment
ADK 8.1 ? http://msdn.microsoft.com/en-us/library/windows/hardware/hh825285.aspx
battery life during full video playback settings
Total Duration (min) : 
 Time spent not running workloads (min) : 
 Local Video Playback Energy Efficiency Workload : 
 Estimated energy used by workload (mWh) : 
 Estimated workload energy consumption rate (mWh/min) : 
Battery consumed (%) : 
Projected time to shutdown (min) : 
Network traffic rate (KB/min) : 
Display off time (%) : 
 Average overall display brightneess (%) : 
AC Adapter
65W?
Model - ADXL65SDC2A
FRU - 45N0358
20A 3.25A, 100-240V 1.5A
Consumo de energia - 74.45 Wh
En. Modo de espera - 0.20 Wh
Made in China, Delta Electronics Inc.
Rev: B
Date of Manufacture : 2014.01
power usage
P3 Kill A Watt http://www.p3international.com/products/p4400.html - A - W (up to %)
APC Back-UPS Pro 1500 https://www.apc.com/resource/include/techspec_index.cfm?base_sku=BR1500G - W
Thermal
FLIR i7 thermal camera - http://www.flir.com/thermography/americas/us/view/?id=54156
Acoustic - noise level
Pyle PSPL05R - http://www.pyleaudio.com/sku/PSPL05R/Digital-Sound-Level-Meter-With-recording-Function
Audacity 2.0.2 Frequency Analysis spectrum plot -noise (normalized) recorded Sony PCM-D50 http://pro.sony.com/bbsc/ssr/cat-audio/resource.latest.bbsccms-assets-cat-audio-latest-pcmd50.shtml
pending
Benchmark - WEI
no WEI UI in Windows 8.1
http://www.myfavoritegadgets.info/tipstricks/WEIwin81.html
Benchmark - WinSAT
http://en.wikipedia.org/wiki/Windows_System_Assessment_Tool
Benchmark - CPU - Handbrake
Handbrake 0.9.8 - 2h10m Grandmaster 7.27GB DVD
Benchmark - PCMark
http://www.futuremark.com/benchmarks/pcmark
PCMark 8 Home Conventional 3.0
Score :
Test Duration : m s
Web Browsing - JunglePin : s
Web Browsing - Amazonia : s
Writing : s
Casual Gaming : fps
Video Chat v2 / Video Chat playback 1 v2 : fps
Video Chat v2 / Video Chat encoding v2 : ms
Advanced Photo Editing part 1 : s
PCMark 7 pending
Benchmark - PassMark
v8 build 1031
Benchmark - SiSoftware Sandra
2014 SP1C 20.25
Benchmark - FurMark
http://www.ozone3d.net/benchmarks/fur/
1.13.0
720 preset
point, fps (min:, max:), ms
Benchmark - GeekBench
http://www.primatelabs.com/geekbench/download/windows/
v3 x32
Benchmark - IntelBurnTest
http://www.xtremesystems.org/forums/showthread.php?197835-IntelBurnTest-The-new-stress-testing-program
v2.54
Benchmark - MediaCoder
http://www.mediacoderhq.com/dlfull.htm
0.8.29.5602 2014 Mar 25
9m57s 731MB 1920x1080 10Mbps MPEG-Ps -> 1Mbps MP4
Benchmark - Graphics - 3D Mark
v1.2.362 March 12, 2014
3DMark, 11, Vintage, 06 - pending
Benchmark - Maxon CineBench
http://www.maxon.net/products/cinebench/overview.html
R15
OpenGL
fps - HD Graphics v.
CPU - cb
11.5
OpenGL
fps
CPU
pts
Benchmark - Graphics - VMD
http://www.ks.uiuc.edu/Research/vmd/
1.9.1
fps DNA
fps CPK
Benchmark - Graphics - Chimera
http://www.cgl.ucsf.edu/chimera/docs/ContributedSoftware/benchmark/benchmark.html
1.8.1
Benchmark - NAS Performance Toolkit
http://www.intel.com/products/server/storage/NAS_Perf_Toolkit.htm
pending
Benchmark - DPC Latency Checker
http://www.thesycon.de/deu/latency_check.shtml
1.3.0
max. μs
Benchmark - Firefox
http://www.mozilla.com/en-US/firefox/fx/
28.0
about startup 0.1.12 https://addons.mozilla.org/en-us/firefox/addon/about-startup/
    start
    main
    startupCrashDetectionBegin
    createTopLevelWindow
    firstLoadURI
    firstPaint
    sessionRestored
    startupCrashDetectionEnd
    selectProfile
    afterProfileLocked


c.f. with other http://users.wfu.edu/yipcw/atg/moz_ff_tb/firefox/startup/
Benchmark - SunSpider
http://www.webkit.org/perf/sunspider/sunspider.html
1.0.2
Start Up
ADK
http://www.techrepublic.com/blog/window-on-windows/use-windows-7-event-viewer-to-track-down-issues-that-cause-slower-boot-times/3253
http://blogs.technet.com/b/mspfe/archive/2012/09/19/measure-boot-performance-with-the-windows-assessment-and-deployment-toolkit.aspx
ADK 8.1 download
http://www.microsoft.com/en-us/download/details.aspx?id=39982
What's New in 8.1
http://msdn.microsoft.com/en-us/library/windows/hardware/dn247001.aspx
assessment - startup and shutdown experience - fast startup
eventvwr
processes, services, memory usage - pending
CPU-Z
http://www.cpuid.com/softwares/cpu-z.html
1.69
GPU-Z
http://www.techpowerup.com/gpuz/
0.77
HWInfo
4.36
LCD
12.5" ?nits, QHD+
ICM -
LCD - color/brightness
x-rite i1display pro i1profiler 1.4.2- http://www.xrite.com/product_overview.aspx?ID=1454
adaptive brightness off
(still crash if ADC on, compare profile also crash like Helix?)
Datacolor Spyder4Pro 4.5.4 - http://spyder.datacolor.com/portfolio-view/spyder4pro/
pending
LCD - viewing angle
pending
Keyboard
pending
TouchPad
no buttons clickpad
Control Panel
Motion Control
pending
Storage
SSD - Samsung MZMTD256HAGM-000L1
Windows8_OS C: - 194GB free of 219GB
Lenovo D: - 414MB free of 3.99GB
Storage - CrystalDiskInfo
6.1.9
Storage - SSD utility
liteon ?
S.M.A.R.T.
Storage - AS SSD
http://alex-is.de/PHP/fusion/downloads.php?download_id=9
1.7.4739.38088
Storage - CrystalDiskMark
http://crystalmark.info/software/CrystalDiskMark/index-e.html
3.0.3 x64
1000MB
Storage - ATTO Disk Benchmark
http://www.attotech.com/products/product.php?sku=Disk_Benchmark
Storage - HD Tune Pro
pending
Storage - HD Tach
http://en.wikipedia.org/wiki/HD_Tach
pending
Storage - Anvil's Storage Utilities
http://www.thessdreview.com/daily-news/latest-buzz/anvil-storage-utilities-releases-new-storage-and-ssd-benchmark/
1.1 2014
Score :
Read :
Write :
Storage - TrueCrypt
7.1a 50MB
USB 3.0
copy from Samsung 840 EVO 250GB in Startech SATA-III ASMT 2105 SCSI UASP enclosure - ?MBps
copy from Seagate BackUp Plus FAST STDA4000100 USB 3.0 - ?MBps
USB 3.0 hub
- pending
Anker 10 port hub VIA VL812 Chipset 4A 900 mAh max. http://www.ianker.com/product/68UPHUB-B10U
Satechi 10 port hub
Plugable 7 Port USB 3.0 Hub with 4A Power Adapter (VIA VL812 Rev B2 Chipset and updated firmware v9081 http://plugable.com/products.

High Point RocketStor 5122B dock
Icy Docl MB981U3-1SA 2.5"/3.5" SATA & IDE
StarTech eSATA dock with fan
UASP capable like Thermatake x5 (not duet?) ?

Lenovo USB 3.0 dock
Windows To Go
http://www.microsoft.com/en-us/windows/enterprise/products-and-technologies/devices/windowstogo.aspx
http://en.wikipedia.org/wiki/Windows_To_Go
- pending
Optical Drive
- pending
LG BP06 Blu-Ray
Samsung SB218BB slim DVD
Samsung SE-S204 Feb 2008 F/W TS01 (white) AC powered -
Lenovo Slim DVD
Wireless
Kona? Intel Wireless-N 7260 2*2? +BT4.0
maximum ?Mbps
AC1900
1300+600 Netgear Nighthawk R7000 Firmware Version 1.0.3.24 http://www.netgear.com/home/products/networking/wifi-routers/R7000.aspx , copy from QNAP - pending
AC1750
1300+450
best Mbps against Netgear R6300 AC1750 V1.0.2.68_1.0.49 1300Mbps 5GHz WPA2-PSK [AES] Channel 153 http://www.netgear.com/home/products/networking/wifi-routers/R6300.aspx
intel wireless driver?
from the server side, max. at ? MB/s
AC1200
867+300
edimax BR-6478AC AC1200 867Mbps, 4MB NOR Flash, 64MB RAM, Rev A Hardware, Boot Code 1.0, WPA2 Pres-shared Key AES, v2.09 firmware, 2014/ 03/19 - pending) http://www.edimax.com/en/produce_detail.php?pd_id=484&pl1_id=3&pl2_id=18
- ? Mbps max.
from the server side, max. at ? MB/s
802.11n wfu
? Mbps max. from ReadyNAS Pro Business Edition [X-RAID2 6x Seagate ST31000528AS [931 GB] , 1GB RAM [4-5-5-15 DDR2]], RAIDiator 4.2.25
Bluetooth
4.0 (+HS?)
- pending
Ehernet
USB 2.0 or 3.0 dongle (option not included)
AXIS? driver version ?
copy from Netgear R6300 from QNAP TS-659 Pro II QTS 4.0.3- ? Mbps
Audio
chip?
HDMI audio?
Dolby Digital Plus?
Home Theatre v4?
Audio output
TRRS 3.5mm combo output to TRS splitter (optional)
KM-IPHONE-2TRS http://www.kvconnection.com/product-p/km-iphone-2trs.htm
Dynamic Microphones
Lavaliere microphones (with batteries)
Wireless microphone systems
KM-IPHONE-2TRS-ECM - http://www.kvconnection.com/product-p/km-iphone-2trs-ecm.htm
ECM Microphones that require 2 VDC plug in power
Lavaliere ECM Microphones (without batteries)
ECM PC Microphones
ECM Headset/boom Microphones
- pending
Output
micro HDMI to VGA
micro HDMI to VGA with audio
microHDMI to HDMI adapter - 1080p ok
microHDMI to HDMI sony cable 3840x2560 @ 30Hz - Dell P2815Q 4K ok
microHDMI to HDMI cable 15' cable matters or adapter 3840x2560 @ 30Hz - seiki SE39UY04 4K

not ok

- not supported
OEM software
programs
problem resizing the columns
Absolute Reminder
CyberLink PowerDirector 10
Dolby Digital Plus Home Theatre
Dragon Assistant Application en-US version 1.58 (3 others) - Nuance Communications, Inc.
Engergy Manager
Intel Dynamic Platform and Thermal Framework
Intel Experience Center Desktop Software
Intel PROSet/Wireless Software for Bluetooth Technology
Intel Smart Connect Technology
Intel Graphics Driver
Intel Management Engine Components
Intel PROSet/Wireless Software
Intel Rapid Storage Technology
Lenovo EasyCamera - Realtek Semiconductor Corp.
Lenovo Experience Improvement
Lenovo Motion Control - PointGrab
Lenovo OneKey Recovery - CyberLink Corp.
Lenovo Smart Voice
Lenovo Transition
Lenovo VeriFace
Lenovo Yoga PhoneCompanion
McAfee LiveSafe - Internet Security
Microsoft Office
Microsoft Visual C++ 2005/2008/2010 x64/x86 Redistribution (4)
Nitro Pro 8
Realtek Card Reader
Realtek High Definition Audio Driver
User Guide - Lenovo
Windows Driver Package - Lenovo (ACPIVPC) System
Windows Driver Package - Lenovo (WUDFRd) LenovoVhid
Yoga Picks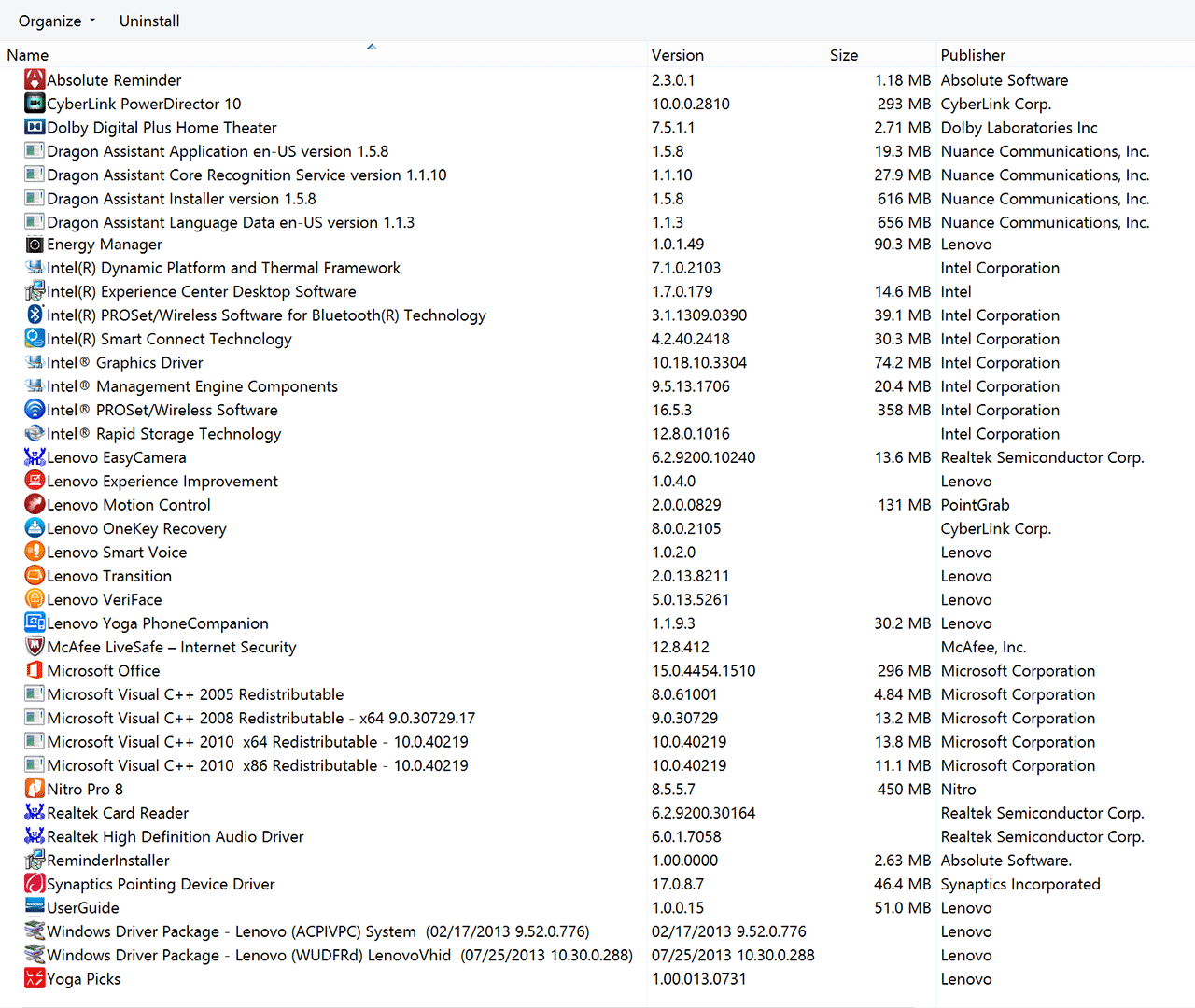 Start Menu
bloatware - evernote, zinio, ebay, jindle, etc.

Lenovo Startpages
Why?
Lenovo User Guide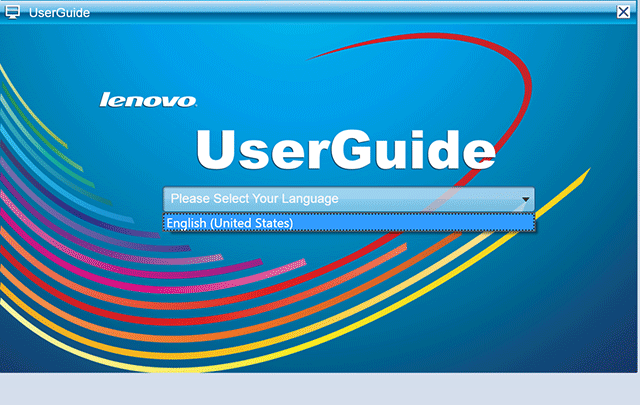 Security
30-day trial?
Nitro Pro
trial?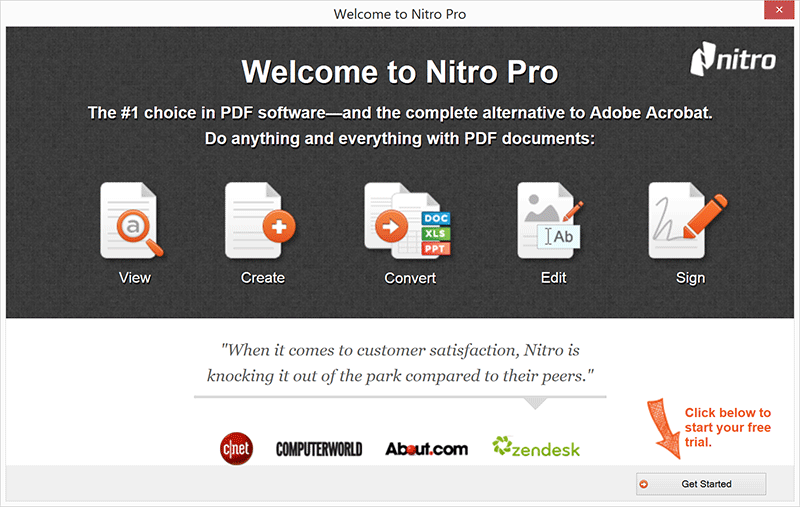 Drivers
from X1C2
Firmware / BIOS
pending
NovoButton restore
Acronis
True Image 2004 Premium build 6673 2014/02/22 http://www.acronis.com/en-us/support/updates/
Adobe
Creative Cloud Photoshop CC 64-bit - crashed display driver on startup, less than 512MB VRAM, no 3D, stop waiting for assessing video driver - turn off hardware feature
VirtualBox
pending
*nix
ubuntu -
Reviews